A spiced gin classic, Opihr Gin is a must-have in any gin lover's collection. 
---
I first tried Opihr Gin (pronounced "o-peer") in a craft beer and gin bar in Edinburgh called the Hanging Bat, as one of five gins included in their famous pick-your-own gin flights.
Of the 5 I sampled that day, Opihr stood leaps and bounds above the rest, and has since become a firm favourite, not just for myself but also as a gift for my gin-loving pals.
A Little Bit of Background
The heritage of Opihr gin is rooted firmly in the historical Spice Routes, where ancient traders would sail thousands of miles to transport exotic spices and botanicals from the Orient and the Middle-East to Europe.
Opihr Gin is named after the legendary port, famous for its wealth and prosperity during biblical times. Although the exact location of the port is unknown, it is thought to have been a key stop for traders along the spice route.
It is said that King Solomon was a regular visitor to the port, and used to receive lavish shipments of gold, silver, spices and peacocks to support his decadent lifestyle.
The Bottle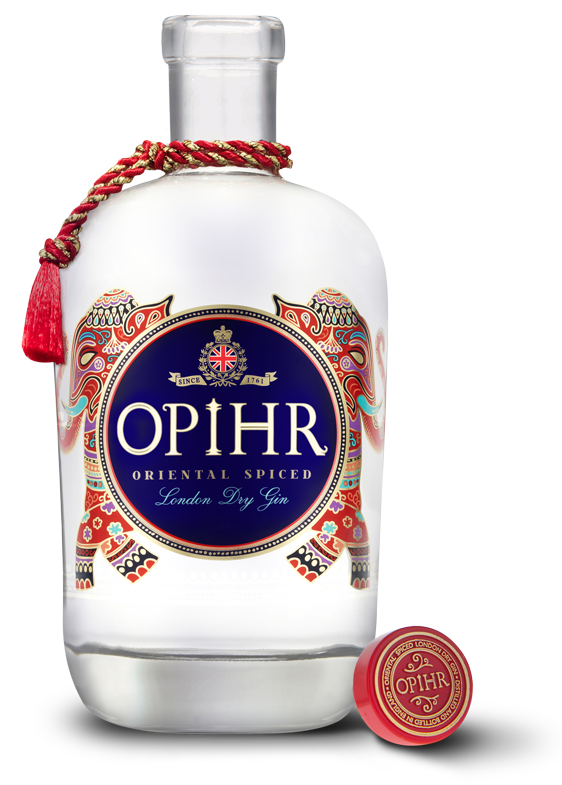 The Opihr bottle is genuinely one of the most gorgeous gin bottles I've ever seen. The eye is instantly drawn to it on any supermarket shelf, making it almost impossible not to pick up.
The bottle itself is clear and stubby, with a thick base and a slight taper from top to bottom. It is adorned with a beautiful label, featuring their logo flanked by two brightly coloured elephants.
This has been styled in a way that is reminiscent of Indian mehndi designs – further exaggerating their connection to India and the spice route.
This fabulously exotic look is completed with a red and gold tassel around the neck, an accessory that is fairly unique in the gin world, and matching stopper.
Botanicals
Juniper
Cubeb
Black Pepper
Coriander
Cardamom
Orange
Grapefruit Zest
Ginger
Cumin
Angelica Root
The botanicals in Opihr gin are inspired by the spice roots of old, which sailed from Indonesia to the UK, stopping in India, the Middle East and several European countries along the way.
As such, this gin is packed full of spices, including spicy little cubeb berries from Indonesia, fragrant cardamom pods from India and coriander from Morocco.
The Gin:
On the Nose
Opihr is extremely spicy on the nose! As soon as you take a whiff of this gin, you are smacked in the face by cardamom.
Following on from this is a large burst of aroma from the coriander, muddled in with more spice from the cumin and a slight hint of citrus from the orange and grapefruit. There's no doubt that this is a spicy gin and they're not afraid to show it.
Straight
This gin is not for the faint-hearted, boasting a fiercely spicy flavour that no other gin I've tried has even come close to.
On first sip, the tongue is consumed by the flavours of dry coriander and cardamon, almost dominating the traditional juniper flavour that we are so used to in gin.
This gin has a long finish, intensely peppery from the cubeb berries and peppercorns, with a slight hint from the juniper finally coming through here.
The spices are so prominent in this gin that it could definitely be debated as to whether Opihr actually meets the requirements for a gin to be dominated by juniper.
With Tonic
Unlike most gins you'll find on the market, Opihr is actually quite difficult to balance with a mixer, almost drowning out the quine flavour that we associate with tonic water with it's complex spice blend.
I drank mine with Fever Tree Light Tonic and a slice of grapefruit, which is what I happened to have in the fridge at the time.
With tonic, the gin feels more balanced, with some more citrusy notes being allowed to come through.
The overwhelming flavour is still the fragrant spiciness of the cardamom and coriander, but they don't knock you out in the same way they do when the gin is sampled neat.
Signature Serve
The Opihr signature serve is as follows:
Fever Tree Indian tonic
5cm thick slice of fresh ginger
Final Impressions
Not only is this gin incredibly unique and delicious but, at around £23 a bottle, its one of the cheapest craft gins on the market – an absolute must try for any gin lover looking for something a bit different.
Opihr Gin is available from Master of Malt, Amazon and all good gin shops.