Steeping botanicals to make your own gin is easy – and completely legal – so you can leave behind the image of setting up a dodgy still in the shed!
This recipe involves a jar, a filter and botanical ingredients  – some of which you may find around your kitchen already.
Ideally use a good quality vodka for this project. If you wouldn't drink it, don't make gin with it.
However, if all you have is a random bottle you once stole from a party, a water filter jug is your new best friend. Passing the vodka through the filter two or three times before starting will take the fire out of your hooch for softer gin.
You can filter again at the end of the process to make a lighter coloured gin.
The Recipe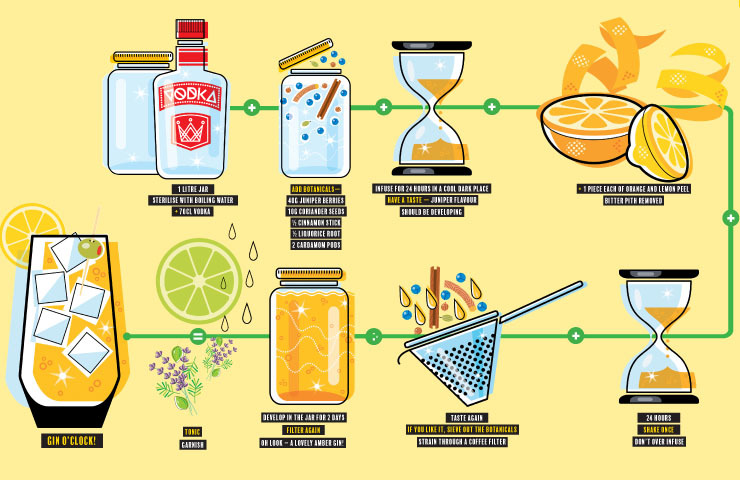 Sterilise 1 litre jar with boiling water and add 70cl vodka.
Add your botanicals –  4og juniper berries, 10g coriander seeds, 1/2 cinnamon stick , 1/2 liquorice root, 2 cardamom pods.
Infuse for 24 hours in a cool dark place. Have a taste — the juniper flavour should be developing.
Add 1 piece each of orange and lemon peel with the bitter pith removed.
Infuse for 24 hours. Shake once. Don't over infuse.
 Taste again. If you like it, sieve out the botanicals and strain through a coffee filter.
Develop in the jar for 2 days. Filter again and you should have a lovely amber gin.
To finish, simply add your tonic and garnish. It's gin o'clock!
Click to download a pdf of the home-made gin recipe
---
Follow us on Facebook, on Twitter @theginkin, or on Instagram at @theginkin. If you have a story suggestion email editor@theginkin.com.
---
More from The Gin Kin: