Fancy a G&T? Be sure to drop in to one of these gin bars based all across the UK for warm atmosphere, inventive cocktails and daring décor.
Atlas – Manchester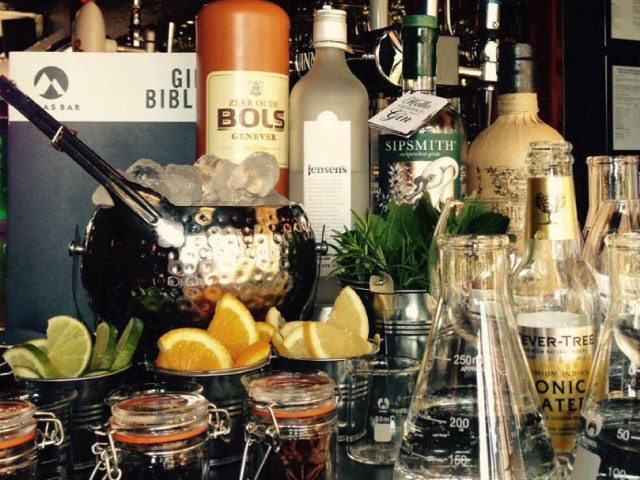 Gin is very much the thing in Atlas in Deansgate – 300 of them feature in the bar's "Gin Bible". The team here love gin so much that they even host a gin themed supper club so you can eat your gin as well as drink it.
Atlas, 376 Deansgate, M3 4LY (Rated 4/5)
The London Gin Club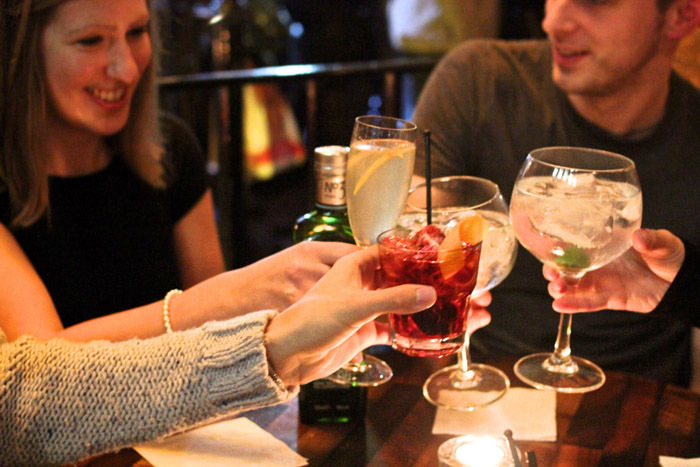 From the outside, The London Gin Club looks like little more than  a busy pub. It's an odd location – around the back of Oxford Circus just on the fringes of not-quite Soho – but this bar, housed in what was once The Star at Night pub, is a fine choice for any gin fan. There are nine tasting menus on offer. You pick your garnish – everything from lime peel and fig, to lemon and thyme – and they'll do the rest. The bar snacks will ruin your dinner, too.
The London Gin Club, 22 Great Chapel St, W1F 8FR (Rated 4/5)
Muriel's Café Bar, Belfast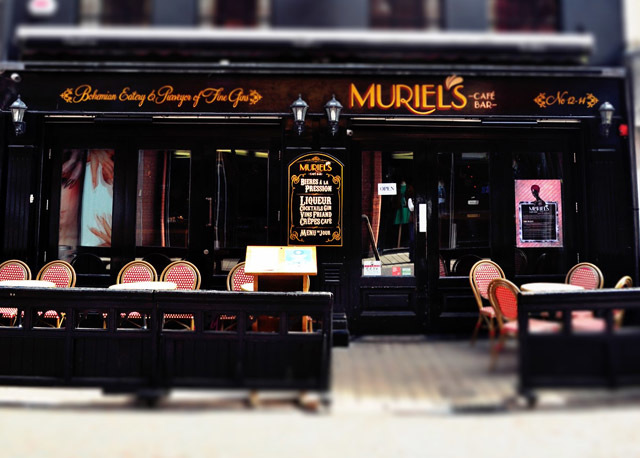 Don't be fooled by the 'café' in the name, this place is a little piece of gin paradise with [sharp intake of breath] over 100 gins to choose from. The locally produced Jawbox gin with honeycomb and ginger is a particular favourite, plus adventurous gin lovers can be part of their Juniper Club and 'travel' the world in 80 gins, all from the comfort of one of their very comfy couches. It puts a whole new meaning to sofa Saturdays.
Muriel's Cafe Bar, 12-14 Church Lane, BT1 4QN  (Rated 4.5/5)
The Bull, Beaumaris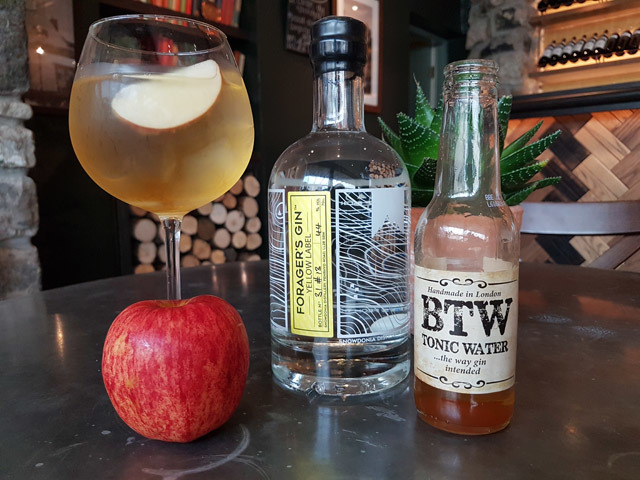 Small but perfectly located on the south east coast of Anglesey, Beaumaris is home to one of King Edward I's finest castles and a stunning Victorian pier – perfect for an early morning stroll to watch the sailing boats go by after a night in the bar at The Bull spent sampling their ever-growing selection of 26 gins, ranging from dry to fruity to floral. Each gin is carefully paired with tonics to complement the botanicals, for a refreshingly sophisticated pour.
The Bull, Castle Street, Beaumaris, Anglesey, LL58 8AP (Rated 4/5)
Dukes, London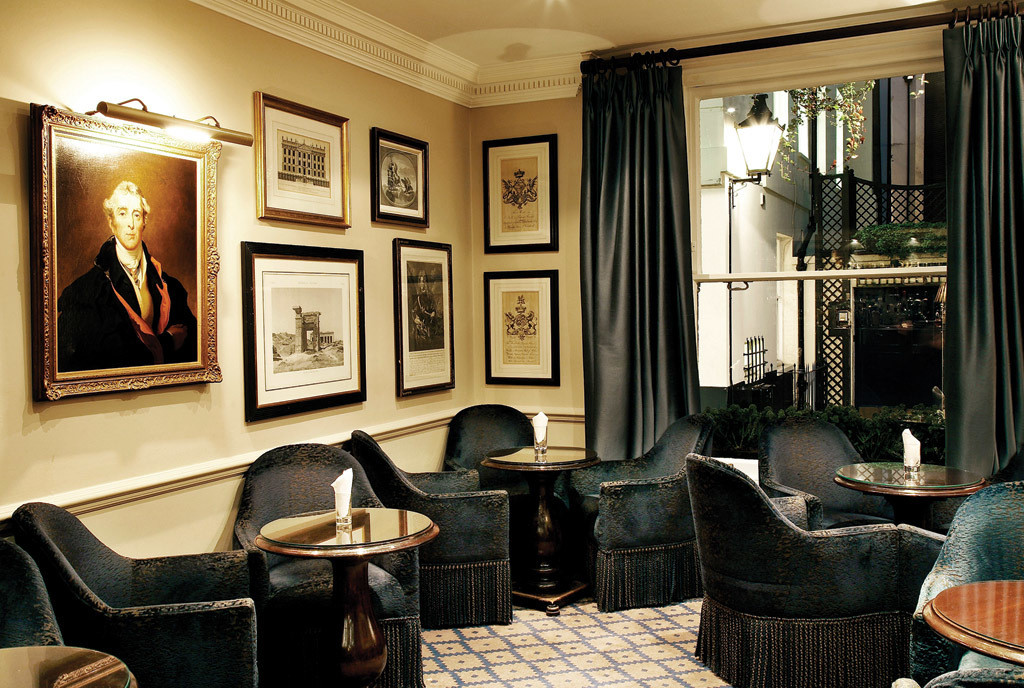 If you're of the martini drinking persuasion, there's one hotel bar that is the undisputed king: Dukes. A martini at Dukes is a legendary experience. They have a huge variety, as well as the classics, but head barman Alessandro Palazzi has recently created a new scented martini for the menu – 89 Jermyn Street – in conjunction with nearby British perfumer Floris. These are classic cocktails with a fabulous modern twist.
Dukes, 35 St James's Place,  SW1A 1NY  (Rated 4.5/5)
Rita's, Belfast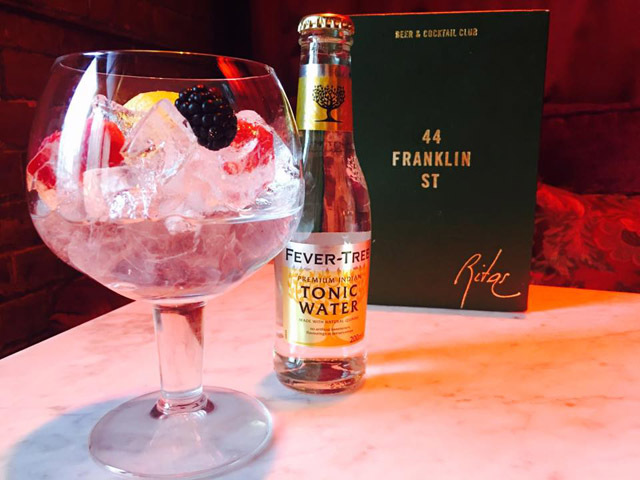 Another girl after our own hearts is Rita's. Stacked in her glittering shelves is a full cabinet of curiosities for gin lovers, including Daffy's, Monkey 47, and personal favourite, Death's Door. For those with deep pockets, there's also the gorgeously decadent vintage selection. One of the 'conditions of carriage' at Rita's (a full list can be found on the website) is that ladies let their hair down. With such an excellent selection, it'd be rude not to.
Rita's, 44 Franklin Street, BT2 7GE  (Rated 4/5)
Holborn Dining Room, London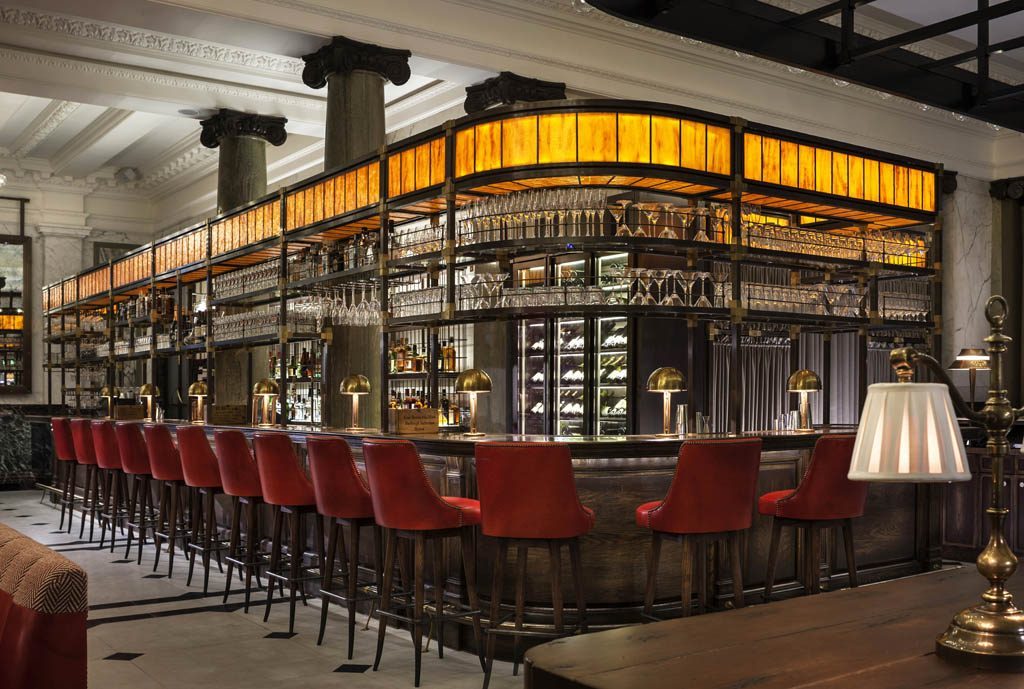 If you're indecisive about your tipple, head to The Rosewood in Holborn to sample a little something from the largest gin collection in London. The Gin Bar at Holborn Dining Rooms houses over 400 gins and 30 different tonics. Don't try and drink them all in one evening.
Holborn Dining Room, 252 High Holborn, WC1V 7EN (Rated 4/5)
The Fat Boar, Mold
We love gin, and we know you do too, so we thought we'd invite an expert to the Fat Boar to tell us more about their gin evenings: "You'll be tasting five gins on the night, both as cocktails and mixed with speciality tonics, along with a selection of dishes to complement the flavours. You'll get to taste gin like you've never tasted it before!" Where do we sign?
The Fat Boar, 17 Chester Street, Mold, Flintshire CH7 1EG  (Rated 4.5/5)
The Jekyll & Hyde, Birmingham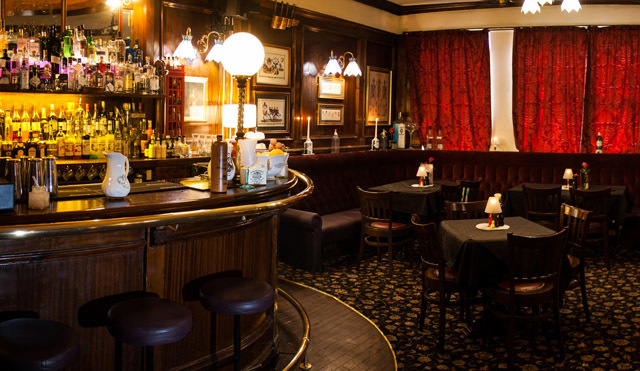 As the name might suggest, there are two sides to Jekyll & Hyde. One side – Mr Hyde's Emporium – is a traditional pub and upstairs is Dr Jekyll's Gin Parlour, which is the bit we're most excited about. If you fancy a bit of sunshine with your cocktail, head out into the Alice in Wonderland themed garden.
The Jekyll & Hyde, 28 Steelhouse Lane, B4 6BJ (Rated 4/5)
The Perch, Belfast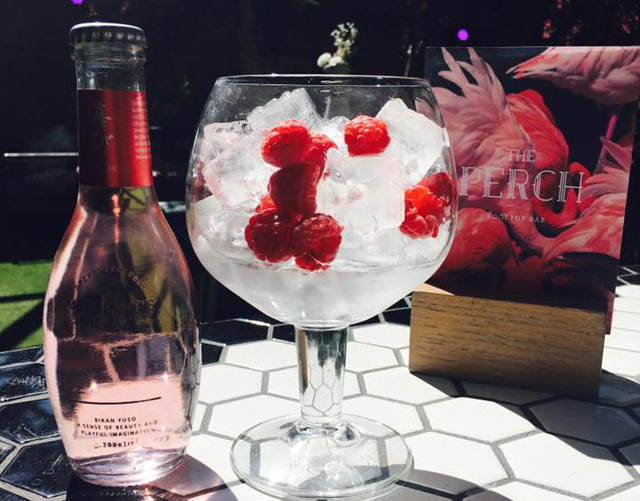 What's better than gin, we ask? Stay with us, folks. The answer is: gin on a beautiful rooftop bar in the sunshine. While we can't guarantee the sunshine, we can guarantee a wide selection of gorgeous gins, including this beauty – Brockman's gin garnished with raspberries and served with Merchant's heart hibiscus tonic. Plus, their cocktail game is pretty impressive for those people who don't, erm, like gin. WHO EVEN ARE THEY?
The Perch, 42 Franklin Street, 5th Floor, The Gate, BT2 7GE  (Rated 3.5/5)
The Old Bell Inn, Saddleworth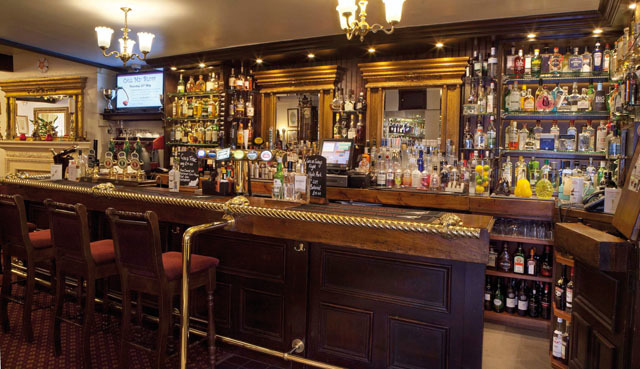 So large is the collection of gin at The Old Bell Inn, this emporium just on the edge of the Peak District made its way into the Guinness Book of World Records. They house a staggering 600 gins – since it's unlikely you'll get through them all, the bar also offer gin masterclasses. While you're in the
area, head to Juniper – a gin spot that's definitely worth seeking out.
The Old Bell Inn, Huddersfield Road, Delph, OL3 5EG  (Rated 4.5/5)
The Canary Gin Bar, Bath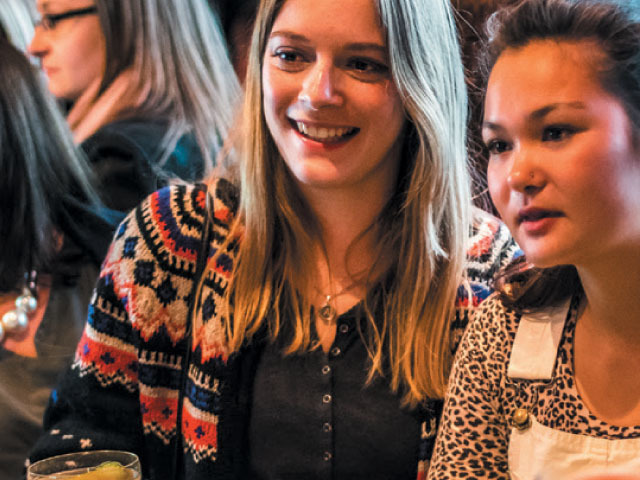 Bath's cocktail bar scene is small but perfectly formed. The Canary Gin Bar is undoubtedly the finest
place in the city for gin lovers and it's home to infamous Bath Gin. The main cocktail bar on the ground
floor serves modern cocktails inspired by global travels, but if you prefer your gin with an olive, head
upstairs to the martini bar.
The Canary Gin Bath, 3 Queen St, BA1 1HE  (Rated 4.5)
Worship Street Whistling Shop, London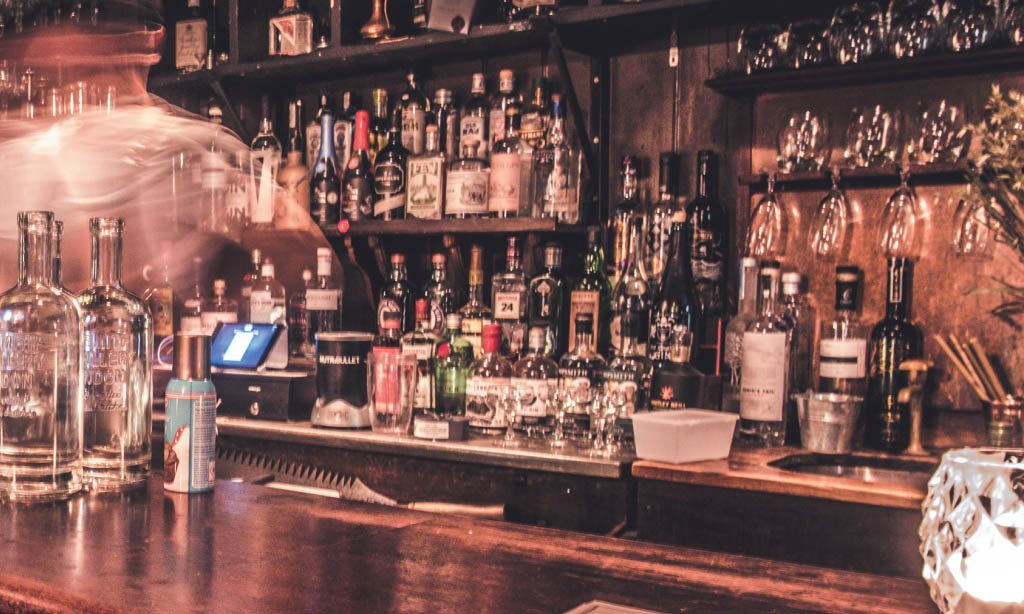 It's not just the 80 gins that Worship Street Whistling Shop stock that makes this hidden Shoreditch bar worth seeking out. Maybe you'll want to try their gin masterclass or sip a couple of cocktails from their cocktail lab (wish we had our own cocktail lab). They even make with their own bitters. This definitely isn't your average east London bar.
Worship Street, Whistling Shop, 63 Worship St, EC2A 2DU  (Rated 4/5)
Heads and Tales, Edinburgh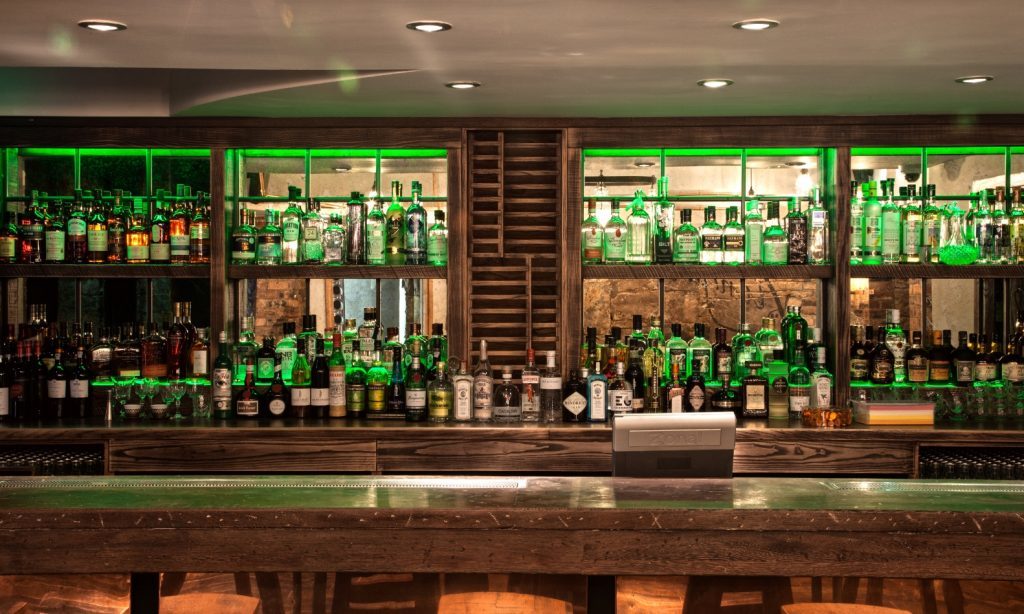 Thanks to the skill and talent of their bartenders, Heads and Tales in Edinburgh has become a city institution. Birthplace of much-loved Edinburgh Gin, their stills are installed in the bar so you can see the gin being made while you work your way through the cocktail menu. Pull up a chair, your may be here some time.
While you're in the area, head to The Royal Dick. They literally have gin on tap thanks to Pickering's Distillery next door.
Heads and Tales, 1A Rutland Place, EH1 2AD  (Rated 4.5/5)
Voodoo Moon, Wrexham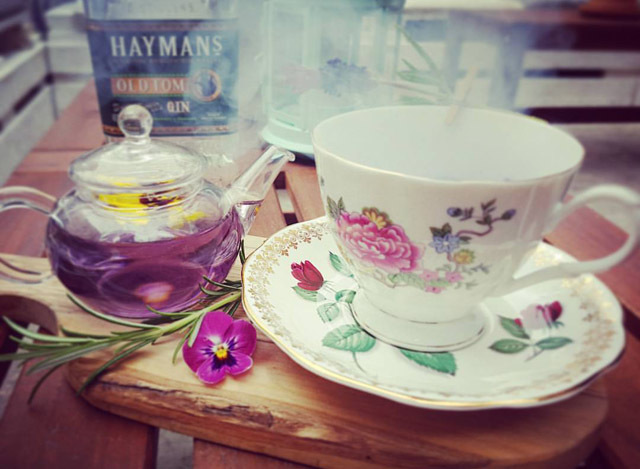 The holy grail: a bar with plenty of comfy seats. Voodoo Moon has everything from bean bags to booths with high sofas, plus a refurbished New York-style terraced bar, tucked away from the bustle of Wrexham. Be sure to try our favourite cocktail, Alice In Voodooland  – Hayman's Old Tom Gin, Crème de Violette, lavender syrup, lemon Essence and the witchcraft that is a rosemary smoke infusion.
Voodoo Moon, 1A Central Buildings, Brook Street, Wrexham LL13 7LH (Rated 4.5/5)
Alston Bar & Beef, Glasgow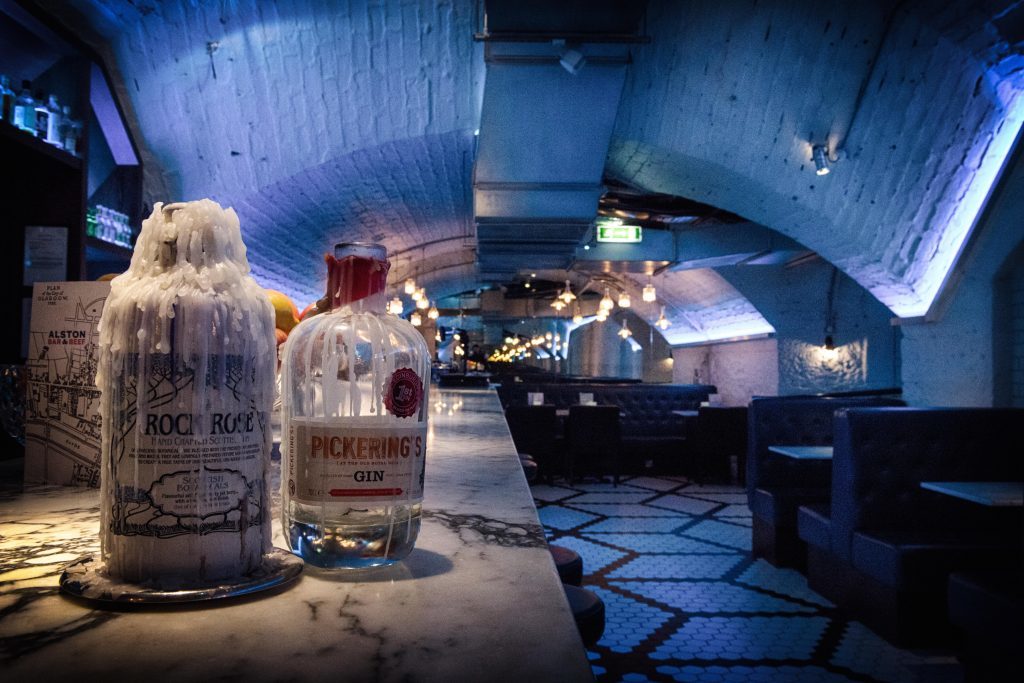 The deliciousness stars have aligned at Alston Bar & Beef, where steak and gin are the order of the day: the finest Scotch beef and a whopping 71 different international gins, to be precise. Find this gorgeous bar-restaurant in the vaulted area below Central Station, which adds a frisson of mystery and adventure to your evening.
Alston Bar & Beef, Central Station, 79 Gordon Street, Glasgow G1 3SQ (Rated 4.5/5)
Galgorm Resort & Spa, Ballymena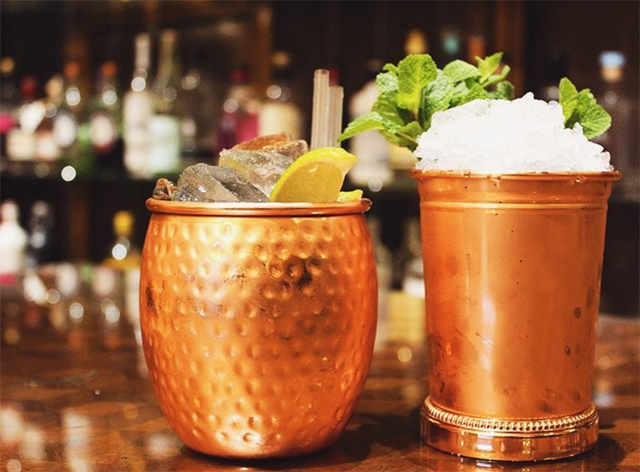 Follow the rainbow off the beaten track to the town of Ballymena in County Antrim and you will be rewarded. Not with pots of gold, but with gin – so altogether better then. The Grouse combines gorgeous fireplaces with a stellar gin selection, all in a lovely relaxed atmosphere, and you simply MUST stop by the Galgorm Resort & Spa. The staff (especially a lovely young chap named Matthew) really know their stuff and even host regular gin evenings. And, well… there over 300 gins to choose from. Enjoy.
 Galgorm Resort & Spa,136 Fenaghy Road, BT42 1EA  (Rated 4.5/5)
Gorilla Gin Parlour, Manchester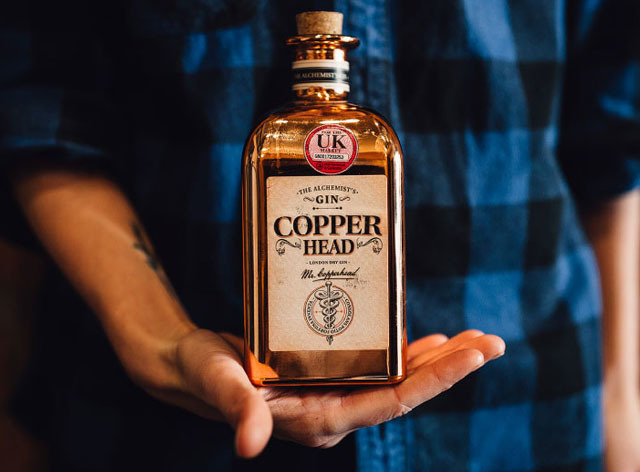 The mezzanine bar at Gorilla has its very own Gin Parlour, dedicated to the consumption of glorious gin. Be sure to take your time exploring the vast cocktail list which includes both forgotten and contemporary classics.
Gorilla Gin Parlour, 54-56 Whitworth St W, Manchester M1 5WW  (Rated 4/5)
Potted Pig, Cardiff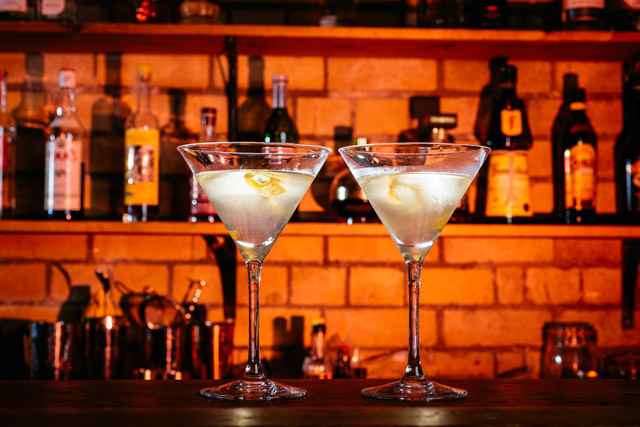 Trot along and you'll be squealing with delight and wriggling your curly tail when you see what's on offer in this delicious little restaurant, set in an old bank vault. As well as wonderful gins, you may even find the odd whole suckling pig on the menu! Oink oink!
Potted Pig, 27 High Street, Cardiff, CF10 1PU  (Rated 4.5/5)
214 Bermondsey, London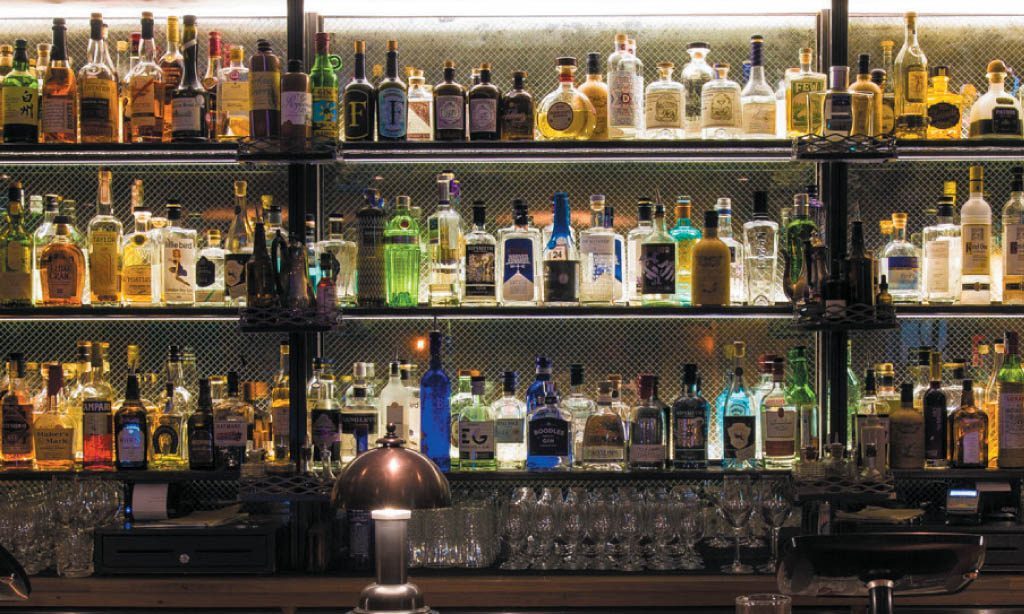 This little gin dive is hidden under an Italian restaurant and it's well worth scouting out, especially during happy hour. Whatever your gin of choice, pair it with the BTW tonic – the bar's own small batch tonic made with naturally occurring quinine from Cinchona tree bark. Oh, and while you're in the area head to Jensen's Distillery, for a mug of their hot gin.
214 Bermondsey, 214 Bermondsey St, SE1 3TQ  (Rated 4.5/5)
Lab 22, Cardiff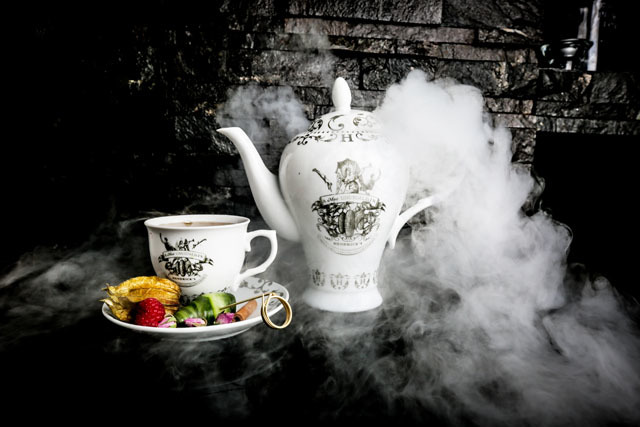 Look for the logo lighting up the corner of Mill Lane… as something weird and wonderful is being created. Follow the mysterious sounds and delicious scents to find Lab 22, one of most prestigious and unusual cocktail bars in the world, never mind Wales. Tea lovers will love the Lab 22 Tea: Hendrick's, chai-infused martini, Earl Grey syrup and a host of other magical delights, all served in a tea cup – of course.
Lab 22, 22 Caroline Street, Cardiff CF10 1FG (Rated 4.5/5)
Gallery 48, Dundee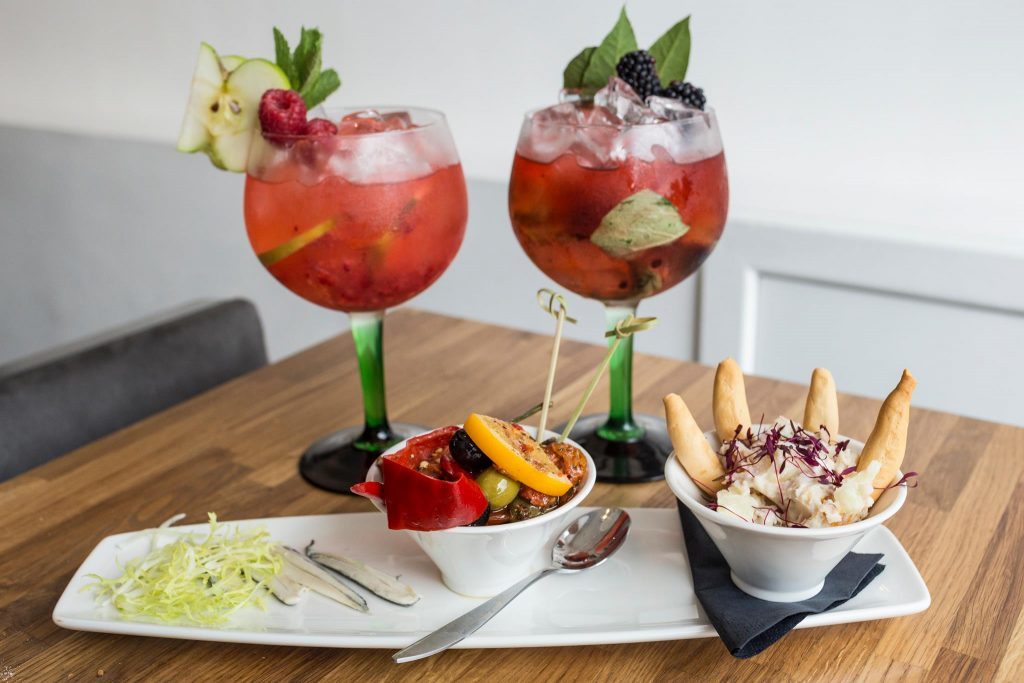 This stylish, bright and airy tapas bar has a formidable gin menu. All served in copas de balón with gourmet garnishes for a true Spanish gin bar experience – if you're feeling particularly thirsty, get a 75ml Donostia measure. Make a good life decision and order a bunch of tapas to soak up your booze. We can really, really – almost evangelically – recommend the salt cod fritters and gambas al pil pil.
Making a night of it in Dundee? Be sure to check out Draffen's, the speakeasy hidden down an alleyway in town. You'll have to work out exactly where yourself – our lips are sealed.
Gallery 48, 48 Westport, Dundee, DD1 5ER (Rated 4.5/5)
City of London Distillery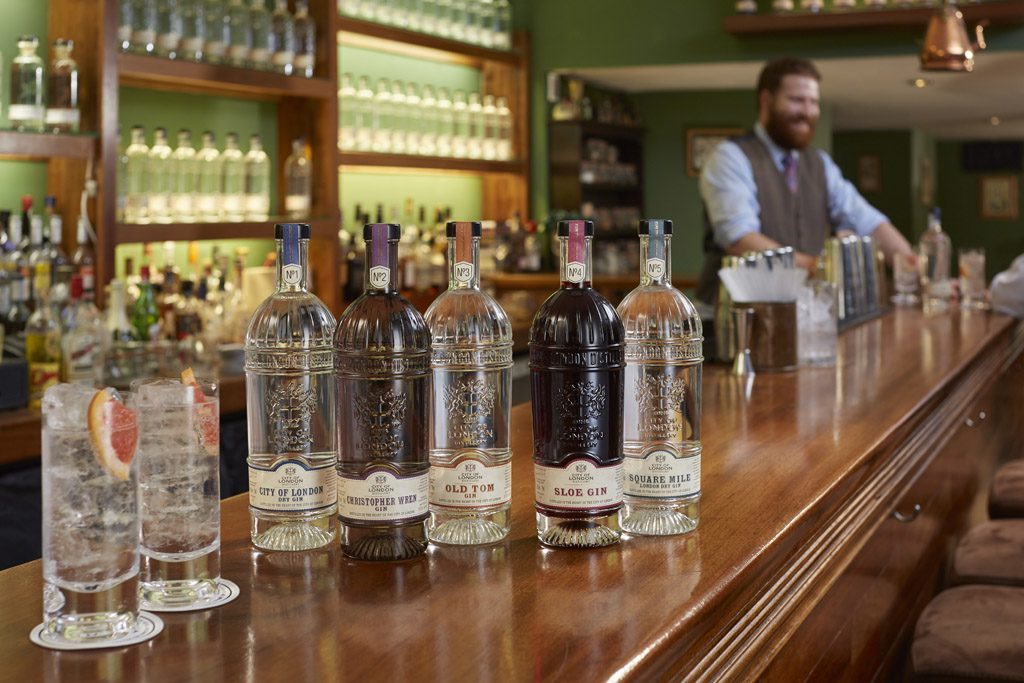 COLD is a treasure of a bar, hidden around the back of St Bride's Church. It was City of London Distillery that brought gin making back to London after an absence of 200 years. Their copper stills, Clarissa and Jennifer, are on display in the bar and they offer short tours if you fancy brushing up on your juniper knowledge.
City of London Distillery, 22-24 Bride Lane, EC4Y 8DT
Jenny Watts, Bangor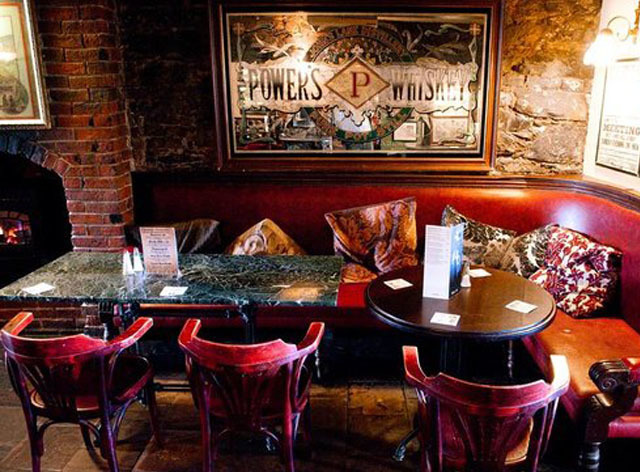 Jenny's is Bangor's oldest public establishment and is a proper, traditional Irish pub with live music, vintage memorabilia, real fires, and little corner snugs. It also has a healthy gin menu, making it the perfect place to relax an unwind after a hard day of coastal walks and castle tours. Boutique hotel, The Salty Dog, is also definitely worth a taking a peek at. It's not shy about its extensive list of gins, and is also handily being placed overlooking Bangor's lovely marina. Gin with a sea view? We don't mind if we do.
Jenny Watts, 41 High Street, BT20 5BE  (Rated 4.5/5)
The Tippling House, Aberdeen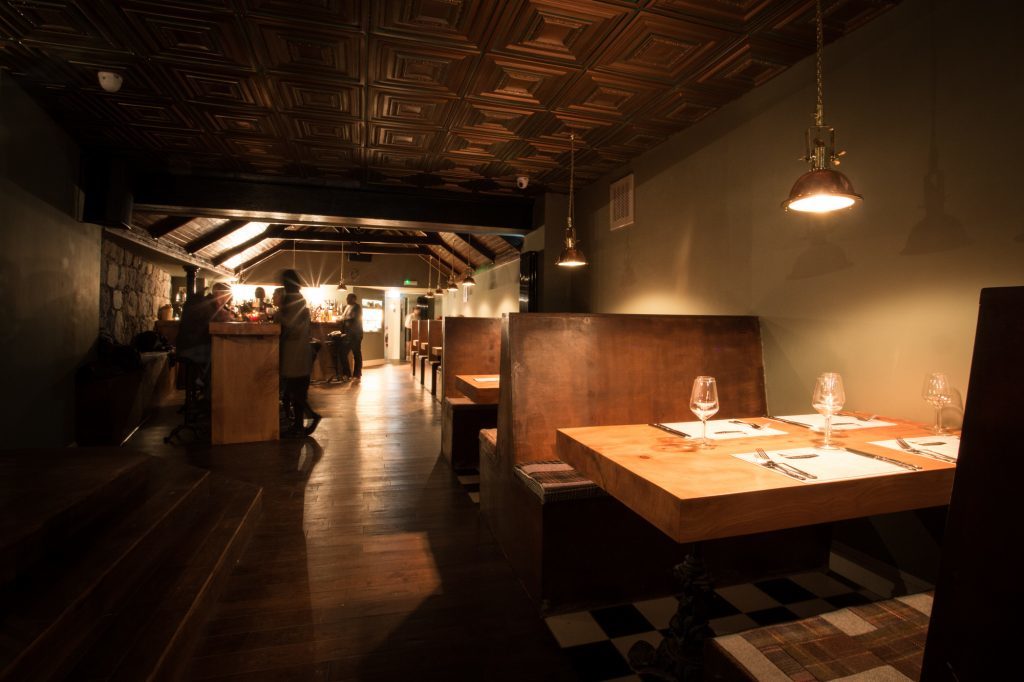 Looking for a cocktail in Aberdeen? Look no further than the Tippling House. This "subterranean late-night tavern" has an inventive and delicious cocktail menu, with a great selection of gin-based treats: try the Too Late For Logic, a fabulous blend of gin, calvados, maraschino liqueur, rosehip and pear cordial, orange bitters and lime. Do as your mama always told you and line your stomach with bar nibbles like lobster mac 'n' cheese bites or – Canada fans, rejoice – poutine.
The Tippling House, 4 Belmont Street, Aberdeen, AB10 1JE (Rated 4/5)
---
Our gin reviews can help you choose your next bottle – or two!