Anyone looking to sample a taste of the Orient without committing to a full-blown sake can rejoice at Jinzu Gin.
---
A little bit of background
You could be forgiven for thinking you are consuming a Japanese gin at first. With a prominent cherry blossom branded onto the bottle, the gin hints at Japanese origins but actually delivers a far vaguer Eastern promise.
Depending on where you look, the name 'jinzu' can be either Chinese or Japanese in origin. It can refer to the free-flowing river of Japan or, entirely the opposite: mean "restricted" or "forbidden."
Jinzu Gin's origins, however, are slightly less exotic. Distilled in Scotland and created by Dee Davis for a British bartender competition, Jinzu is more a nod to Japan than born beneath the cherry blossom's wake.
The bottle
Here's one you should display pride of place in your gin collection. It feels less like a gin, and more like a dinky ornamental trinket. Exhibiting a little Japanese quirk, a bird clutches an umbrella against the distinct silhouette of the cherry blossom. The gin is wonderfully crystal and clear.
Botanicals
Juniper      Coriander
                               Cherry Blossom    Yuzu
The taste
Served with your favourite tonic water, it tastes wonderfully layered. Jinzu may not be Japanese in birth but there's more than enough of its spirit in this bottle.
Sake blends with zingy citrus to create a gin of delicate taste. There's not the typical pungency of gin, and yet it is familiar enough to recognise it as a child of Mother's Ruin.
Be sure to take small sips to truly appreciate the flavour. You will be rewarded with a crisp, citrusy taste that is entirely easy on the palette.
Suggested serve
50ml Jinzu, tonic water, apple. Garnish: Apple slice.  Method: Pour the Jinzu over cubed ice into a highball glass, fill the glass with tonic, garnish with a slice of Green Apple. Alcohol content: 2.0 units.
The perfect pour
The recommended garnish may be a slice of apple, but you must try it with pomegranate. The beads swirl artfully around the glass, creating the perfect, whimsical experience.
Jinzu takes British gin and blends it with Japanese culture. What could be more fitting than the sight of bobbing pomegranate? It is entirely reminiscent of cherry blossom trees in faraway gardens.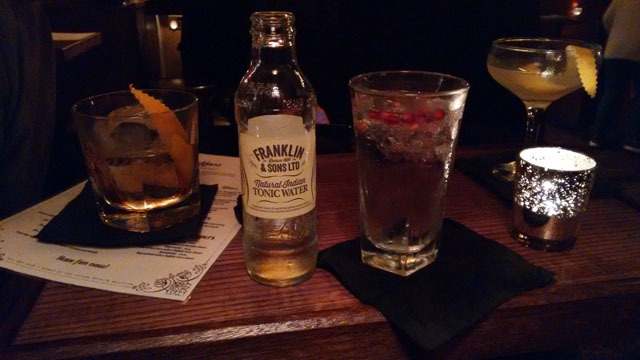 Lasting impressions
Jinzu Gin promises "a unique taste experience for consumers in search of depth and discovery". For this reviewer, it did not disappoint. If you are looking to recommend a gin to a newbie or simply wish to rediscover exactly why you love gin in the first place, this is for you. Not many gins can take you from West to East in just one small sip.
---
Looking for even more expertise? Discover your new gin joint with our bar guides.