Bullards Norwich Dry Gin has been on my radar since I discovered they use the Tonka bean. So, when The Gin Kin needed a volunteer, I jumped at the chance to try this award-winning dry gin.
---
The Hype
Bullards is a name synonymous with Norwich's brewing history – which all began at the Anchor brewery in 1837 – but it's been 150 years since gin was distilled by Bullards. Their Norwich Dry Gin has resurrected the history and taken the gin world by storm – it was recently named 'Best London Dry Gin in the World' at the World Gin Awards.
The Bottle
The bottle is pretty basic with clear glass, a white label, and mostly black text. Its sister gin, the Strawberry and Black Pepper, looks slightly prettier, but mostly thanks to its pink hue – sadly, the red label cheapens it. The hand-written batch number is a nice touch, but when I asked a friend what they thought, they said: "It looks unfinished, like a prototype."
Botanicals
Bullards Norwich Gin proudly states itself as the only gin in the UK to use the Tonka bean, and smugly declares its other nine botanicals a secret. However, we've done some digging and (aside from the Tonka), some botanicals include juniper, lemon, and coriander.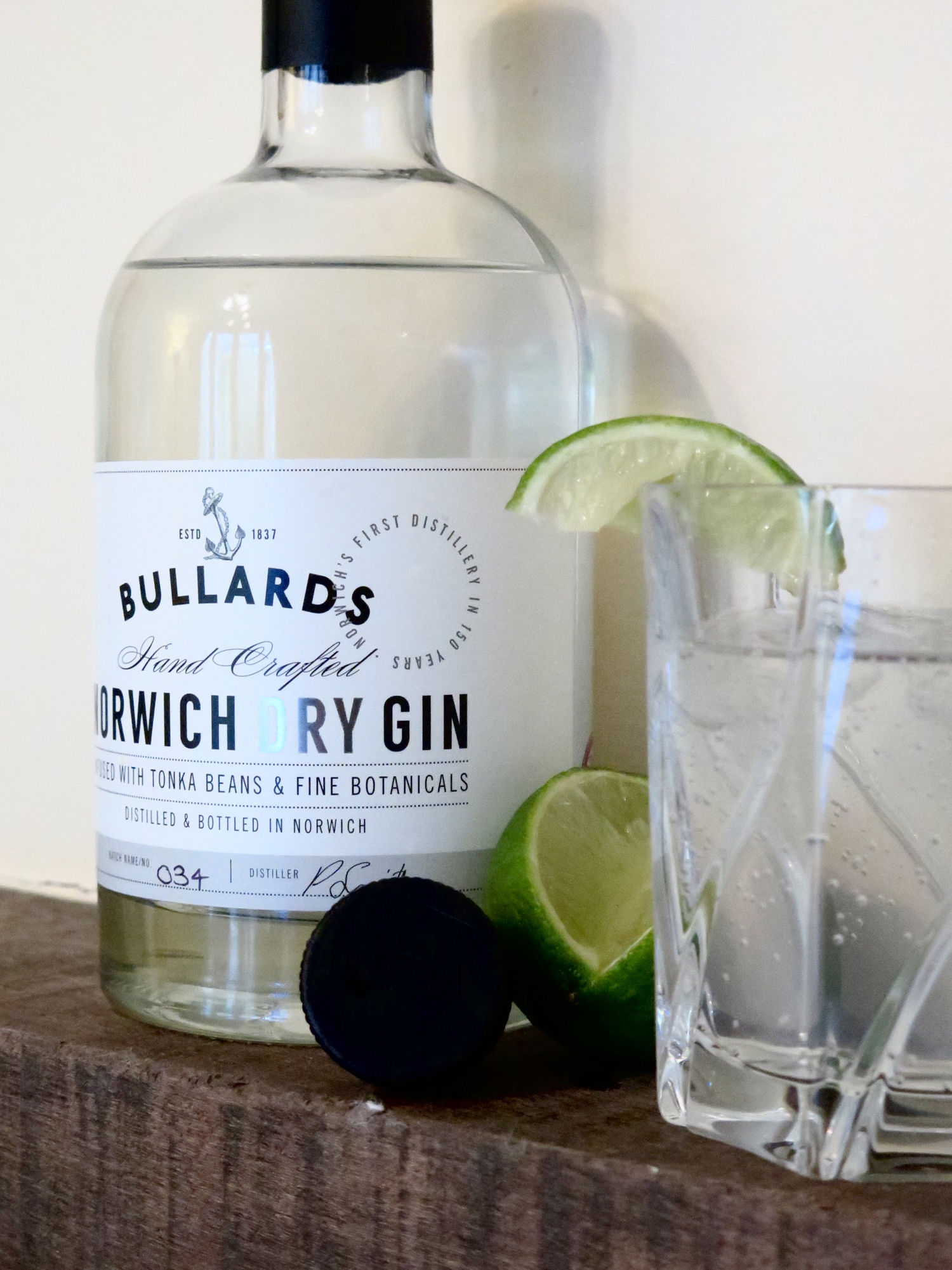 The Gin
Nose: When you lean into the open bottle and breathe in, there's a distinct citrus scent (most definitely lemon) which sits alongside something much more interesting; the duller, thicker flavour of spice.
It reminds me of my uncle's kitchen (he's Sri Lankan and has a spice rack to rival the best curry houses). The aromatic Tonka bean – a wrinkly, long, black seed from a giant tree located in the depths of the Amazonian forest – most certainly takes precedence with regard to flavour.
Straight: It's smooth, and there's certainly nothing harsh about it. Over ice, it's perfectly pleasant. However, there's a distinctly bitter after taste, probably thanks to the very ingredient that makes Bullards Norwich Gin so unique, the Tonka bean.
Tonic: I tried it with Fever Tree tonic, and immediately got hints of marzipan, cherry and something altogether more floral. It was refreshing and interesting, and with a classic wedge of lime went down a treat on a Thursday afternoon. The after taste was muted by the addition of the tonic, and I do wonder if a peel of orange or lemon might be a better suited garnish.
Serve: Carefully. In copious amounts, the Tonka bean contains a chemical – coumarin – that, in large doses, can kill*.
*The Tonka bean hasn't actually killed a human being, but has been known to kill small animals when digested in large volumes by – somewhat ironically – attacking the liver.
---
Have you tried Bullards Norwich Dry Gin? Let us know what you think on Twitter!