As we told you earlier in the week, Aldi has launched a "Scottish Gin Festival" bringing a range of drinks at its typically competitive prices. One of the bottles on offer is a Winter Warmer Old Tom Gin by Eden Mill and exclusive to Aldi. We took it for a test…
A bit of history
The latest effort from the team at Eden Mill is its Winter Warmer, coming at a perfect time as the nights draw in and one may feel the need for a snifter or two to keep out the cold.
The Old Tom is the latest in a line of seasonal limited releases which have boosted the popularity and range of the St Andrews-based firm.
The genesis of Old Tom gin seems to be lost in time but harks back to a period when distillers – some less scrupulous than others – would add copious amounts of sweetener to their products to cover the base flavour (sometimes turpentine or acid if you stumbled across a particularly unsavoury Victorian gin joint).
Whether the "Tom" name comes from one of the many cat-related legends which have sprung up around the tipple (including one involving a moggie drowning – possibly happily – in a vat) or the first mass-producer, we do not know.
It matters little, as long as the distiller gets their flavours spot on, as Eden Mill undoubtedly do.
The all important bottle
The Eden Mill design classic – solid earthenware and a delightful addition to a growing collection on my shelf.
Ingredients
Ginger, dried fruits, cinnamon, nutmeg, cloves.
Nose
As expected from a product named Winter Warmer, it is deep, rich, fruity and brings to mind a hot Christmas pudding or toddy.
Neat
A hit of spice followed by the heat of the alcohol but smooth, with no burn. If you find yourself short of mixers, Winter Warmer over ice works well.
Just add tonic
Fever Tree Premium Indian brings out the fruitiness and prevents any danger of it becoming too cloying.
Serve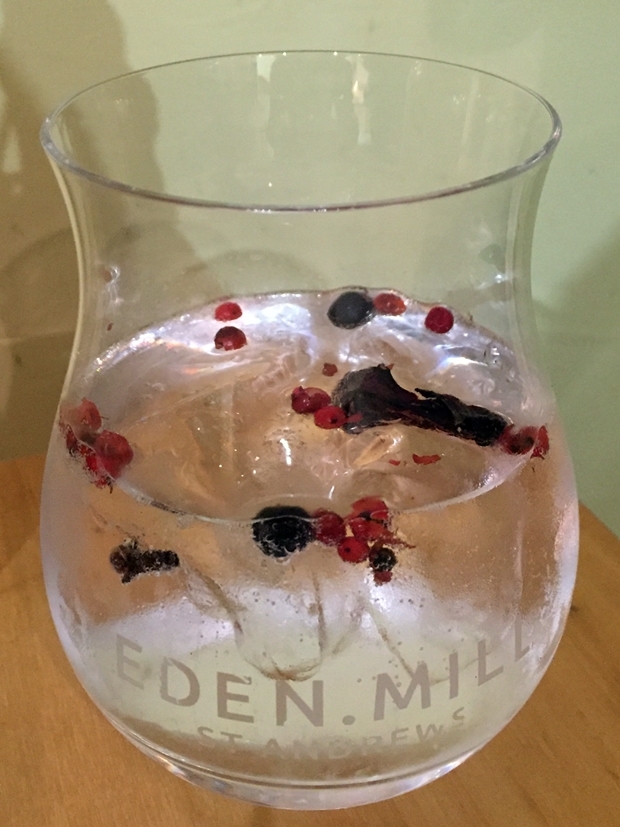 A short hit of tonic and a dip into the spice rack – rosehip, cloves and red pepper worked for me.
And afterwards
Hopefully this release will not be limited to winter 2017. This warmer could be a seasonal hit for years to come.
---
Eden Mill's Winter Warmer (50cl) is on sale for £19.99. Looking for more inspiration? You can find more of our gin reviews here.