If you've ever wanted to experience the Mad Hatter's tea party complete with magical Alice in Wonderland setting, then Davy Macs' Hendrick's tea party could be for you.
The special gin afternoon tea features a greeting on arrival by none other than the Mad Hatter himself, while the assortments on offer are truly worthy of being in Wonderland.
Served from quirky teapots, cups & saucers, you can enjoy a classic Hendrick's Gin complete with Fever Tree Elderflower Tonic in an entirely new way.
As if the setting wasn't magical enough, the event also features themed "Eat Me" cupcakes, as well as an assortment of pastries and sandwiches.
Also, just in case your friends aren't gin lovers, there's always pink vintage lemonade in miniature "Drink Me" bottles to choose from. You will further be treated to a glass of Prosecco upon arrival.
---
See: Our review of the classic Hendrick's Gin
---
This could also be the perfect excuse to visit one our top rated gin bars in Ireland. With stunning décor and a wide menu of gin specials to choose from, Davy Macs, on Johns Avenue in Waterford, Ireland, is well worth a visit. Serving over 110 gins, this multi-award winning gin bar has a unique interior even without the quirky Wonderland theme.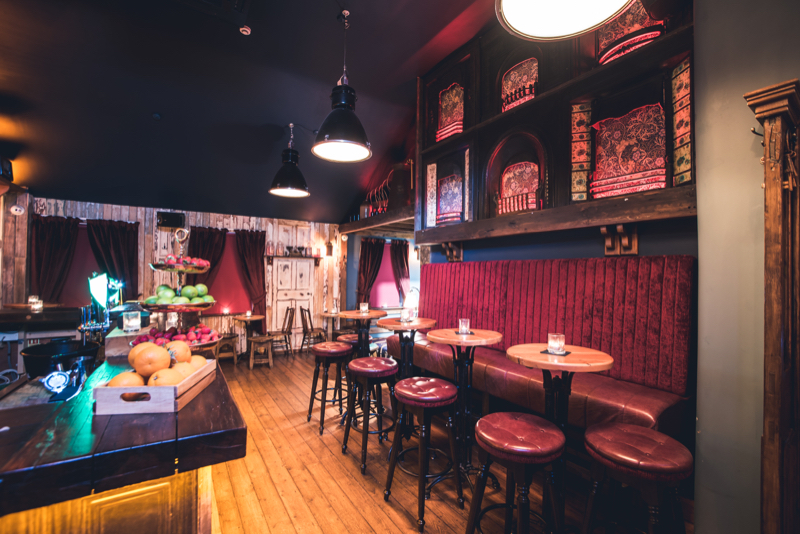 Alice in Wonderland was first written by Lewis Carroll in 1865 and continues to be a cultural phenomenon due to its quirky themes and endearing characters.  It's since inspired film, music, TV, theatre and game, most notably being brought to life on screen by director Tim Burton.
The Hendrick's Tea Party can be privately booked for 18 plus people, or individually book the tea party at https://davymacs.ie/. The event is held on the second Friday of every month. Price is €39 per person.