We do love an inventive twist on gin here at The Gin Kin, so when we saw this Sweet Violet gin liqueur we immediately had to talk about it.
Created by Manchester distiller Zymurgorium, it's made with what else but sweet violets to create a distinctly pastel taste. Admittedly, we have not as yet experienced a pastel taste in gin before, but we imagine it's something delightfully sweet and floral.
This gin liqueur, you see, is wonderfully reminiscent of Parma Violets. The nostalgic purple sweets are notable for their perfumed violet taste, which can often divide opinion.
The treats are created by Swizzels Matlow, a childhood hero of candy manufacturing who also produce Refreshers, Drumstick and Lovehearts.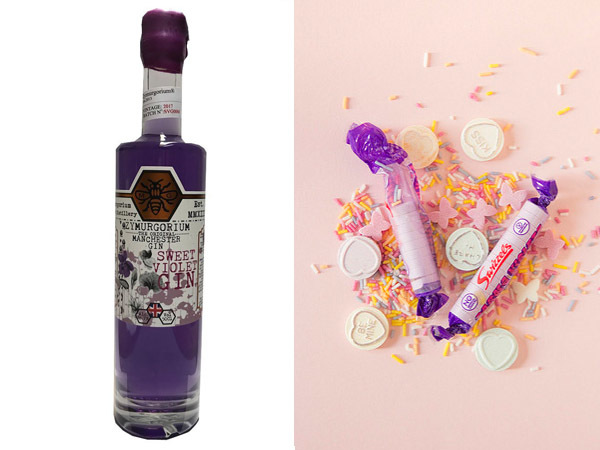 ---
See: Rhubarb crumble gin might be our favourite new tipple
---
For creator Aaron Darke, it appears childhood memories are certainly a key source of inspiration for this invention. The UK-based distiller incorporates his love of nature, culture and science into his products.
This might help explain the name Zymurgorium but also a very special cocktail associated with this drink called the Statospheric Aviator.
If you fancy making yourself a suitably purple cocktail, simply combine 1-Part Zymur Manchester Gin, 2-parts Violet Gin, and 1-Part Kirsch Liqueur in a glass. Garnish with 3-glace cherries on a cocktail stick and make sure you add some crushed ice to your Martini glass.
Yet, that's not all this wonder drink can create. It can be used exactly like Creme de Violette too. Try with lemonade, mixed with ice cream or even in baking. We have to wonder if the cakes will also be a fitting shade of purple. Here's hoping!
Zymurgorium Sweet Violet Gin is available on Amazon now for £26.50
---
More: