UPDATED 9 December: Shipping from Amazon may not arrive before Christmas. Alternately, find the Peaky Blinder gin, whiskey and rum on Drink Supermarket (all £24.99) or from Sadler Sales (all £29.99).
Peaky Blinders fans rejoice! Craft brewer Sadler Sales has just launched a Peaky Blinders gin, whisky and rum.
The launch coincides with the third series debut of the prestige BBC drama. The Peaky Blinders trifecta includes a Peaky Blinders gin (£23), Irish whiskey (£23) and spiced black rum (£23).
The fifth generation, London based brewer just released the range last week. The range pays homage to the period whilst taking a contemporary twist for us 21st century drinkers.
The spiced London dry gin is influenced by the rugged Black Country setting of the cult TV programme. Inspired by the show's 1920s era, the Peaky Blinders gin is a nod to the "the famous Indian cuisine that is ever-present in the Black Country."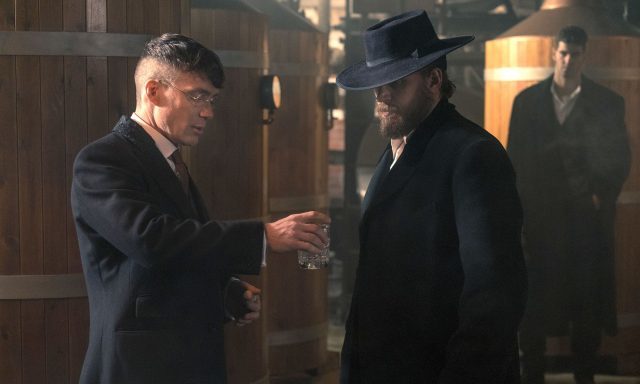 Obviously, whiskey, the Peaky Blinders' crew drink of choice, is represented in the lineup. The Peaky Blinder Irish Whiskey is a "bold, smooth and triple-distilled Irish whiskey."
Finally, a black spiced rum with essences of orange, nutmeg, vanilla and raisin rounds out the range.
This is an easy one. Like Peaky Blinders? Like gin… or whiskey… or rum? Any and all of these handcrafted spirits would be right at home this Wednesday night during Peaky Blinders.
And, of course, it's Christmas time. Any of the range's wax dipped bottles would make a lovely gift. Fans of the cult TV show have a built in Christmas gift whether they like gin, whiskey, rum or all of the above! Tick that one off the list.
Peaky Blinder Spiced Dry Gin is available for £29.99,  Peaky Blinder Irish Whiskey for £23 and Peaky Blinder Spiced Black Rum for £23.
---
Read more