Verdant Gin were the deserving winners of Scottish Gin of the Year 2017. We were lucky enough to get our hands on a bottle for review…
A little bit of background
Verdant Dry Gin is the first gin to be distilled in the city of Dundee, Scotland. Inspired by Dundee's industrial past (famous for the three Js – jute jam and journalism), owner Andy Mackenzie acquired an old Jute mill in which to house his distillery and went on to create a gin that embodies the spirit of the city – distilled with botanicals that reflect the shipping routes sailed by traders bringing produce to and from the city. Verdant steamrolled into the market this year and has since gone on to win accolades such as a gold award in the Spirits Masters and more recently was named Scottish Gin of the Year at the first annual Scottish Gin awards. As Dundonians ourselves, we've followed Verdant's story closely we were very excited to be given the opportunity to review our local gin!
The bottle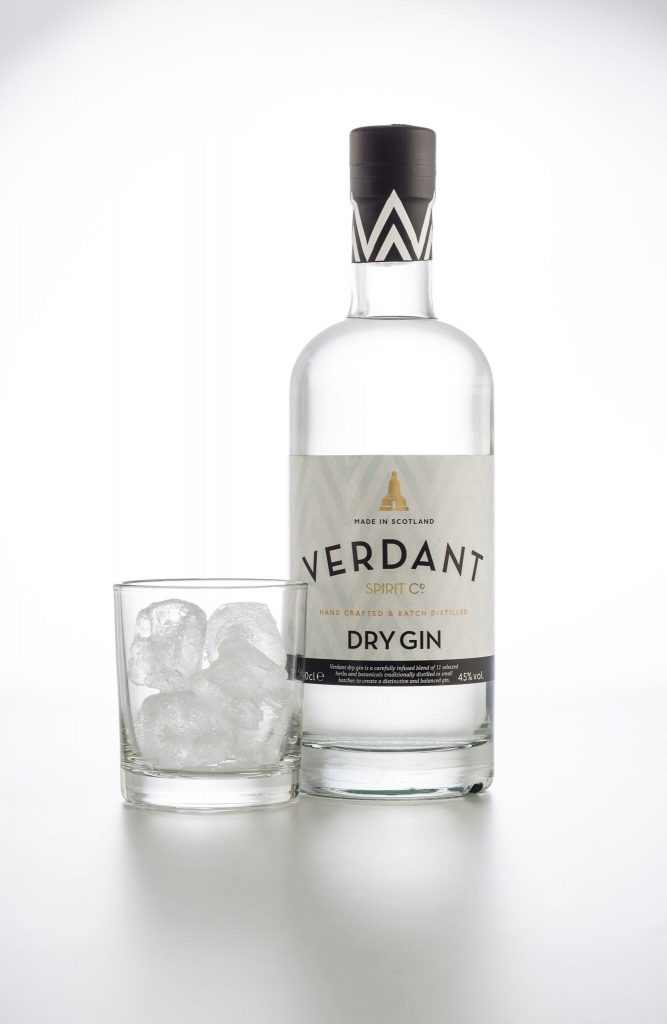 Verdant's bottle was styled to stand out on a back bar. It's much taller than the average gin bottle and the branding has a distinct art deco feel with bold patterns used throughout, inspired by the architecture seen on older buildings in and around Dundee. The Verdant Spirits logo is the Law Memorial, an iconic statue visible from almost any point in the city and the font and styling of the text on the bottle mirrors that of the Verdant Works – a popular Jute museum here. Verdant have styled themselves as "the spirit of Dundee" and their branding most certainly embodies this.
Botanicals
Juniper Berries
Coriander Seed
Lemon Peel
Bitter Orange
Cassia Bark
Orris Root
Green Cardamom
Angelica
Liquorice
Grains of Paradise
Verdant's botanicals were inspired by the Dundee's industrial and shipping heritage, with many of these chosen from countries that were once frequented by traders from the city. It's also got a heavy hit of bitter orange peel – a nod to Janet Keiller, a local woman who is said to have invented marmalade when she discovered an excess of Seville oranges by the docks of Dundee.
The Gin
Nose:
I'll say this much – this is an absolutely fantastic smelling gin. On the nose, Verdant gin is pungently citrusy, with the bitter orange and lemon peel shining through, reminiscent of a freshly baked lemon drizzle cake. Get in there with your nose a little deeper and you'll notice a distinct earthiness from the orris and angelica with a little hint of peppery spice from the grains of paradise.
Straight:
Drink Verdant gin straight and its spices definitely come through, with coriander, cardamom and grains of paradise taking the lead here. It's a very smooth gin that I could happily drink on the rocks and has little to no alcohol burn, with a very slightly oily mouthfeel. As you swallow, the juniper and citrus become apparent but, like many gins on the market right now, the juniper does not overpower the subtleties of the other botanicals.
Tonic:
With tonic, the zesty flavours of the lemon and orange peel have their chance to shine once more. This is followed by a sweet hit from the liquorice and finished with a whack of juniper, spice and freshly cracked black pepper. Andy once told me he drinks Verdant with Shweppes, so that's what I did, and to be honest I didn't miss the premium tonic – testament no doubt to the quality of the gin itself.
Serve:
Verdant is a classic gin and as such is often served classically with tonic, ice and a slice of lime. However, the team insists that their gin should be enjoyed how you like it – whether that be straight, on the rocks or in a classic cocktail.
In Conclusion:
Maybe I'm biased as a Dundonian but, I do truly feel that Verdant has earned its title as Scottish Gin of the Year. With such a saturated market, it's so hard to succeed as a classic gin without a "unique" ingredient or hook, yet the balance of flavour that this bottle provides speaks for itself. If you haven't tried it – do so immediately!
When I went to the distillery at the Edward Street Mill to pick up my bottle for review, I was lucky enough to be given a wee sip of their brand new Dundee Marmalade Gin, produced in partnership with the James Keiller Estate and I must say, this was equally delicious.
Verdant Gin is available for £34.95 on their website
---
Read our interview with Andy Mackenzie, founder of Verdant Spirits
Learn more about Verdant's plans to open a visitor centre
Get the lowdown on the winners of the Scottish Gin Awards
More gin reviews here