With gin mania at an all time high, it's hard to pinpoint just one place to focus on. But when Cornish gins are this good, we can't get them out of our heads.
Clearly, it's not just us. Tarquin's, the young distillery and already one of Cornwall's best known gins, has won accolades worldwide at the IWSC and San Francisco World Spirits Competition. Most invigourating are Cornish distillers' deft ability to produce stunning classic gins and those with unforgettably Cornish elements.
Sea spray, samphire, family secrets: you name it, they've got it. So let's get right to it. Here are the gins and distilleries to watch straight from the south west.
---
1. Tarquin's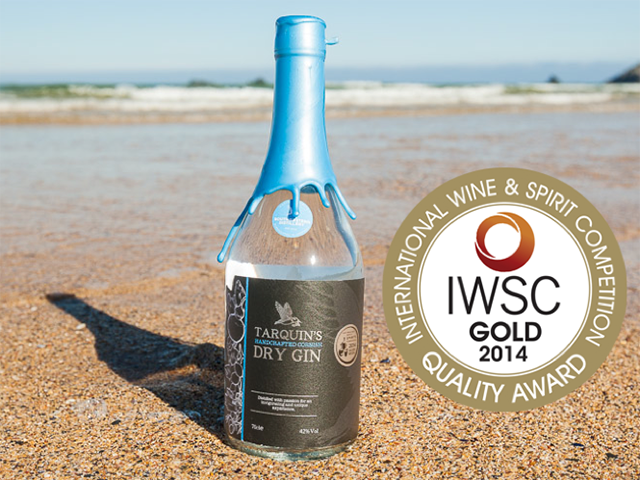 Established: 2013
Botanicals:
Juniper
Coriander seeds
Sweet orange, lemon, grapefruit
Angelica & orris root
Green cardamom seeds
Bitter almond
Cinnamon
Liquorice root
Devon violets (from the garden)
Launched just in 2013, it's amazing how Tarquin's has managed to bring the world's spotlight to Cornish gin. Nowadays even sterling gins have to shout to be heard with so many gins on the market. It makes Tarquin's almost instant acclaim is all the more remarkable. What's more, its founder Tarquin Leadbetter is only 30 years old.
Gin production begins with steeping hand-sorted botanicals overnight in wheat spirit. It's then warmed and carefully tended, monitored and adjusted for eight hours. Next, the "heads and tails" (the first and last portions) are discarded. Only the heart of the run is collected into Tarquin's signature wax seal bottling.
The result? Tarquin's Dry Gin is a classic with finesse. The cult favourite is evocative of pine forests, earthy botanicals and sun ripened orange.
"We like to think the result is comparable to stumbling upon a beautiful orange blossom in the middle of a crisp, dry pine forest," says Southwestern Distillery.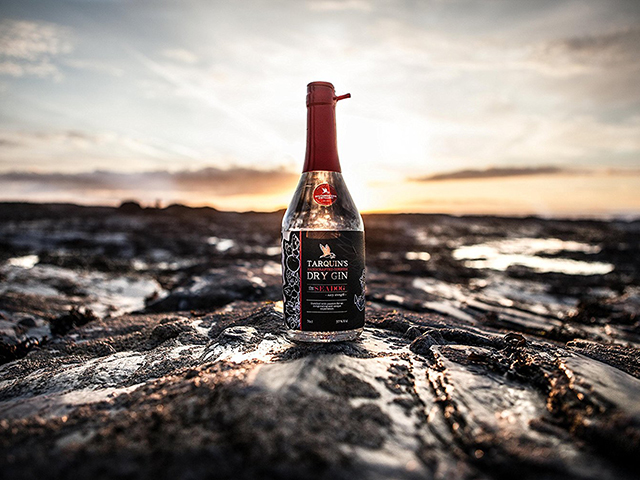 Tarquin's Cornish "The Seadog" Navy Gin is the amped up version of the original Tarquin's. Fun fact: Navy strength gin is so named after the ABV at which gunpowder ignited if accidentally soaked in gin. The Royal Navy has historically drank gin at this impressive strength.
Tarquin's other gins and spirits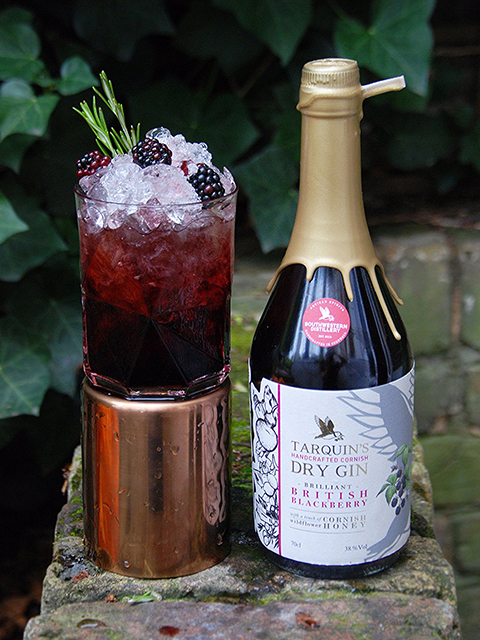 ---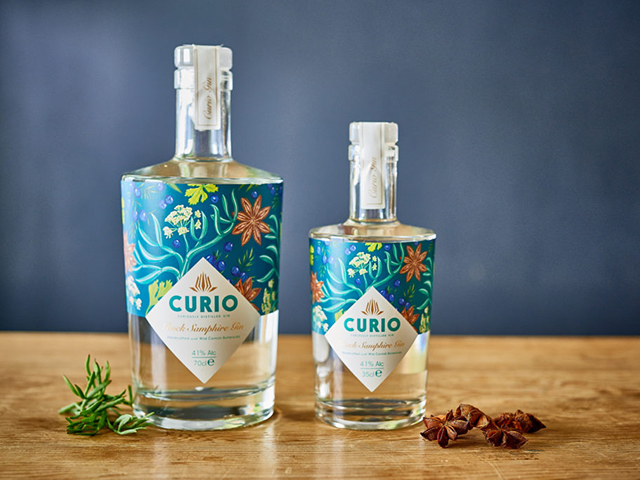 Established: 2012
Botanicals:
Juniper
Lime flower tea
Star anise
Fresh lemon & lime peel
Seaweed
Rock samphire
Nutmeg
Cinnamon
Coriander
One taste of Curio Rock Samphire Gin summons Cornish sea spray. Infused with hand-foraged rock samphire and quadrupled distilled, Rock Samphire seeks to capture the distinctive West Country coast in a light and fresh gin. While you typically see the sea vegetable served with fish, samphire adds a distinctively saline and vegetal layers.
---
3. Caspyn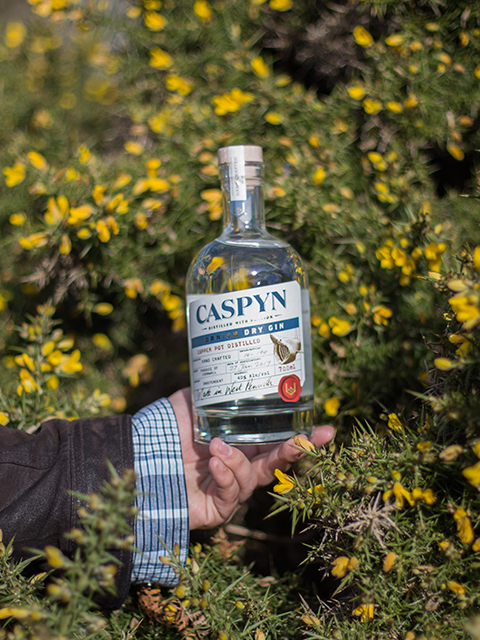 Botanicals:
Juniper
Orris
Lemon and orange peel, lemon grass, lemon verbena
Hibiscus flowers
Japanese tea
Gorse
Orris
Did you say Cornish springtime? We're enchanted. Caspyn Gin is the brain child of Shaun Bebington at Pocketful of Stones distillery. The South African turned Londoner was drawn to the Cornish coast on breaks from the old smoke.
In fact, Shaun named the gin after what he believed was the name of a Neolithic stone circle near his home. The mix up was a misunderstanding, and a typo at that, but the name stuck.
Piqued your curiosity? Check out our review of Caspyn Gin & giveaway!
---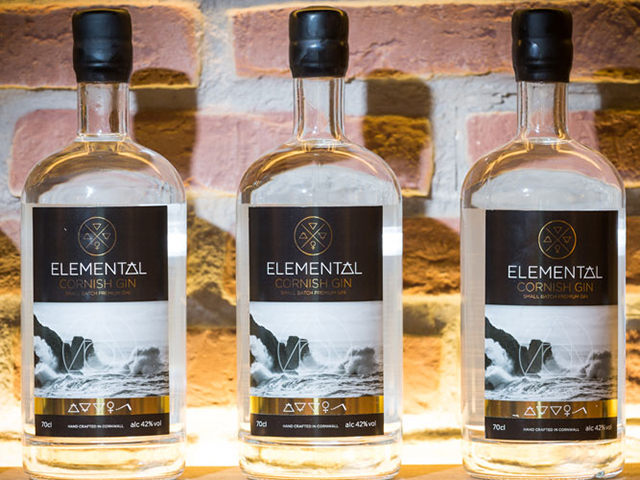 Released: 2013
Botanicals:
Juniper
Coriander seed
Cassia bark
Orris root
The rest is a family secret
It's all in the family at Elemental Gin. Headed up by husband and wife duo and their two eldest children, the north Cornwall distillers run a fine artisanal production.
Elemental Gin is based off organic English grain alcohol to start then infused with 12 botanicals with nothing added except locally sourced Cornish spring water. Grass overtones and a long spicy finish, Elemental is wonderfully moreish.
---
The Black Dog Gin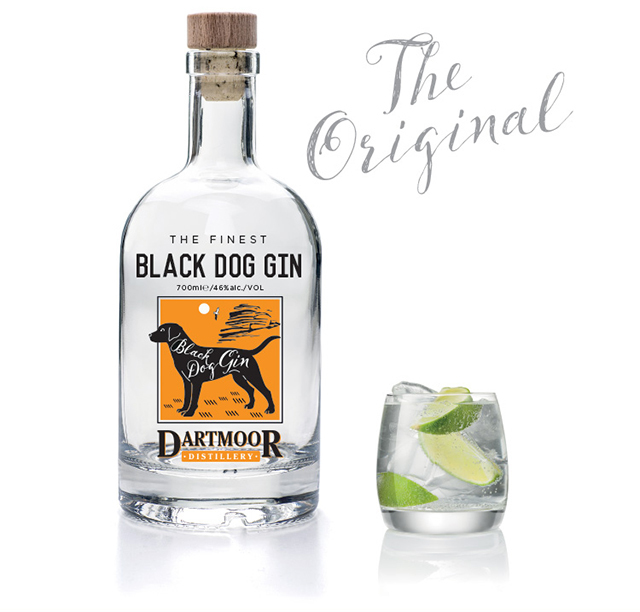 The Black Dog Gin
Released: 2016
Botanicals:
Juniper
Orange and lemon peel
Wild flowers
Red berries
Like Bruichladdich with The Botanist, Dartmoor Distillery expanded from whisky to gin last year. Named after the master distiller's loyal labrador, Black Dog Gin is an expression of the unique ingredients hand foraged around the distillery. Other ingredients come from local businesses, thereby cutting down on food miles. A more interesting gin and a small carbon footprint? It's a win-win.
The grassy and herbal Black Dog Gin is so smooth that Dartmoor recommends sipping it neat.
Dartmoor Beast Gin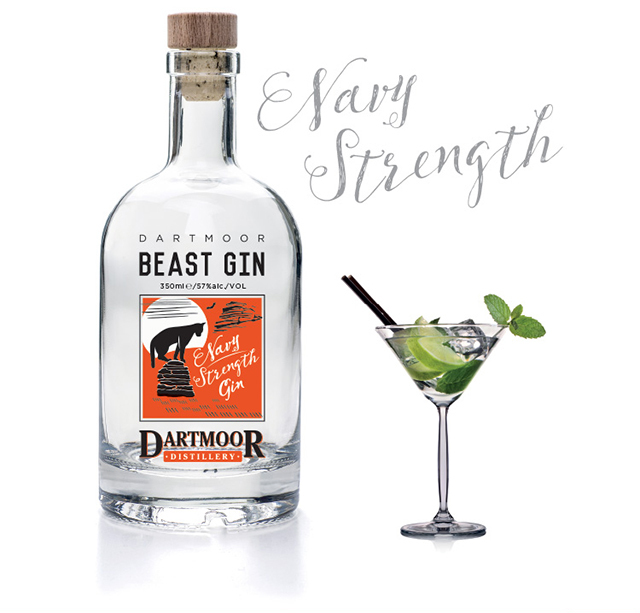 The Beast Gin goes easy on the Dartmoor spring water with this Navy strength (57% ABV) offering of Black Dog Gin.
---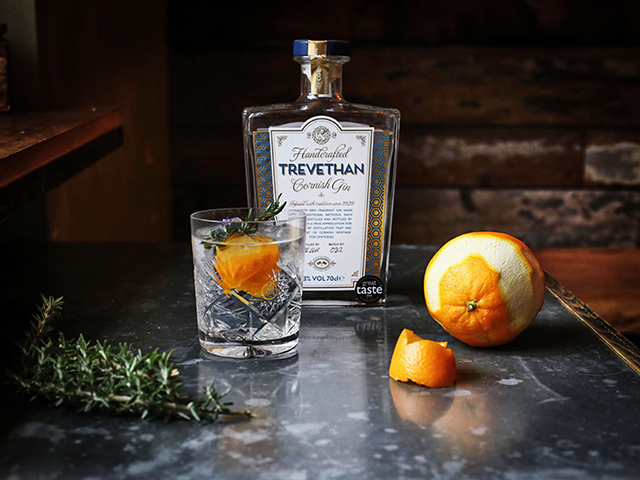 Established: 1929
Botanicals:
Juniper
Coriander
Cassia
Angelica
Cornish elderflower & gorse flower
Cardamom
Orange peel
Lemon peel
Trevethan Cornish Gin is one of the older kids on the block. Each batch is still hand crafted in Copper-Alembic with a family recipe dating back from 1929. John Hall, the head distiller, oversees the carefully crafted one shot process. No batches are blended or mixed, meaning the true taste of the gin shines through.
The distillers have even incorporated Cornish elderflower and gorse flower from their own hedgerows. As for the gin itself, Trevethan sings with citrus and floral. Vanilla lends softness and oiliness on the palate.
---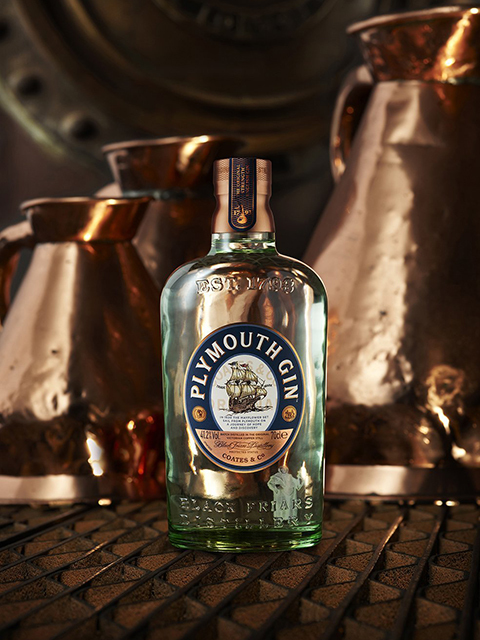 Established: 1793
Botanicals:
Juniper
Coriander seed
Cardamom
Orris root
Angelica root
Orange & lemon peel
Though Plymouth is in Devon, we'd be remiss not to mention Plymouth Gin. It's the south west's best known gin and likewise one of the foremost classic gins. Founded in 1793, this iconic sweet and earthy gin is an absolute joy in a martini. Its juniper bite is balanced by marvelously gentle citrusy overtones.
---
Can't get enough of Cornish Gin? Win a bottle on us
Win a bottle of Caspyn Gin in our awesome giveaway! Entries are open until 13 December.
5 hyper local gins including Cornwall's Wrecking Coast