Here we are oohing and aahing over a beautiful new Wild Island gin all over again. It was just December last year when Colonsay Beverages debuted their now award winning Wild Island Gin. Time flies!
Think of Sacred Tree is the spicier, sweeter younger sibling to the citrusy Wild Island. Complex and bursting with autumnal fruit from the Isle of Colonsay, it has no less than 22 botanicals.
The botanical fruits within it are a role call of autumnal bounty: brambles, rosehip, redcurrants, elderberries, rowan berries and crab apple.
Unsurprisingly, its bottling is just as gorgeous and no doubt inspired by the seasonal feel of the gin. While the original evokes Kiloran Bay, Sacred Tree's watercolours are given an autumnal makeover with rich oranges and cobalt blue.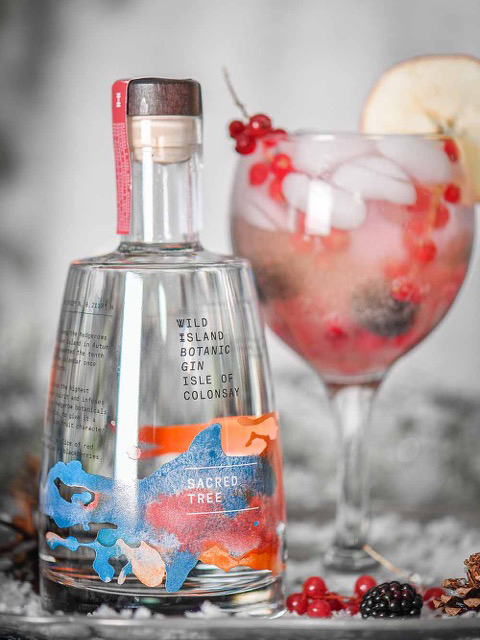 Its name hearkens back to an ancient Scots tradition you may not know about. Ancient Scots observed a 'sacred tree' calendar in which the bramble vine represented September. Thus the month of September called for harvesting bramble. And that's just what Wild Island's plants-woman did to make to produce this gin.
Keith Bonnington, Wild Island's director says: "We gathered and dried the fruits to preserve them for year round production."
"The berries, which are added as botanicals, not as flavouring, to ensure we maintain a London Dry style, give a subtle rich, sumptuous fruitiness to an already fantastic spirit."
Just like Wild Island, Sacred Tree is another collaboration between Colonsay Beverages and the 200-year-old family owned Langley Distillery.
We haven't gotten our hands on it, but you can now warm up these snowy evenings with Sacred Tree and its perfect serve: a slice of apple and a scattering of blackberries.
Wild Island Sacred Tree is available online for £39 from Drinkmonger, Royal Mile Whiskies
---
Read more on Sacred Tree & Wild Island
Southside Cocktail with Wild Island Gin