If you love both dogs and gin, then it could be your lucky day. Here's a gin that is inspired by three very adorable pugs.
3 Pugs Gin is a small batch craft gin created by husband and wife duo Christine and Stephen Ditchfield.
It's inspired by the pair's perfect pets called Pepsi, Tutu and Mojo, who all serve as mascots on the labeling. The bottle features a pug charm that sits around the neck of the gin, as if you didn't already consider this the most perfect gift for dog lovers already.
We have to also compliment the festive vibe of the labeling; quirky illustrations of orange and herbs simply completes the bottle design.
Above: The bottle branding of 3 Pugs Gin and the real Pepsi, Tutu and Mojo.
The gin comes in two varieties: a London Dry Gin and Blackcurrant. Each contain botanicals that would make it the perfect companion to a winter's evening.
The original features a touch of basil, elderflower and orange, while Blackcurrant balances its blackcurrant flavouring with spicy hints of juniper.
We reckon the London Dry would serve perfectly with a wedge of orange, while there can be no better companion to blackcurrant than lemon. Simply serve your Blackcurrant 3 Pugs Gin with a good quality tonic or lemonade and garnish with a lemon twist.
If you're looking for the perfect poochy glass to serve it all in, we've got you covered. We can think of no greater goblet than this one from Amazon.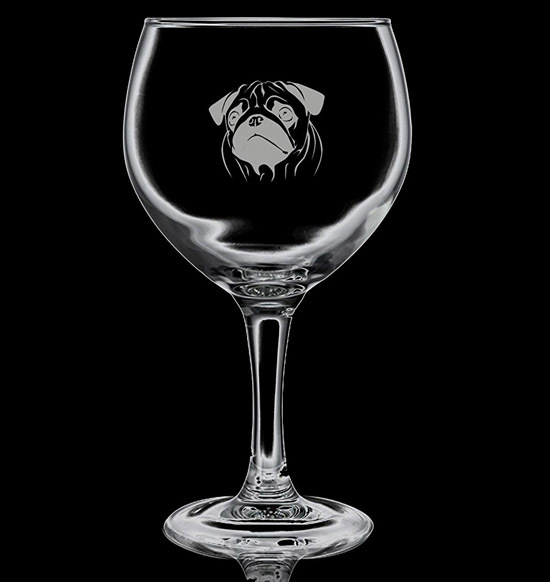 If you'd love to discover more about 3 Pugs Gin, the distillers have recently been confirmed as official sponsors of PugFest 2018, who bring pug-loving events all across the UK. Watch this space…
3 Pugs Gin is available on Amazon, priced around £40 for a bottle.