Are healthy gin cocktails a thing? Let's make them one in 2020. If you're not willing to go quite as far as Dry January, trying a few superfoods in a creative cocktail won't derail any lofty New Years resolutions quite yet.
If non-alcoholic gin isn't your thing but you still want a health boost then gin can be your friend when mixed with some healthy ingredients.
So throwing beets and blackberries makes a healthy enough cocktail in our eyes. The superfoods here are a concession to health and the New Year spirit, but really, these drinks are so moreish we don't really care.
---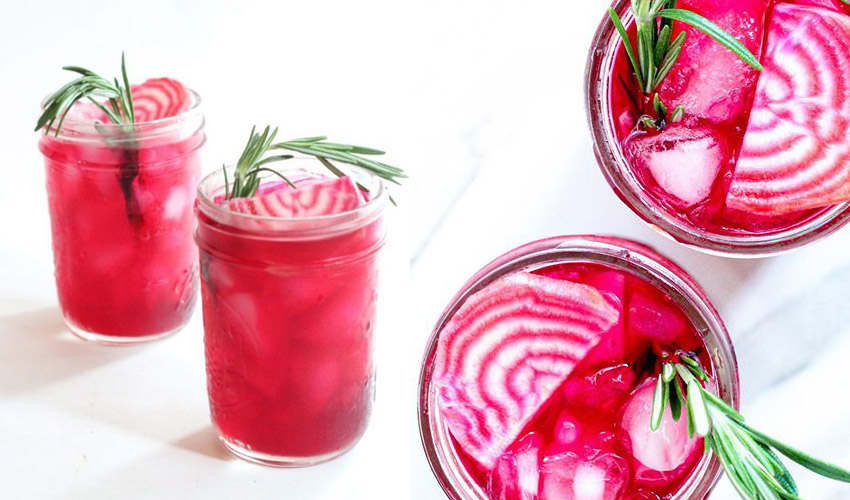 Super colourful and good for you to boot, put your juicer to use for cocktails for once. It doesn't have to be a celebration to have some gin and fizz cocktails.
Ingredients:
4 ounces gin
1 cup fresh beet juice
Rosemary sprigs for garnish
Candy striped beets for garnish
Ice
Method:
Add 2 ounces gin to two glasses then divide beet juice between each glass. Stir well to combine.
Fill glasses with ice, rosemary sprigs and candy stripe beets (if using).
Serve immediately.
---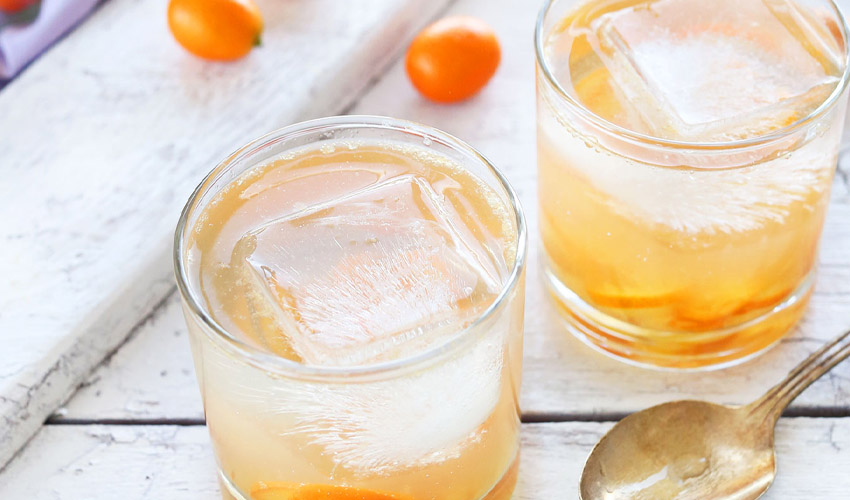 The sometimes difficult to find kumquat is worth the effort. Occasionally available in Waitrose, this super juicy citrus brightens up this all-natural recipe with DIY tonic.
Ingredients:
2 ounces dry gin
2-3 whole kumquats thinly sliced (or other citrus)
1-2 tbsp sweetener
2-3 ounces unflavoured sparkling water
Ice
Method:
Add 1/2 ounce gin, kumquats and sweetner to a serving glass and muddle to break down sweetner and release citrus juices.
Add remaining gin and stir well to combine.
Add ice and top off with sparkling water to achieve desired strength of drink.
Taste and adjust sweetness and strength as desired.
Optional: garnish with additional kumquat slices.
---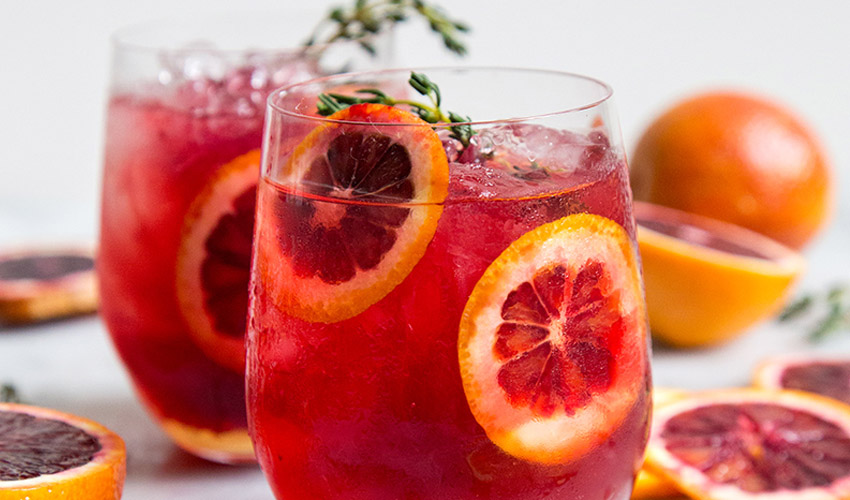 Blood orange, your supermarket staple's crimson cousin means you can make your own blood orange gin. Adding gin + elderflower liqueur to it is the best idea we've heard yet this year.
Ingredients:
1 ounce gin
3/4 ounce elderflower liqueur
1/2 ounce lime juice
2 1/2 ounce ginger ale
1 ounce blood orange juice
Method:
In a serving glass combine the gin, elderflower liqueur, lime juice and ginger ale.
Top glass with ice.
Slowly pour in blood orange juice.
Garnish with blood orange slices and fresh lemon thyme sprigs if desired.
---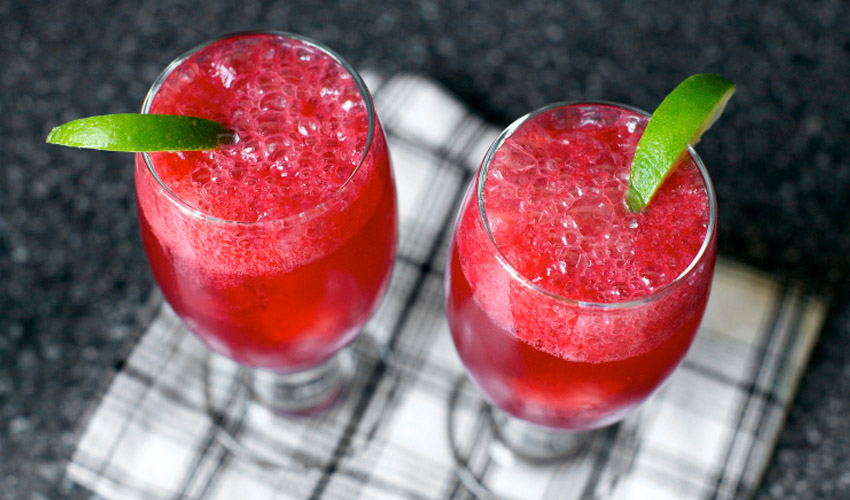 Trade your standard G&T for this brilliantly hued and antioxident rich blackberry cocktail.
Ingredients:
4 ounces gin
1/4 cup fresh blackberries
1/4 cup fresh lime juice
2 tbsp sugar
Club soda
2 sprigs sweet basil or 2 thin lime wedges for garnish
Method:
Puree blackberries and sugar in a blender until liquefie.
Strain puree through a fine-mesh sieve or tea strainer into two tall or collins-style glasses, discard seeds in sieve.
Divide gin and lime juice between glasses and stir to combine.
Add ice to glasses then top each with soda and a sprig of basil or wedge of lime.
---
5. Kiwi Smash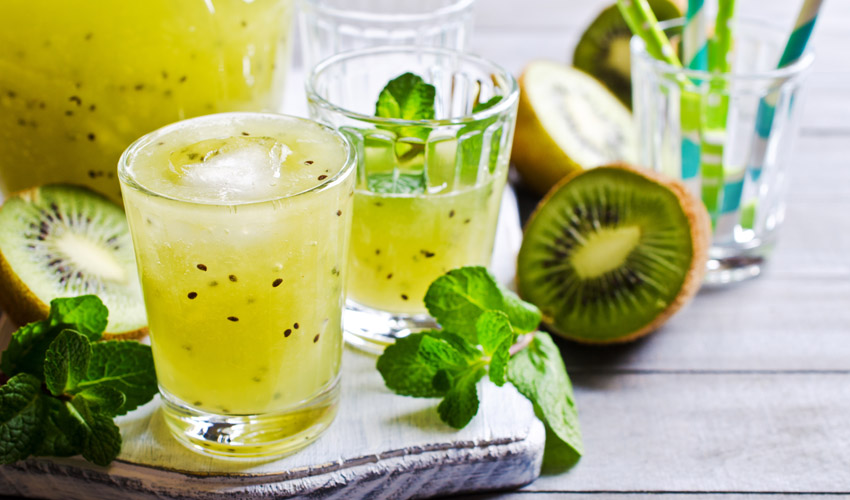 Debate rages about whether kiwi is a superfood but with potent antioxidant properties which help boost immune system function, we're happy to include it in healthy gin cocktails.
Ingredients:
2 measures gin
1/2 kiwi fruit quartered
4 slices lemon
4 tsp sugar syrup
1 sprig coriander
Kiwi fruit to garnish
Method:
Add the kiwi fruit, lemon and sugar syrup to a glass and muddle.
Add the gin and coriander and half-fill the glass with crushed ice.
Churn with the muddler until thoroughly mixed and top up with more crushed ice.
Garnish with a kiwi fruit slice.