We're giving away a Gin Bothy Tasting Selection box, containing the five gins reviewed below, to one lucky gin lover! Head over to our Competitions page for your chance to enter.
A little bit of background
The Gin Kin and The Gin Bothy go way back. In fact, Kim Cameron (the brains behind the Bothy) was one of our first ever interviews when we launched in April 2017. Before starting the Gin Bothy, Kim was a world champion jam maker and expert in getting the best from Scottish produce.
She describes herself as an "accidental gin maker," having discovered her recipes by chance by adding byproducts of her jam making to her favourite gins!
We recently attended a Gin Bothy Tasting event, where we were lucky enough to get our hands on some of their newly launched miniature bottles, which I'll be reviewing for you today. I must say, I was absolutely delighted when I found out that my turn to review coincided with this gorgeous selection of gins, as I've only heard great things and have been eyeing them up for some time!
The packaging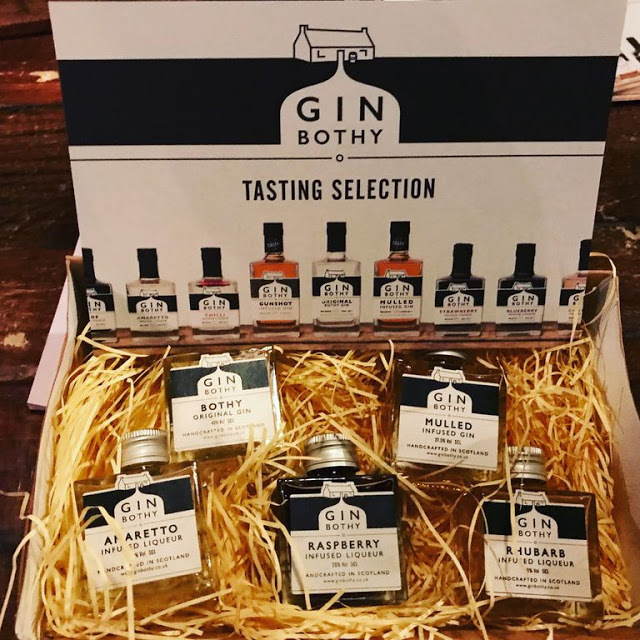 The Gin Bothy bottle design is a favourite of mine. Their gins come in heavy, square glass bottles, reminiscent of one of my most beloved perfumes: Dolce and Gabbana – The One. Each bottle is adorned with a simple yet classy label, featuring their adorable, hand-drawn logo and the name of the gin in bold black letters.
It's overall a very clean, stylish look that stands out from the tall, round bottle designs that are popular in the gin industry at the moment.
The tasting selection itself is presented in a brown box, with each 5cl sample laid delicately on a bed of shredded paper. The product has a real hand-packaged, "straight from the farm" feel, which only adds to my excitement as I'm about to try these beauties for the first time!
Gin Bothy Original Gin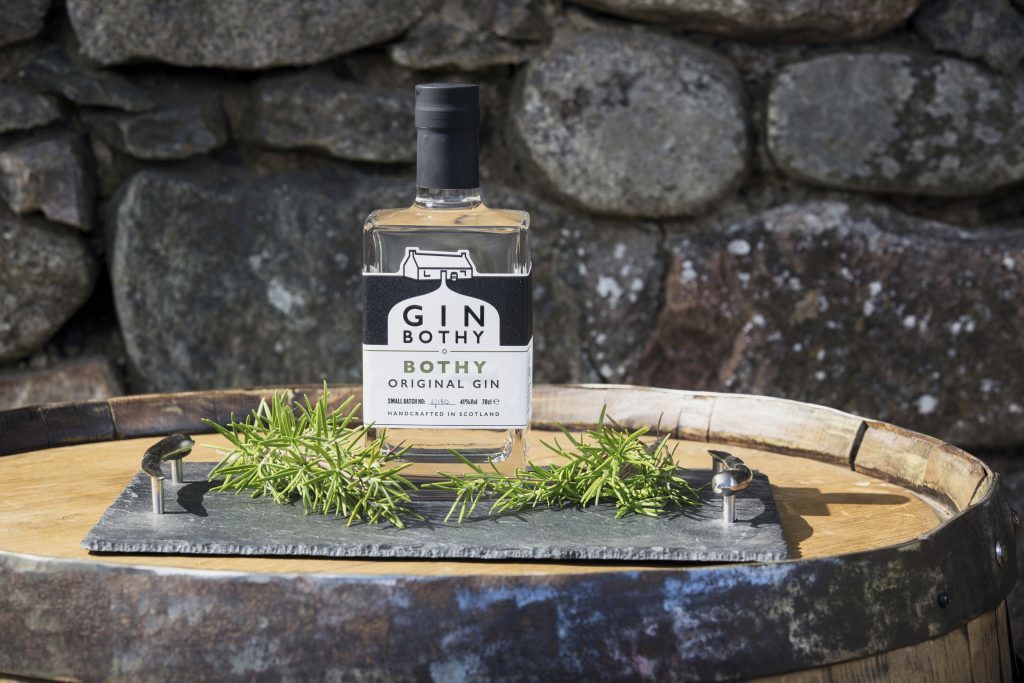 The first thing that jumps to mind when I press this gin to my lips is ROSEMARY. Now I'm a huge rosemary fan and will add it to any dish I possibly can, so this is great news for me. This is definitely a very herby, floral gin – with notes of pine, heather and juniper berry mingling beautifully with the savoury woodiness of the rosemary.
I had my Gin Bothy Original served, as recommended, with lots of ice, tonic and a big slice of orange – which helped bring out more of the subtle citrus vibes. There's no doubting from the taste that this gin makes excellent use of traditional Scottish ingredients. If you like your gin more savoury than sweet, this is a must-try!
Gin Bothy Gunshot Gin
Gin Bothy Gunshot Gin has always been a favourite of the men here at The Gin Kin. In fact, Alan from the team gave this one a glowing review last year, so I was expecting very good things! I'm happy to report that it didn't disappoint. This is a wonderfully spiced gin, infused with cinnamon, cloves and other mixed spices to give a really Christmassy feel.
I served mine with a 1:1 ratio of gin to ginger beer, lots of ice and a slice of lime and this was perfect for me. This is something that I can imagine sipping by the fire on a cold, snowy evening, which knowing the weather here in Scotland, could still be on the cards! We also have a fab wee recipe for a Mulled Mule cocktail featuring Gin Bothy Gunshot Gin, which is rather delicious if we do say so ourselves.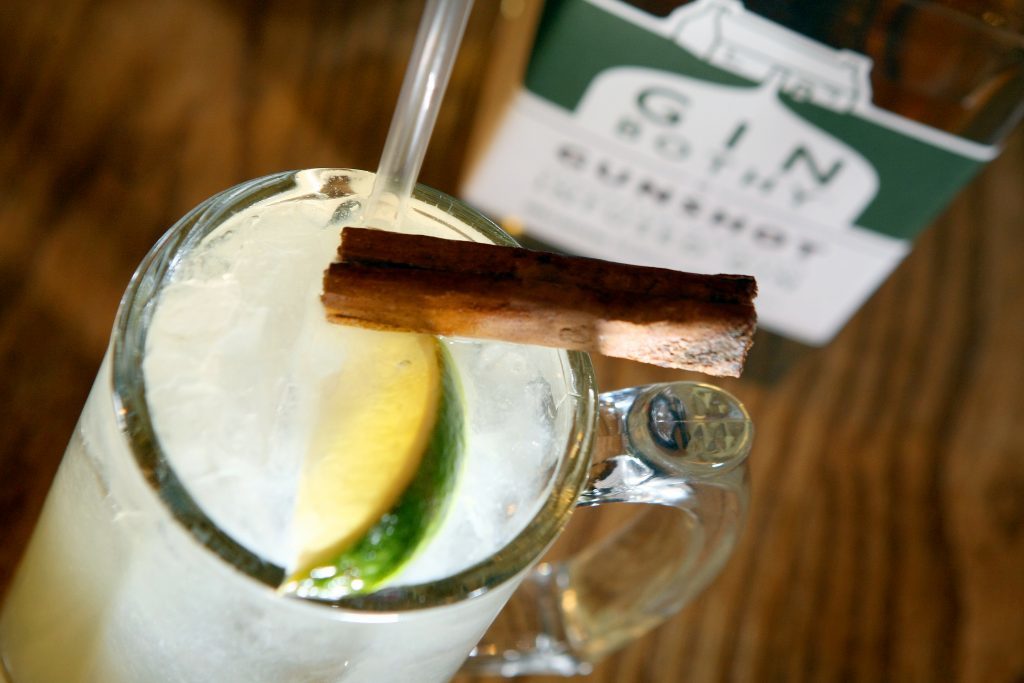 Gin Bothy Raspberry Gin Liqueur
The Raspberry Gin Liqueur was the sample in the tasting selection that I was the most excited to try as I've heard a lot of buzz about it since it was launched. I served mine straight, on ice so that I could experience the flavours properly.
One sip of this and you can immediately tell that Kim started life as a jam maker. It honestly tastes exactly like a Scottish raspberry jam and, dare I say it, could be one of the best raspberry gin liqueurs I've tasted. Super sweet and syrupy, this would be perfect as an ingredient in a pudding. If you're a fan of the Eden Mill Liqueurs, you should definitely give this one a try.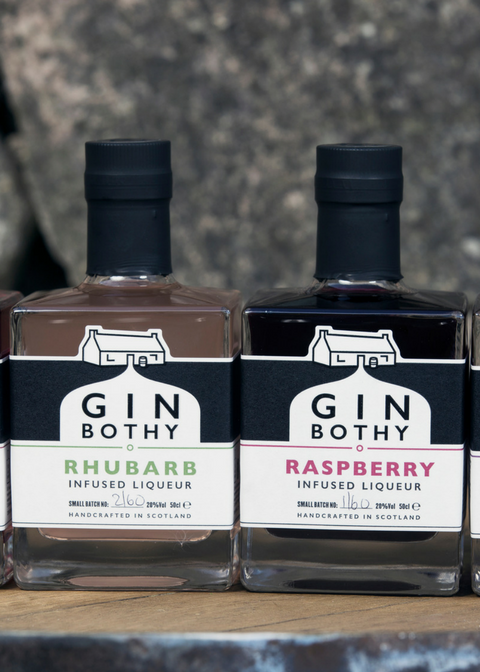 Gin Bothy Rhubarb Gin Liqueur
I'm a big rhubarb fan, so I'm always more than happy to sample a rhubarby gin. What's different about the Gin Bothy Rhubarb Liqueur compared to most rhubarb gins on the market is the distinct lack of ginger. This slightly took me back at first as I'm so used to sipping on the extremely pungent Whitley Neill Rhubarb and Ginger but, after the initial shock, it was actually a welcome change.
I had my first drink of this served on ice but was tempted into trying another one with lemonade and a slice of lemon, which I must say I actually preferred. The addition of lemonade brought out the sour tang of the rhubarb, which without lemonade was slightly lost in the sweetness of the liqueur. I'd recommend a 1:1 ratio for the ultimate drinking experience.
Gin Bothy Amaretto Gin Liqueur
Last, but certainly not least, we come to the Amaretto Gin Liqueur. This baby came to light after Kim took a trip to Italy to see how they use their natural ingredients and is a very welcome addition to the ever-growing Gin Bothy Portfolio. It's made by infusing the Gin Bothy's Original Gin with amaretto and a little bit of sugar and results in a sweet, almondy liqueur.
I had to serve this one on the rocks as that's how I drink my amaretto, but I bet it would be gorgeous with ginger ale too. All I can say is, amaretto lovers: this is the gin for you.
The Gin Bothy Tasting Selection is available on their website.