We're teaming up with Electric Spirits Co to give away a bottle of Achroous Gin! Visit our competitions page to enter until 28 February.
---
A little bit of background
Electric Spirit Co's Achroous Gin is an unmissable Scottish gin. With its vibrant orange bottle and untraditional botanicals, its boldness will delight spirits nerds — or at least it did for me.
First released in 2016, Achroous is Electric Spirit Co's first gin. The company's gins are distilled and bottled in Leith, making them Scottish gin made in Scotland.
Why the distinction? The difference has become a bit controversial as of late.
Founder James Porteous is a graduate of Heriot-Watt University's brewing and distilling course, having also worked as a consultant designer and photographer before founding Electric Spirits Co.
His creative background shines through in the gin's brilliant packaging and design. In fact, The Gin Kin first became aware of Achroous by stumbling across a strangely mesmerising video on Twitter.
Filmed on a quiet day at the distillery, the well-framed clip shows James inking a bottle of gin by hand. A quick Google search revealed its botanicals include fennel and Sichuan pepper. I immediately got in touch to try the gin myself.
Key Botanicals
Juniper
Coriander
Orris
Liquorice
Angelica
Fennel seed
Sichuan peppercorns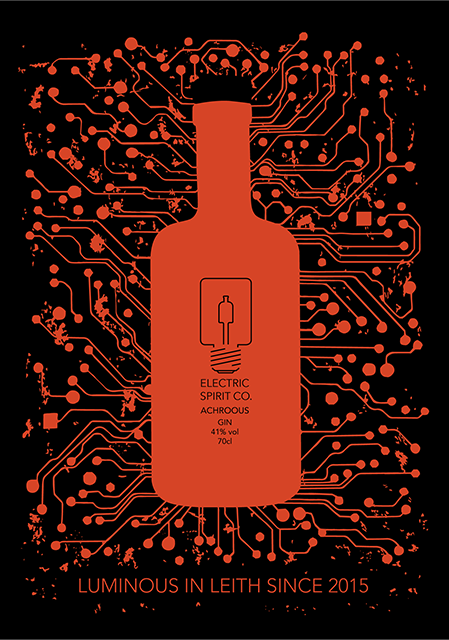 The Perfect Serve
Electric Spirits Co doesn't appear to recommend a specific garnish, but here's how I drank it: 25ml Achroous Gin with 75ml Fever Tree Naturally Light Tonic (my house tonic for taste rather than calorie count). No garnish, but star anise would complement the gin's sweet earthiness.
I swear by the 8 packs of 150ml tonic cans, by the way. They're delightfully sized and the perfect amount for a double.
On the Nose
Herbal and earthy, its flavour profile lends it a rather compelling nose. Citrus and spice notes are apparent, but its the complex earthiness here that gets me.
Straight
A few seconds, then a wave of eyebrow raising grippiness, not like a mouth-drying nebbiolo, but rather (ugh, sorry) electric. Oof. This gin is not kidding around.
The initial intensity mellows into anise and citrus, but I have to commend Electric Spirit Co for its boldness. These days sweet or vibrantly hued gins of all colours are surefire crowd pleasers — innovative at best or, at worst, formulaic and syrupy.
Achroous is unusual, yes, but excellently produced.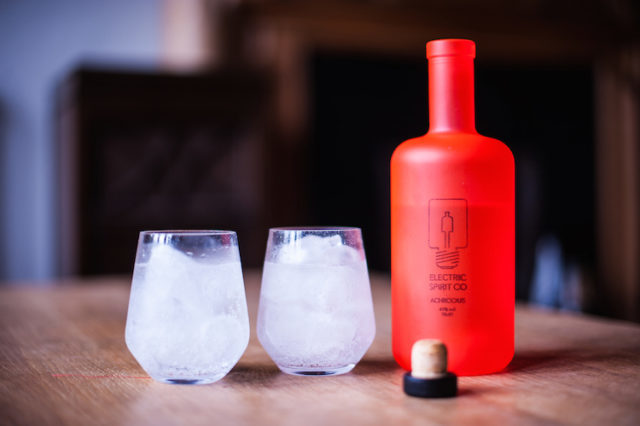 With Tonic
Tip some chunky ice cubes into a highball, cascade gin over it, then follow with tonic. Stir, sip, sigh.
Introducing tonic to Achroous underscores how neatly integrated it is. You'd think a gin with fennel and Sichuan peppers would fight you (as I find barrel aged gins often do), but an Achroous gin and tonic is remarkably easy drinking.
Lasting impressions
While countless gins with stellar packaging are released all the time, Achroous stands out. That said, the fennel here is a bit of a Marmite situation. Achoorus' untraditional botanicals may or may not appeal to all, but they're expertly integrated.
Bold and creative in design and in production, The Gin Kin is watching what Electric Spirit Co does with excitement.
One of the few downsides of the latest gin craze is that so many gins begin to look and sound the same. That is definitely not the case with Achroous.
And, fun fact: Electric Spirit Co also produces Not Another Effing Gin. No wonder.
Achroous Gin (70cl, 41%) is available from Master of Malt, £36.95. Find your local stockists here