So many gins, so little time?
We know the feeling. In the name of research, we've tried a whole host of recognisable gins, plus new brands and gems you may never even heard of. This is peak Scottish gin at it's best. Onward!
This post contains sponsored content.
---
Fans of spiced gin, take note: this latest gin from Pickering's is simply delicious. 1947 balances notes of sweet and spice to create a truly unique taste experience. There's notes of cardamom, fennel, cinnamon, anise and cloves that gives this gin an almost sweet liquorice quality.
Based on a handwritten Indian recipe from 1947, Pickering's have brought a slice of gin heritage to life. Pickering's 1947 actually recreates the gin as it would have been in the days of colonial India.
Whether for history or for taste, anyone who loves Ophir Spiced Oriental Gin might want to give this one a try. There's certainly a spicy kick to the taste but ultimately this gin is smooth, sweet and refreshing in one.
Simply serve with Fever Tree Naturally Light Tonic and an orange wedge or compliment the flavour notes beautifully with a ginger ale or hot apple juice.
Alternatively, if you're feeling adventurous, there's always Irn Bru or Dr Pepper for a truly modern makeover!
Pick up yours now over on the Pickering's website for £29.95
---
James Keiller Estates Dundee Dry Gin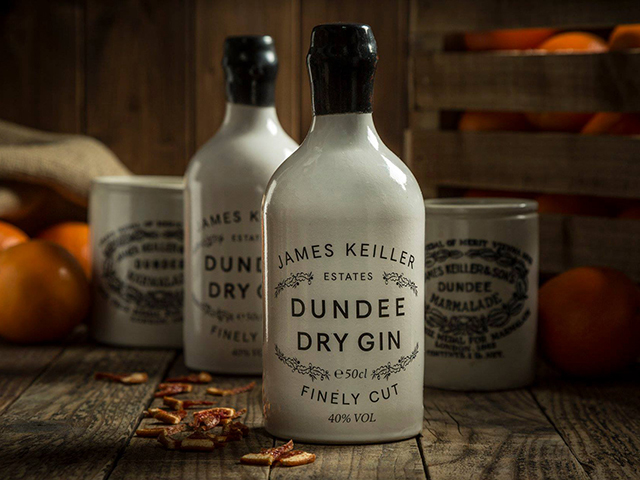 Citrus gin lovers – this one is an absolute must try.
Inspired by the Dundee legacy that is Keiller Marmalade, this has to be one of the most delightfully orangey gins on the market at the moment but also, one of the hardest to get your hands on.
So far, only one small batch of this gin has been produced, however, this marmalade masterpiece was so popular that another batch is following suit.
For those of you who don't know the story of Janet Keiller, let us fill you in. It's an old legend in Dundee that back in the day, Janet found a cargo of Seville oranges down by the docks that were about to go off. She decided to take them home and make them into jam, rather than letting them go to waste. This is the day that marmalade was born and the story that this gin encapsulates.
Although heavily citrus-led, the flavour isn't overpowering and allows the other botanicals to shine. This is very much a gin, not a gin liqueur, so don't be expecting an overly sweet, syrupy taste.
Serve this gin with ice, a premium tonic and a big slice of orange and watch the marmalade flavours come in to their own.
James Keiller Gin is available from Fresh Food Express, £30 and Aitken Wines in Dundee
---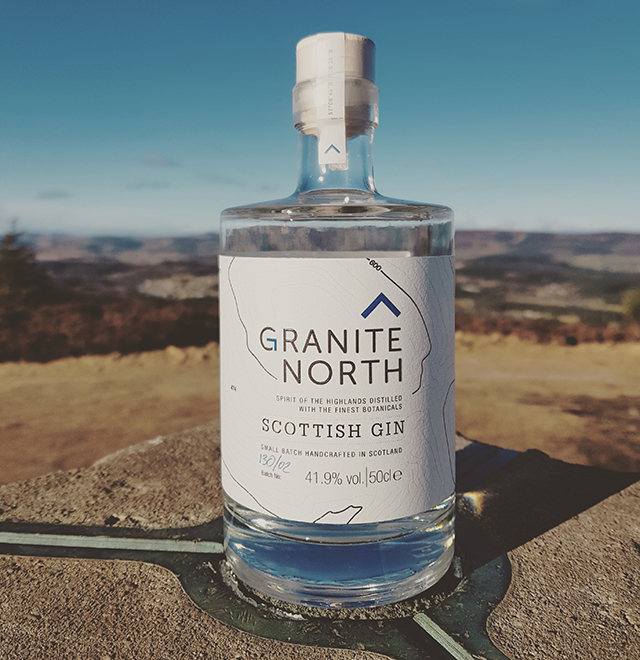 For adventurers and lovers of the Scottish highlands, we have just the gin for you. Founder Sandy Matheson is a keen hillwalker and Granite North was previously just a twinkle in his eye as he climbed the Cairngorms.
It's no wonder the spotlight here is locality and a true passion for the highlands. Inspired by early adventurers and local flora and fauna, Sandy infused his gin with Grand Fir needles and water from the Cairngorms. The Aberdeenshire distilled Granite North takes its name from the rock associated with the northeast of Scotland.
The feel of Granite North may be outdoorsy, but its packaging is pretty slick. The handsome bottle evokes the contour lines of mountains in a modern minimalist style that stands out amongst our gin collection.
Elegant and juniper forward, Granite North is a sophisticated, smooth and seriously easy drinking gin. Sip again and zesty citrus comes to the fore. Crisp and clean, your drink will come up empty at an alarming rate.
As per Granite Norths' recommendation, just add some rugged chunks of ice and a generous curl of grapefruit for a topnotch G&T.
Granite North is available from Craft56, £38.50
---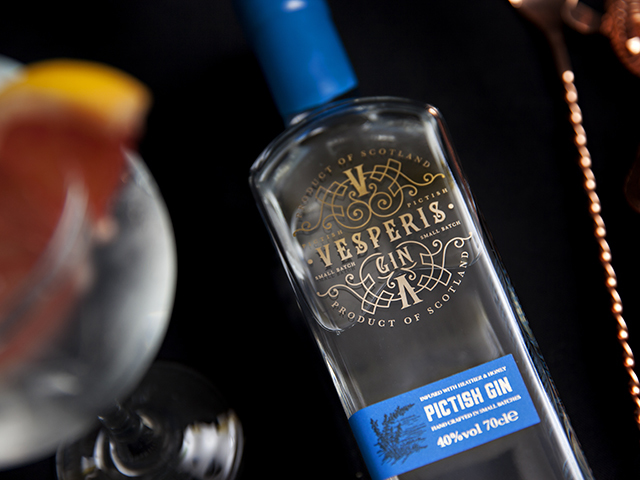 The origins of Vesperis Pictish Gin are a bit mythical. Truly. Its namesake is a god in Greek mythology and planet Venus as it appears in the evening.
As for the Picts in Pictish gin? They're the prehistoric people who lived in Scotland's east and northern region – right at the roots Blackford Craft Distillery.
Located in the hills of rural Aberdeenshire, Blackford Craft Distillery is a small craft distillery whose spirits carry interesting ancest ties to the local area. Their Vesperis Pictish Gin — and Vesperis Vodka from which it is based — enlist an ancient flavour profile that's derived from heather mead as it was brewed by the Picts.
The result is honey heaven. Made with heather honey, heather blossom and lemon peel, Vesperis Pictish Gin is sweet and floral yet crisp with a long, piney finish.
For a pomegranate martini, mix 50ml gin with 25ml triple sec and 150ml pomegranate juice and a curl of orange zest. We mean it when we say you've got to mix this up.
Vesperis Pictish Gin is available from Master of Malt and Ellie's Cellar, £38. Find more stockists on Blackford Craft Distillery's website
---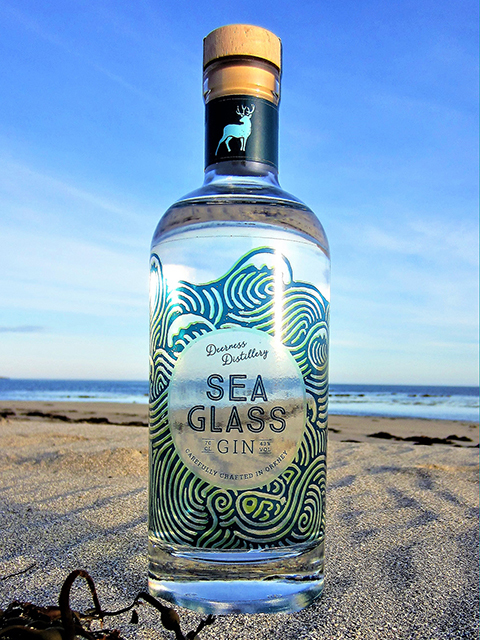 The tale of Deerness Distillery is a whirlwind tale that's a bit of a love story with Orkney.
Can you guess the surprising team behind Orkney's first and only gin and vodka distillery in over 130 years? A husband and wife team from Australia.
Stuart and Adelle Brown picked up their bags and moved to Orkney just over three years ago. Although a chartered engineer and pharmacist by trade, respectively, the two took to distilling as a shared hobby.
This Scottish gin sped from conception to launch in just under a year – a feat given that Deerness designed and constructed their own distillery in the same time span.
Now with Sea Glass Gin and their vodka, Into The Wild, Stuart and Adelle have quite literally infused the island's spirit. And Sea Glass Gin is a charming expression of Orkney indeed.
With classic juniper notes on the nose, its palate is a lovely lemon verbena and floral lavender. Sea Glass Gin makes an elegant gin and tonic which we garnished with a sprinkle of blueberries, bringing out its sweet citrus notes quite beautifully.
Sea Glass Gin is available from Deerness Distillery, £34
---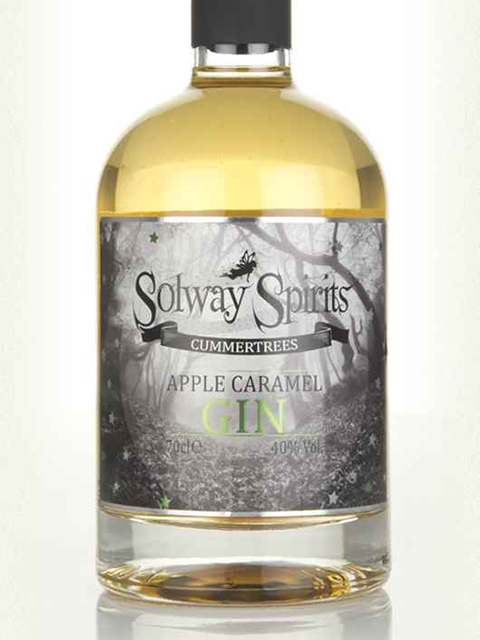 Take it from us, you're going to want to take in the aroma of this one. There's a distinctly sweet smell, like caramel candy apples at a travelling fair. Add it to your favourite tonic water or even lemonade to sweeten up your G&T.
This latest addition to the Solway Spirits range infuses their original smooth dry gin with fresh, crisp juicy apples, caramel and a touch of cinnamon.
Fans of flavoured gin will love the delicious caramel addition to their glass without fear of losing just what makes gin so special.
Just add a slice of apple or mango as a garnish to bring out the best in this beauty. Leave aside the baked apple pie; this gin could be your new favourite dessert.
For further details on the Solway Spirits range, visit the distillery's website.
You can also pick up Apple Caramel Gin on Drambusters, £30, Craft56, £32, and Master of Malt, £27.95
---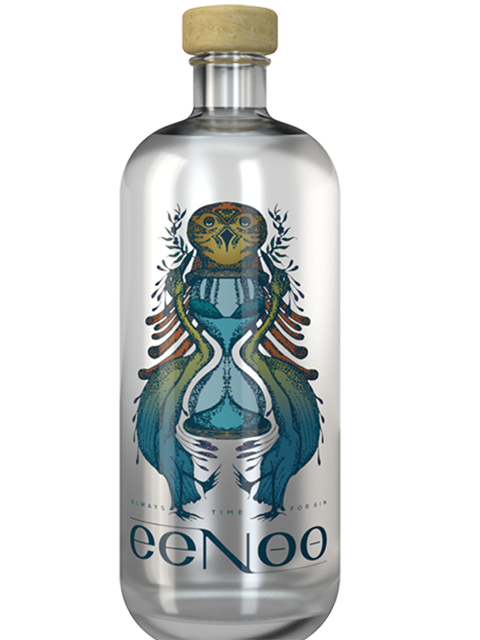 For the true taste of Scotland in your glass, eenoo is a delightful gin that toasts to local history.
The distinctive bottle artwork pays homage to a distant traveller called Mr. Eenoo who ventured to Aberdeenshire in the 1800s. The name also comes from old Scots tongue meaning "at the present time" or "in a short time, at once."
You'll want to savour every drop of this, however.
Distilled with Royal Deeside honey, this gin is wonderfully light and sweet. It's then further enhanced by the addition of heather flowers and other local botanicals. Spring water from Cairngorms, plus brambleberries, raspberries and rosehip from Deeside, Aberdeenshire and Angus gives eenoo a unique, fruity taste.
However, it's also remarkably refreshing on the tongue. It contains natural water from the Cairngorms National Park, while orange and lemon peel leaves behind a citrus finish that is simply delicious.
For further stockist details near you, visit The Lost Loch Distillery website
---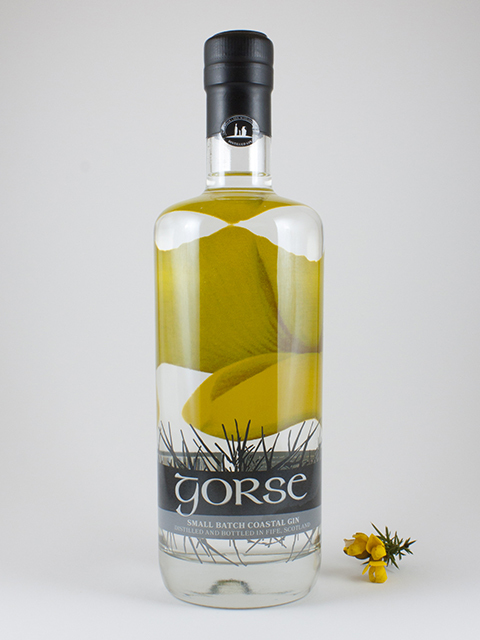 Give Gorse Gin a little swirl, you'll pick up on juniper and a spot of… mango? Splash in some ice and tonic for a proper G&T and prepare to be amazed.
Never did we think a dry gin could taste like super concentrated mango. Not just mango either, but a mysterious fruity goodness we imagine is gorse, the Fife-foraged botanical that serves as its namesake. The gin practically tastes sunshine yellow.
Gorse Gin is the inaugural gin from Lundin Distilling that promises to capture the "fleeting promise of a Scottish summer." How this gin can taste so fruity, so tropical yet not be a gin liqueur is a head scratcher and a delightful discovery for those who are sweet gin avoidant.
This marvel is the creation of Iain Brown. The Kirkaldy based distiller launched Lundin Distilling in 2015, but only recently launched Gorse Gin initially at the Fife Farmers Markets.
Its perfect serve is Fever Tree Mediterranean Tonic with a slice of fanned apple or mango, which plays up its characteristic tropical fruits.
Gorse Gin is available online at The Whisky Barrel, £36.43, through local Fife stockists and Fife Farmers Markets
---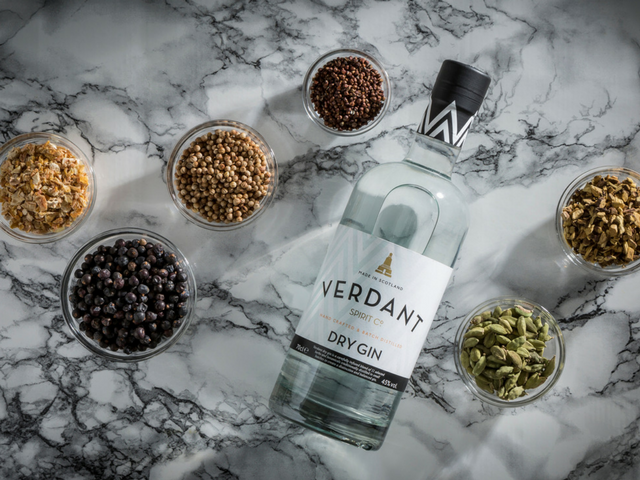 Verdant Dry Gin from Dundee's Verdant Spirits steamrolled to our attention after winning Scottish Gin of the Year at the Scottish Gin Awards.
Inspired by Dundee's industrial history of "jute, jam and journalism", Verdant Spirits is based in the engine room of a disused jute mill and their gin uses botanicals that would have once come into the city via trading ships from all over the world.
Verdant is a classically flavoured dry gin, but that certainly doesn't mean it's boring. Quite the opposite in fact.
First off, this gin smells amazing. As soon as you open the bottle the first thing you can smell is sweet, bright citrus – and lots of it. To taste, it's incredibly smooth and well-balanced, with a spicy pepperiness accompanying the juniper and citrus peels.
Verdant MD Andy Mackenzie created his recipe with the aim of making a gin that could shine beautifully in any drink – whether that be in a simple gin and tonic or a complex cocktail.
In fact, this gin genuinely goes down so smoothly that you could drink it on the rocks if you were so inclined. No "perfect serves" here – Verdant want their gin to be enjoyed however you like it best!
Verdant Gin is available from Verdant's online shop and Master of Malt, (both £34.95). For a full list visit Verdant's website