In an ever growing and expanding world of tonics, Fever-Tree is the OG.
The premium tonic brand is solidly crafted and widely available, making it an easy choice as a go-to tonic. Light, crisp and with just the right amount of fizz, it's easy to understand why.
In fact, Fever-Tree became the UK's #1 mixer brand in the off-trade just last week.
So it's all the better to welcome the debut of Fever-Tree Refreshingly Light, their new rebranded and extended range of low calorie tonic waters.
At the rate which distillers are releasing superb gins, we'll take all the light tonics we can get. Each tonic contains less than 5g of sugar per 100ml. Each bottle is just a rather reasonable 10g of sugar, which is approximately two teaspoons.
The brand currently offers just two Fever Tree light tonic waters: the original light tonic and ginger beer. Both will be incorporated into the Refreshingly Light range.
https://www.facebook.com/fevertreemixers/photos/a.204090301534.170848.151940206534/10156462134121535/?type=3
Drinkers will now be able to play mixologist with lower calorie, lower sugar tonics. The combinations are endless!
Imagine mixing the Sicilian lemonade with raspberry gin and a sprig of basil. You could pair pink with pink: aromatic tonic and pink gin. Or, go full on spring with elderflower tonic and a lush, floral gin.
Alternately, go the Milanese G&T route with gin, Campari and Fever-Tree Mediterranean Tonic for a jewel coloured masterpiece.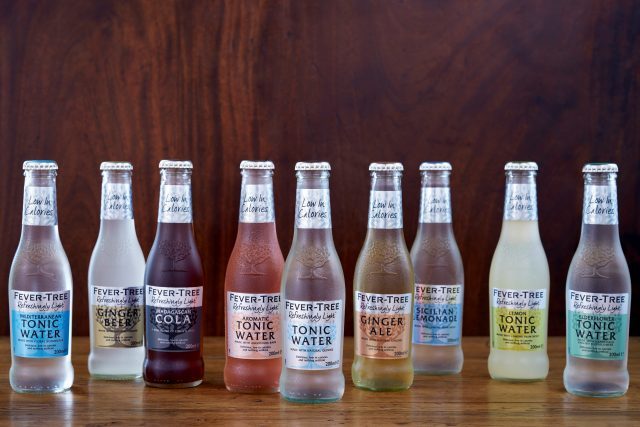 Here's the full Fever-Tree Refreshingly Light line up:
Tonic water
Mediterranean tonic
Elderflower tonic
Aromatic tonic
Lemon tonic
Sicilian lemonade
Ginger beer
Ginger ale
Madagascan cola
Fever-Tree Refreshingly Light will be available in 24 packs of 200ml bottles this month to trade (bars, restaurants and pubs); available in shops from April 2018
---
More like Fever Tree light tonic