Southwestern, the craft distillery acclaimed for the best gin ever in 2017, is no stranger to delicious flavoured gin.
Having formerly introduced a delicious British Blackberry and Saffron variety (amongst several others) there's just no one better to release two gorgeous pink gins.
You heard that right: Tarquin's two newest gins are Tarquin's Rhubarb & Raspberry Gin and Tarquin's Strawberry & Zesty Lime Gin.
Presented in their signature and collector worthy wax drip bottles, Tarquin's crafted both gins from British fruit.
Expect the same fresh, bright flavours with Cornish sunshine in a bottle. However, this gin takes the original Tarquin's Gin and gives it a beautiful blush edge with the addition of its two core botanicals.
Tarquin's Rhubarb and Raspberry gins are a sequel to last summer's fruity seasonal bottling. The vibrant burgundy Tarquin's Blackberry Gin was summer 2017's flavoured gin of choice.
It promises blackberry crumble, wild berries and sweet spice on the nose, plus a dash of lemon juice and mint. Yum. There are still even a few bottles left on Amazon should you wish to collect all three!
If you're not familiar, Tarquin's is one of Cornwall's most outstanding distilleries.
Having only launched in 2012, the Cornish distillery has gone strength to strength from their sublime Tarquin's Gin, to their Navy Seadog Gin and even Cornish Pastis (all of the above have invariably won IWSC, San Francisco World Spirits Competition awards and more).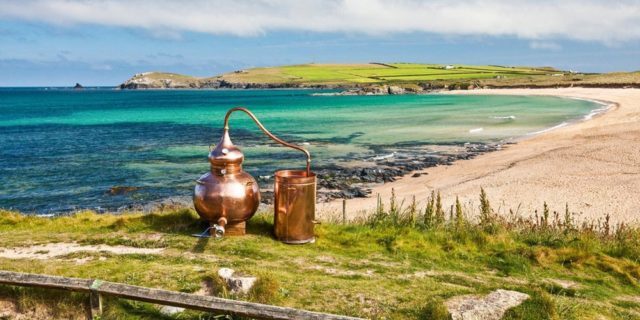 Tarquin's Rhubarb & Raspberry Gin and Tarquin's Strawberry & Zesty Lime Gin are available to purchase online and in person from St Austell Brewery
You can also find Rhubarb & Raspberry Gin and Strawberry & Lime Gin on Drinkfinder
---
Follow us on Facebook, on Twitter @theginkin, or on Instagram at @theginkin. If you have a story suggestion email editor@theginkin.com 
---
Tarquin's pink gin and more