Update 18 April: In response to the price of the new Sainsbury's G&T lollies, Aldi has now cut the price of theirs today from £2.50 to £1.99!
---
A surefire hit, Aldi gin and tonic lollies debuted last May bank holiday.
They quickly sold out, and like with many popular Aldi products, they're there til they're gone.
It was much the same with these boozy lollies, but we are so pleased to announce they are BACK.
Head over to your nearest shop to get your hands on Aldi Gin & Tonic Lollies before they're gone.
Expect a zingy lemon twist and a refreshing treat for a sweet price. Aldi's G&T lollies are £2.99 for a pack of four.
These icy treats would be just perfect for a summer pick me up. And with a respectable ABV, these popsicles are strictly adults only.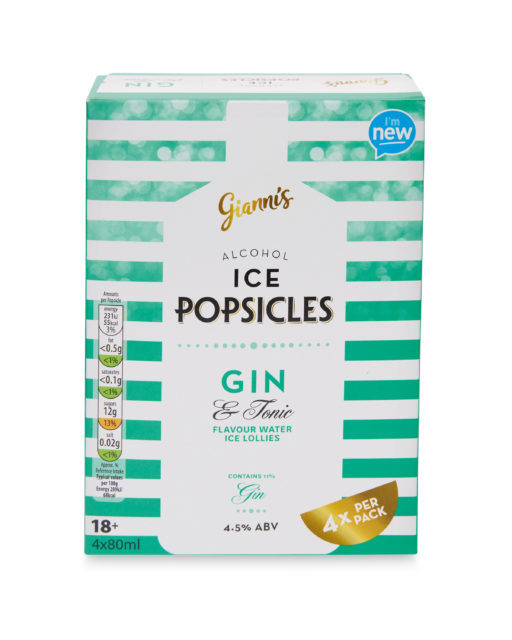 They pack a little punch too. The lollies are 4.5% alcohol by volume, meaning that each 80g lolly is 11% gin.
You can stock your fridge in a whole range of alcoholic lollies. Aldi's Prosecco and Peach Bellini Ice Lollies looks an absolute treat as well.
It boasts 38% prosecco and 18% peach puree from concentrate.
Not to be outdone, Aldi offers these treats in two other combinations: Champagne & Orange Bucks Fizz and the Cosmopolitan (a vodka and triple sec pink cocktail).
It might not feel like summer just yet, but you can pack these away for a sunny day.
Aldi G&T Ice Lollies are available in packs of four for £2.50
---
Follow us on Facebook, on Twitter @theginkin, or on Instagram at @theginkin. If you have a story suggestion email editor@theginkin.com 
---
More like Aldi gin and tonic lollies