Tonic is the talk of the town.
Be it black, made of roses or even organic Red Bull tonic, it's a great time to mix and match your G&Ts.
Through it all has been good ol' Schweppes. It's a classic and cost effective that you can find just about anywhere. A tad on the sweet side, Schweppes Tonic may have been in your first gin and tonic.
But that doesn't mean Schweppes Tonic can't flex its creative muscles, if you will. Indeed, the new Schweppes Matcha Tonic and Schweppes Hibiscus tonics beg to differ.
The two new tonics are a brilliant way to play with your G&T without any extra effort on your part. The hibiscus tonic is a surefire winner with floral or pink gin.
For a more unconventional route, the matcha tonic is for inventive minds. Matcha is a revered Japanese finely ground green tea that is mixed with a bamboo whisk then topped with hot water.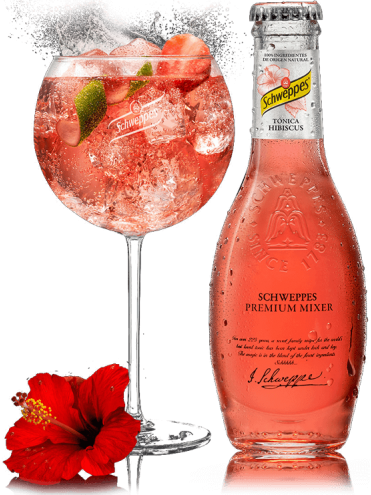 The green tea based tonic is soft and herbal. Inspired by Japanese ritual tea ceremonies, the Schweppes Matcha Tonic is an homage to the city of Kyoto.
Hendrick's Gin with it's rose and cucumber botanicals could be an absolutely stunning G&T with green tea tonic. To really take it up a notch, garnish the cocktail with cucumber and mint leaves.
Mint would make an exceptional garnish for any green tea G&T, in fact.
As for the hibiscus tonic, you could have a field day with this brightly hued mixer. It adds a huge splash of colour and a little bit of bitterness to balance.
Strawberries and lemon are the recommended serve for a deliciously fruity gin and tonic. On the other hand, you can make it herbal and fresh with mint and lemon.
Schweppes Matcha Tonic and Schweppes Hibiscus Tonic are launching in the UK. You can purchase them online from Gin Kiosk (Matcha and Hibiscus, £2.30 each). Watch this space for more retailers