Distilled and bottled in Osaka by legendary whisky distillers Suntory, Roku Gin is the first Japanese gin to be sold in UK supermarkets.
---
A little bit of background
Roku Gin is a distinctly Japanese spirit. "Roku" translates to "six" in Japanese and their gin draws a lot of influence from this number. The spirit itself contains six Japanese botanicals and is presented in a hexagonal bottle (six sides) embossed with these six key ingredients.
In a process unique to Roku, the botanicals are distilled separately across four different types of pot still to ensure maximum flavour and to maintain the individual characteristics of each delicate element.
The gin comes in two editions: a standard edition, reviewed here, and a Select Edition, available exclusively in airports.
---
Roku Gin Botanicals List
Roku Gin blends six Japanese botanicals with eight traditional botanicals to create the ultimate Japanese gin. The six Japanese botanicals are inspired by the four seasons in Japan and each on is harvested at the peak of it's season to ensure that they bring maximum flavour to the still.
Sakura Flower
Sakura Leaf
Sencha Tea
Gyokuro Tea
Sansho Pepper
Yuzu Peel
Juniper
Coriander
Angelica Root
Angelica Seed
Cardamom
Cinnamon
Bitter Orange Peel
Lemon Peel
---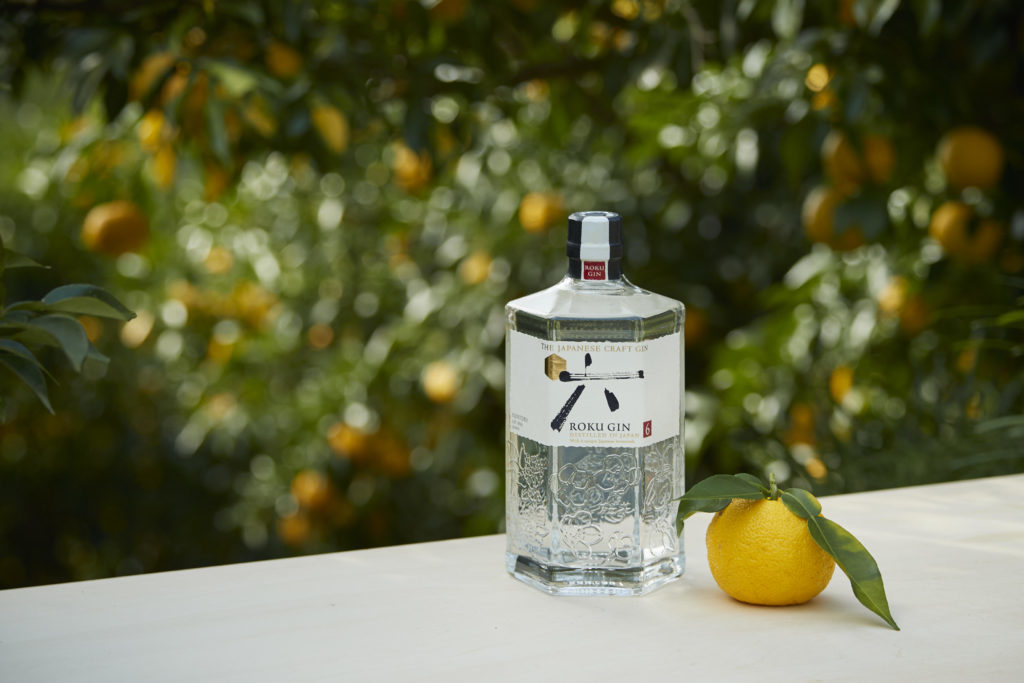 Roku Gin Perfect Serve
We received a gorgeously presented gift box from Roku, containing a 70cl bottle of the gin itself and two small bottles of Merchant's Heart Classic Tonic.  Roku recommends ginger as their signature garnish but, I had a lime kicking about the house so popped that in instead.
I tried Roku with both Merchant's House and a supermarket's own-brand tonic and I have to say the difference was remarkable. I'm not usually a tonic snob but in this particular case the premium was definitely the better choice – it was as if Roku and Merchant's Heart were meant to be mixed.
Roku Gin on the Nose
On the nose Roku smells very sweet and delicate, with cherry blossom and green tea taking the forefront. Behind the initial burst of Japanese botanicals is a fruity and floral aroma with hints of pepper, that disappears as almost as soon as it hits your nostrils, inviting you in to take a sip.
Roku Gin Straight
Sipped neat, Roku is impeccably smooth with a distinctly oily mouthfeel. The triple hit of citrus peel comes to the forefront, with hints of green tea and more traditional gin botanicals like juniper and angelica. The cherry blossom is subtle and fleeting, while the sansho pepper provides a delightfully spicy finish.
Roku Gin with Tonic
An addition of Merchant's Heart Classic Tonic really brings out the more subtle flavours of Roku. Leave a Roku and tonic to sit beside you for a few moments and you'll soon smell the sweet and floral aromas of cherry blossom wafting up to tempt you in. In a gin and tonic, the citrus flavours of the yuzu take the lead – with the gyokuro tea coming in a close second. Juniper is present but not overpowering of the subtle Japanese botanicals and the sansho pepper rounds everything off nicely in what is an incredibly well-balanced gin.
You can grab yourself a bottle of Roku Gin (standard edition) online at Drink Supermarket or in your local Waitrose or Tesco store.