Sunshine, heatwaves and bank holidays, oh the joys of summer!
Gin just makes all of the above better — especially when it's loaded up with fruit and honey.
Cuckoo Gin by the Lancashire-based Brindle Distillery has brewed up a suitably summery gin to mark the change of seasons.
Cuckoo Sunshine Gin is infused with fresh honey from Lancashire honeybees at The Bee Centre. The other half of the mix? Fresh and fruity raspberries locally sourced from their own farm. We're buzzing to try it.
"Hello, sunshine!" is said to be an enduring greeting in Lancashire and it serves as this expression's namesake.
Plus, there's a sweet hidden meaning behind Batch 1. It's named after Brindle Distillery's newest ball of sunshine, their baby Olive.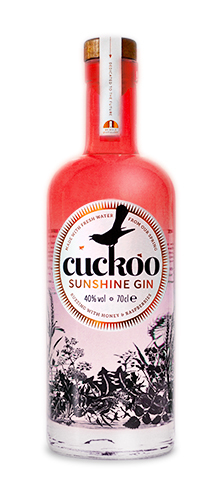 Whilst Cuckoo Sunshine Gin is all about natural honey and fresh raspberry, this gin is also heavy on juniper, lemon, almonds and vanilla.
All of the lovely botanicals above is said to come together to create a creamy, nutty and sweet gin that's sunshine in a glass. Smooth and sweet, this gin is just designed to be sipped whilst sunbathing without a care in the world.
Moreover, Sunshine Gin's bottle would be a beauty in any gin collection. A botanical cut out stands against an eye-catching ombré from baby pink to a bright Cosmopolitan cocktail-esque shade.
Brindle Distillery's other gins include the signature Cuckoo Gin and the warming Cuckoo Spiced Gin. All of the Cuckoo Gin's natural botanicals are sourced from Brindle's own Holmes Farm nestled in the charming village of Brindle.
Sunshine Gin (70cl) is available to purchase online with free delivery, £36. If you can make it to the distillery, you'll score a discounted price this weekend
---
Follow us on Facebook, on Twitter @theginkin, or on Instagram at @theginkin. If you have a story suggestion, email editor@theginkin.com.
---
More like Cuckoo Gin