Jawbox Gin is a classic dry gin, distilled and bottled in the heart of Belfast. This is a bold, punchy gin with notes of juniper, citrus and pepper – best consumed in their signature serve with ginger beer and a slice of lime.
Not only are we reviewing this gin for ourselves but we're also giving one of you lucky ducks the opportunity to win a bottle and two Jawbox mugs (pictured above). CLICK HERE to be taken to our competitions page to enter!
---
A little bit of background
Jawbox Gin is distilled in the Echinville Distillery in Belfast, which was apparently the first distillery to be granted a license to make spirits in Northern Ireland for a whopping 130 years.
The gin gets it's name from the local nickname for the Belfast Sink: The Jawbox. This sink was a staple in Northern Irish homes back in the day and was a focal point for most kitchens, where friends and family alike washed clothes, dishes and had a good old gossip.
The botanicals
Jawbox Gin is distilled with 11 botanicals, all of which are well established gin ingredients – producing a well-rounded and classically flavoured gin. The botanicals are as follows:
Juniper berries
Coriander seed
Cassia quills
Angelica root
Black mountain heather
Lemon peel
Cardamon
Liquorice root
Grains of paradise
Orris root
Cubebs
The packaging
The Jawbox packaging feels very industrial, harking back to Belfast's reputation as a city of industry and innovation. The dominant colour is black, with hints of a metallic copper colour, further enforcing that idea of manufacturing and commerce. Our Jawbox arrived in a gorgeous black box, matching the design on their label.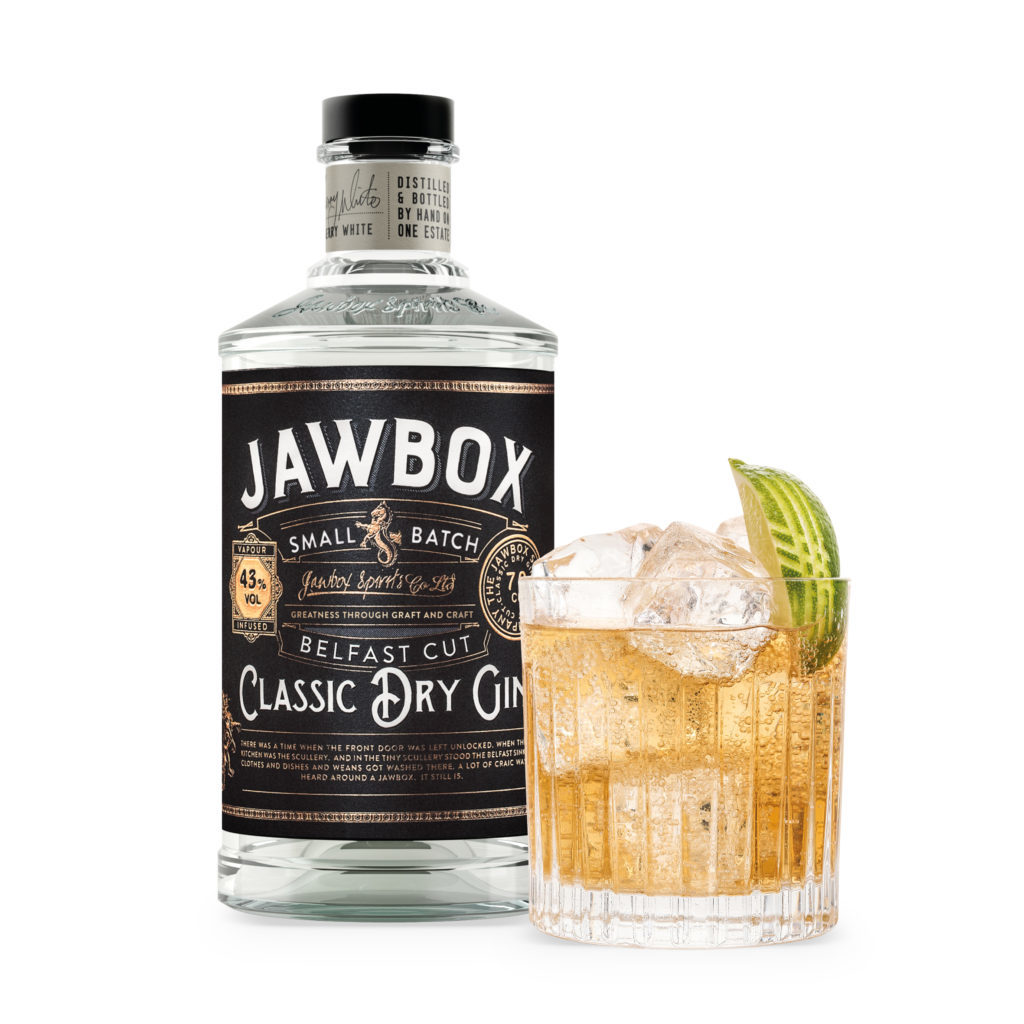 The perfect serve
A little known fact about Belfast is that they are the inventors of ginger ale. In true Belfast style, the signature serve for Jawbox Gin is a "Gin & Ginger". For the perfect gin and ginger, you will need:
35ml of Jawbox Gin
A premium ginger ale (we had Fever Tree but if you can get your hands on a locally made Belfast Ginger Ale, this would provide the most authentic taste)
A wedge of lime
Plenty of ice
On the nose
Jawbox Gin on the nose hits you with a punch of cardamom and coriander, slightly reminiscent of a damn good curry. This is followed by a burst of sweet citrus from the lemon peel and a whack of juniper. All in all, a very inviting scent.
Straight
Sipped neat, spice and pepperiness is definitely at the forefront of this gin. Which is no surprise, seeing as many of the botanicals in Jawbox Gin would be at home on your spice rack – bringing an almost savoury flavour to the table. Saying that, this gin also has a slightly sweet, viscous mouthfeel from the addition of liquorice. Juniper is of course heavily present, which is only right for a dry gin, with the lemon peel providing some nice citrusy balance.
With tonic
I had my Jawbox served in a tall glass with ice, lemon (sorry lime purists, I ran out!) and Schweppes tonic. The tonic helped bring out some of the more subtle dry gin notes such as the angelica and cubebs, while the slice of lemon enhanced the gorgeous citrus notes from the lemon peel. Coriander and cardamom are still present but not overpowering and the gin finishes with the lingering taste of piney juniper.
Lasting Impressions
As you can imagine, I try a lot of gins in my line of work and have tasted many classically flavoured dry gins that struggle to make themselves heard in an already crowded market. However, I have to say, Jawbox is most certainly not one of these. Despite using fairly standard botanicals, this gin has a distinct and quite frankly delicious flavour. Honestly, Jawbox is one of the best dry gins that I've reviewed in some time and will definitely be one of my new go-to gins from now on!
You can pick yourself up a bottle of Jawbox Gin on Master of Malt for £28.40 or grab a bottle with your next Tesco Shop for £30.
---
Follow us on Facebook, on Twitter @theginkin, or on Instagram at @theginkin. If you have a story suggestion email editor@theginkin.com 
---
More