There's a chill in the air and creak on the stair. It can only be that Halloween is soon upon us!
Whether you're throwing a party or simply fancy sipping on a goblet of gruesome G&Ts, we've conjured up a whole load of spooktacular Halloween cocktails that you can make with gin.
Bubble, bubble, toil and trouble it's time to get your cauldron out and brew up a crazy menu of cocktails.
Bloody Mare Cocktail, with Gin Mare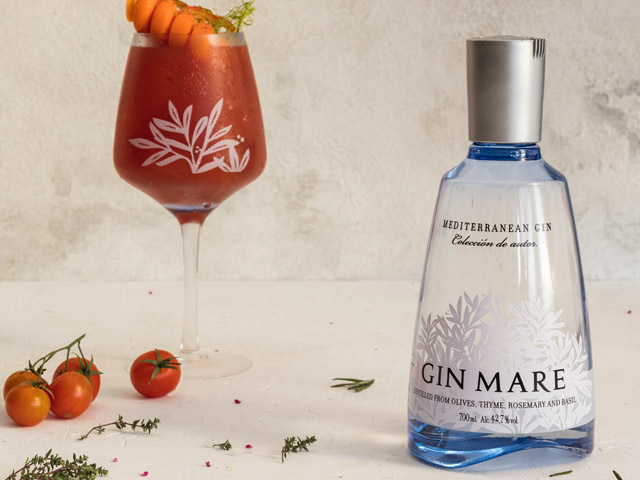 The perfect addition to any brunch of Sunday lunch, the Bloody Mary is an obvious choice come Halloween, with its blood red colour and endless options for twists and extravagant garnishes.
Replacing vodka with their herbaceous Mediterranean spirit, Gin Mare have created a deliciously moreish alternative that is far more treat than trick.
Ingredients
60ml Gin Mare
200ml Tomato juice
A few dashes of Tabasco and Worcestershire sauce
Carrot twist and dehydrated tomato  – To garnish
Method
Add all ingredients to an ice-filled copa glass and stir. Garnish with carrot twist and dehydrated tomato.
---
Parma Violets Cocktail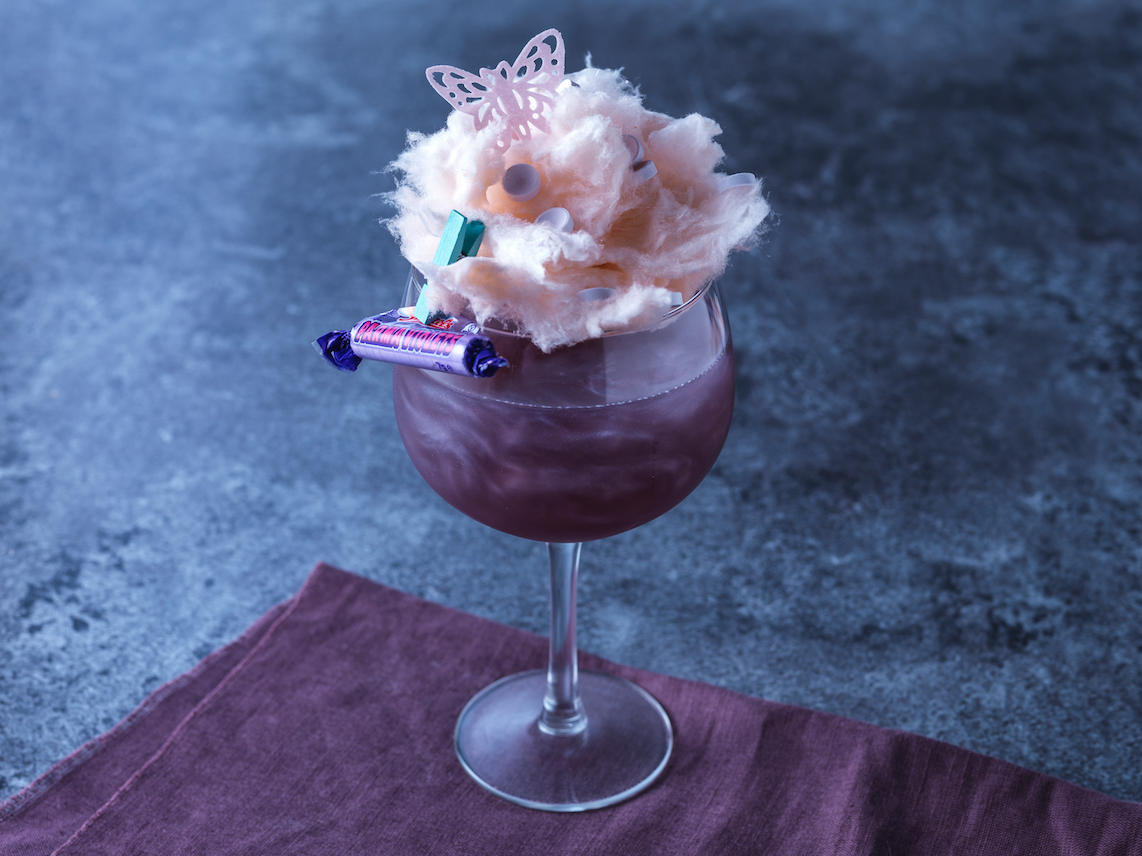 For some gin lovers, even the thought of adding shimmer and Lambrini to gin is frightful! You have to admit, however, it sure looks the part.
Ingredients
50ml So Strawberry Lambrini
25ml Gin
25ml Violet liqueur
15ml Lavender sugar
15ml Lemon juice
A pinch of Purple Unicorn Shimmer powder
Method
Pour all ingredients into a cocktail shaker and shake vigorously.
Then double strain with a strainer and sieve into a chilled Paris Goblet or Copa style gin glass.
Garnish with candy floss and Parma Violet sweets.
---
Jawbox Gin Aviation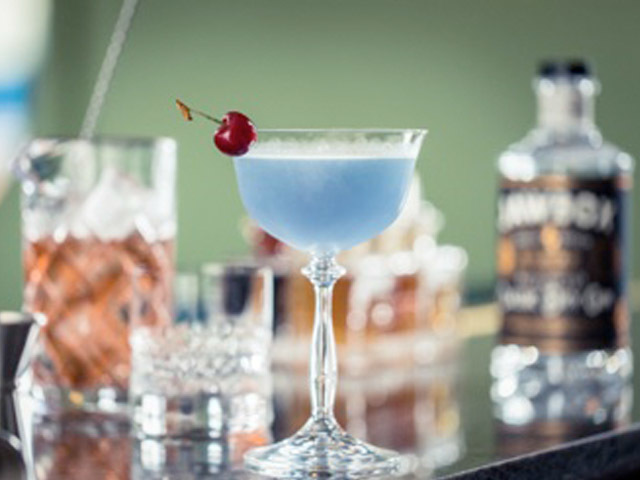 Created by Greg Buda of The Dead Rabbit Grocery & Grog and Blacktail cocktail bars in New York City, this ghoulishly blue cocktail is perfect for a grown-ups this Halloween.
Ingredients
50ml Jawbox Gin
20ml Lemon Juice
15ml Marchino Liqueur
7.5ml Creme de Violette
Method
Fill a shaker with ice and add all ingredients. Shake and fine strain into a chilled coupette glass. Garnish with a maraschino cherry.
---
Count Dracula's Martini, with Daffy's Gin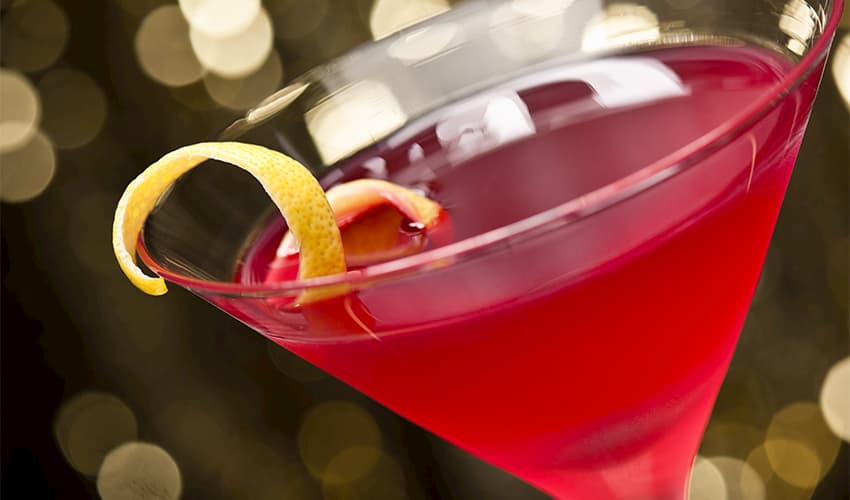 Ingredients
75 ml Daffy's Gin
25 part Noilly Prat or another great Vermouth
25 ml fresh lime juice
25ml Chambord
10 ml grenadine
5 large blackberries, or brambles if you're Scottish
5 regular ice cubes or thereabouts
Method
Muddle the blackberries in the bottom of a shaker.
Add all ingredients and shake like you are about to decapitate an evil army of the living dead for around 10 seconds.
Double strain and garnish with a dead leaf.
---
Macabre Mauve Cocktail, with Tanqueray Gin

Ingredients
300g of any purple berry (recommended: blueberries, blackberries, grapes)
400ml Water
Lemon
50ml Tanqueray London Dry Gin
Tonic water – need a blender and ice cube trays
Method
Night before/morning of: Into the blender: 200 grams of purple berries, 400ml water and squeeze the juice of half a lemon. Blitz until smooth.
Only pour into 25% of the ice tray cavities, then spread out the remaining 100g of berries into the ice tray cavities and continue to pour the berry mixture over each berry until all cavities are full. Then freeze overnight.
If you would like a combination in the glass of colour and intrigue, make 50% of your ice cubes purple (as above) and for the other 50%, cut the berries in 1/2 and freeze into water for aesthetic variation.
Build the berry ice cubes into a tall glass. Pour 50ml of gin over berry ice cubes and top the glass up with tonic and enjoy
---
Corpse Reviver Cocktail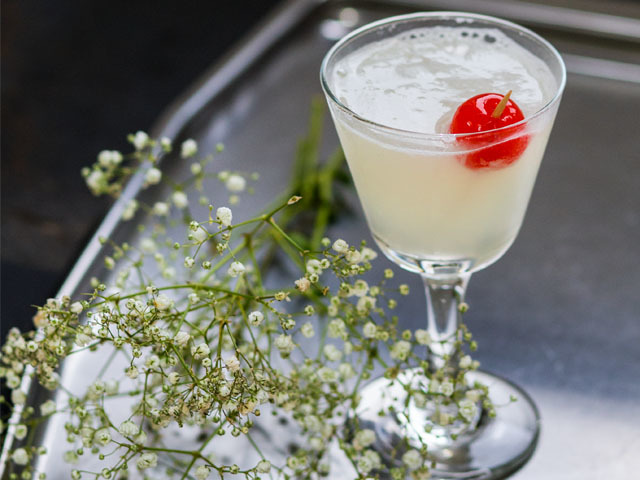 A classic in the gin world, this cocktail has a suitably gruesome name. It's capable of rehabilitating everyone from the casual Friday-night-tourist to the actual walking dead.
Ingredients
50ml Gin
25ml Lemon juice
25ml Vermouth
Dash of absinthe
Maraschino cherry
Method
Add all your ingredients to a shaker with ice and shake for 10-15 seconds
Pour into chilled coupe or martini glasses
Garnish with a maraschino cherry
---
Empress Martini, with Empress 1908 Gin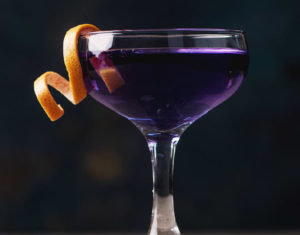 Ingredients
Method
Stir on ice, strain into a chilled martini glass. Garnish with a grapefruit twist.
---
Hocus Pocus, with
Dà Mhìle Gin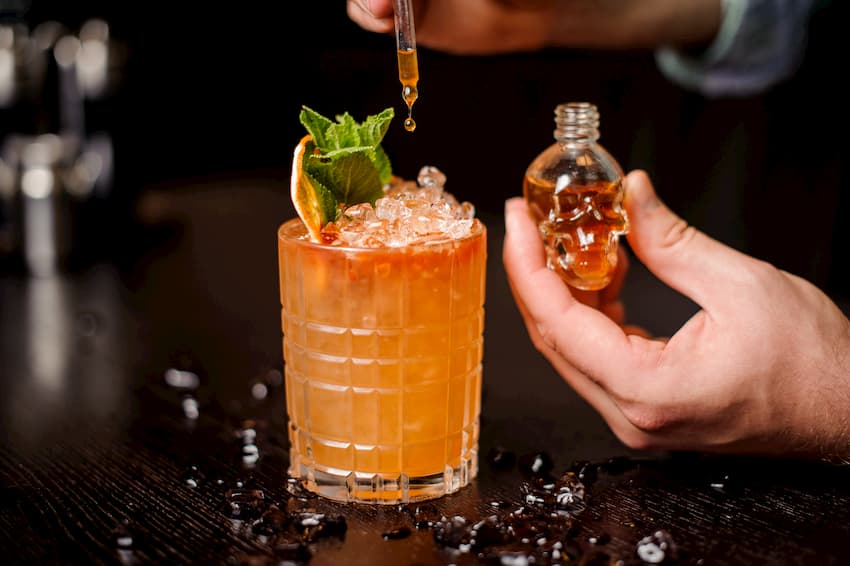 Ingredients
60ml Dà Mhìle Gin

22.5ml Sweet Vermouth

22.5ml Dà Mhìle Orange 33 Liqueur

1 Bar spoon of Fernet Branca
Method 
Stir down over ice and strain into a chilled glass.

Use pumpkin orange zest as an optional Halloween garnish (An orange twist will do)
---
Glow in the Dark Gin and Tonic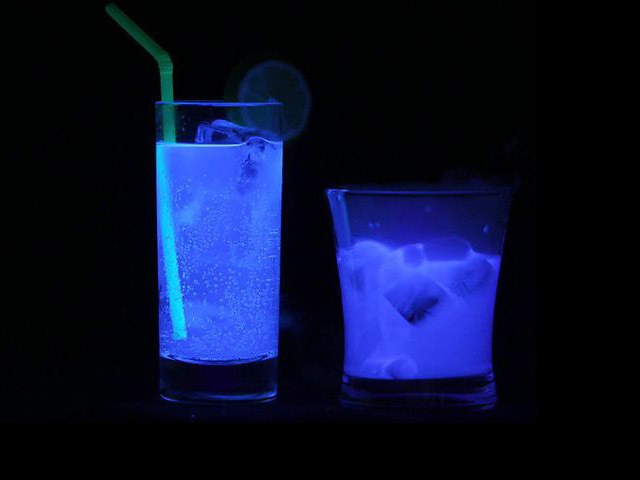 Created from gin and tonic water with a splash of citrus and grenadine, this cocktail looks amazing and it's super easy to make.
Ingredients
3 oz.

G

in

Tonic water
Method
Mix gin, lemon juice and grenadine in a cocktail shaker, then pour into a large glass filled with ice.
Top with tonic water. Garnish with a glow stick (optional).
---
White Lady Cocktail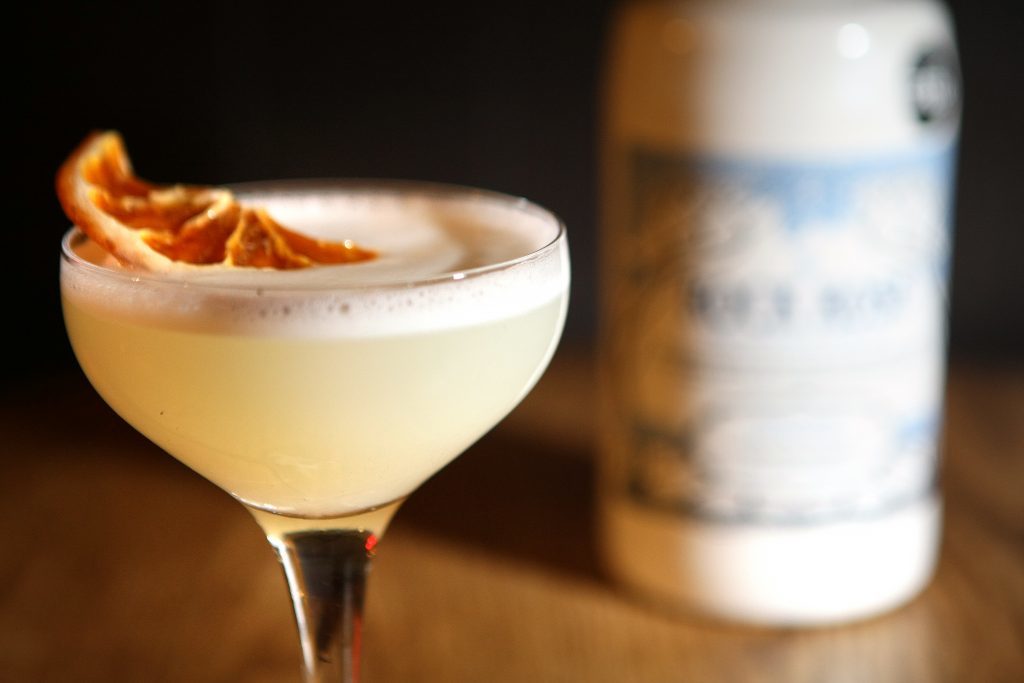 Ingredients:
Rock Rose 40ml
Triple Sec 20ml
Lemon juice 20ml
Gomme 10ml
Egg white 10ml
Method:
Add all ingredients into a Boston shaker and shake without ice for 30 seconds.
Add ice and shake for a further 30 seconds.
Double strain into glass and garnish with dehydrated orange.
---
Pumpkin Cocktail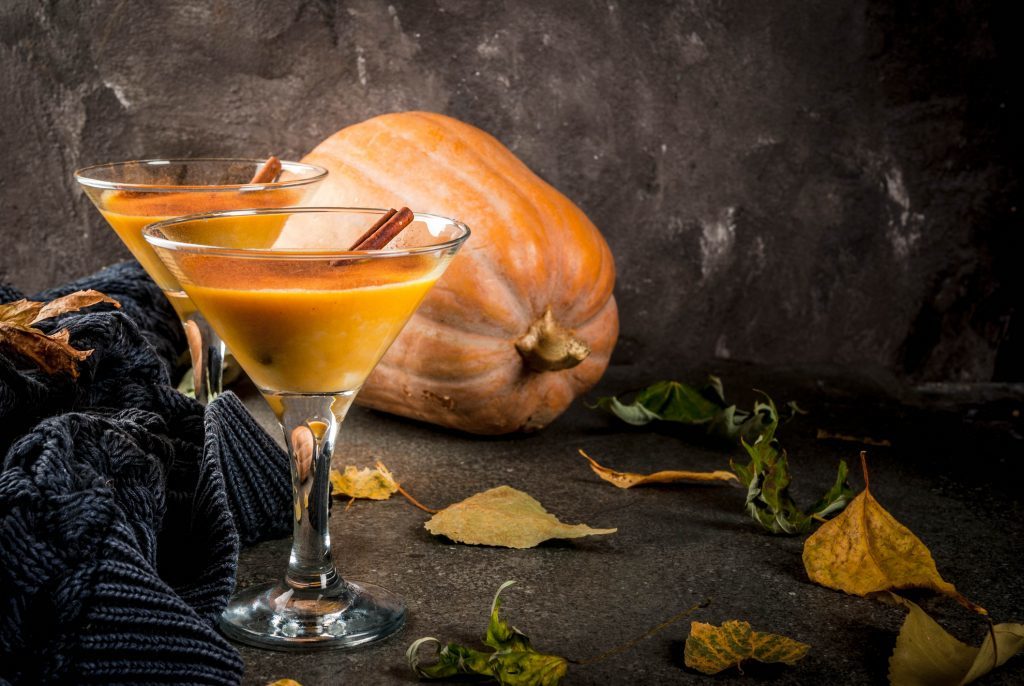 If you're throwing a Halloween or Thanksgiving party, you'll definitely want to add this Pumpkin Pie Martini to your drinks list.
This delicious tribute to everybody's favourite autumnal treat brings together Scottish gin Caorunn and a little pumpkin magic.
Ingredients:
50ml Caorunn Gin
25ml Pumpkin and Cinnamon Vanilla Syrup
20ml Lemon Juice
Method:
To make the pumpkin syrup, marinade cubed pumpkin in a container with agave or sugar syrup, vanilla pods and cinammon sticks. Muddle together to extract the water from the pumpkin, sieve and bottle.
To make the cocktail, add all ingredients to a Boston Glass, shake, and double strain. Garnish with a twisted vanilla pod in a Martini Glass.