It was only a matter of time before That Boutique-y Gin Company tried to do something with coffee – and that time is now.
Cold-Brew Coffee Gin is made with a combination of coffees from Central America, South America and Africa, extracted using both hot and cold infusion in water and gin bases. This allows for all the rich deliciousness of the coffee to make its way in to the final spirit, making it an exquisite cold brew coffee gin.
An earthy and enjoyably bitter palate retains much of same flavours of the nose, but adds caramelised brown sugar, a little honey and a kick of peppery juniper. A light caramel hint runs through a touch of carbon, some leather and the remnants of espresso to the finish.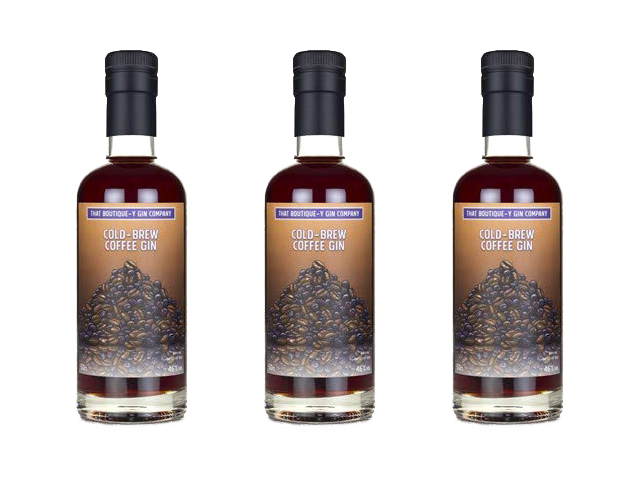 Through rich, dark roast espresso beans comes fragrant vanilla butterscotch and deep, bitter dark chocolate. As it develops there's Coffee Revels, a little chicory and damp earth.
 This is a unique gin, that was surely created to be made into an Espresso Martini.
Here's how you can make one:
Fill a glass of ice to chill
Pour 25 ml of the cold brew gin in a shaker
Add 25 ml of cold brew
Shake ingredients in shaker and then pour into martini glass
Top with your fave tonic water
Garnish with orange peel (if you will)
The 50 cl bottle retails for £31.95 on Amazon (46% ABV) and on Master of Malt.
---
Like us on Facebook, follow us on Twitter @theginkin, or on Instagram at @theginkin. If you have a story suggestion email editor@theginkin.com
---
More from The Gin Kin: