Dartmouth Gin is a rich and pungent gin, with notes of rosemary, citrus and spice. Smooth and highly drinkable, this gin is delicious with tonic, in a cocktail or on the rocks. 
If you would like to try Dartmouth Gin, we are giving away a bottle to one lucky winner. Head over to our competitions page until the 26th December to enter! 
---
A little bit of background
Dartmouth English Gin is distilled on the Calancombe Estate near Dartmouth in South Devon.  The team distil their gin with choice botanicals from around the world, alongside herbs, fruit and flowers from the estate. These ingredients are combined with fresh spring water, also from the estate, resulting in a bold and refreshing spirit that reflects their local landscape.
Recently, Dartmouth English Gin was awarded the title of "Gin of the Year 2018" at the Craft Distilling Expo in London. The panel chose it as their winner from a blind-tasting of over 60 entrants from across Europe.
The bottle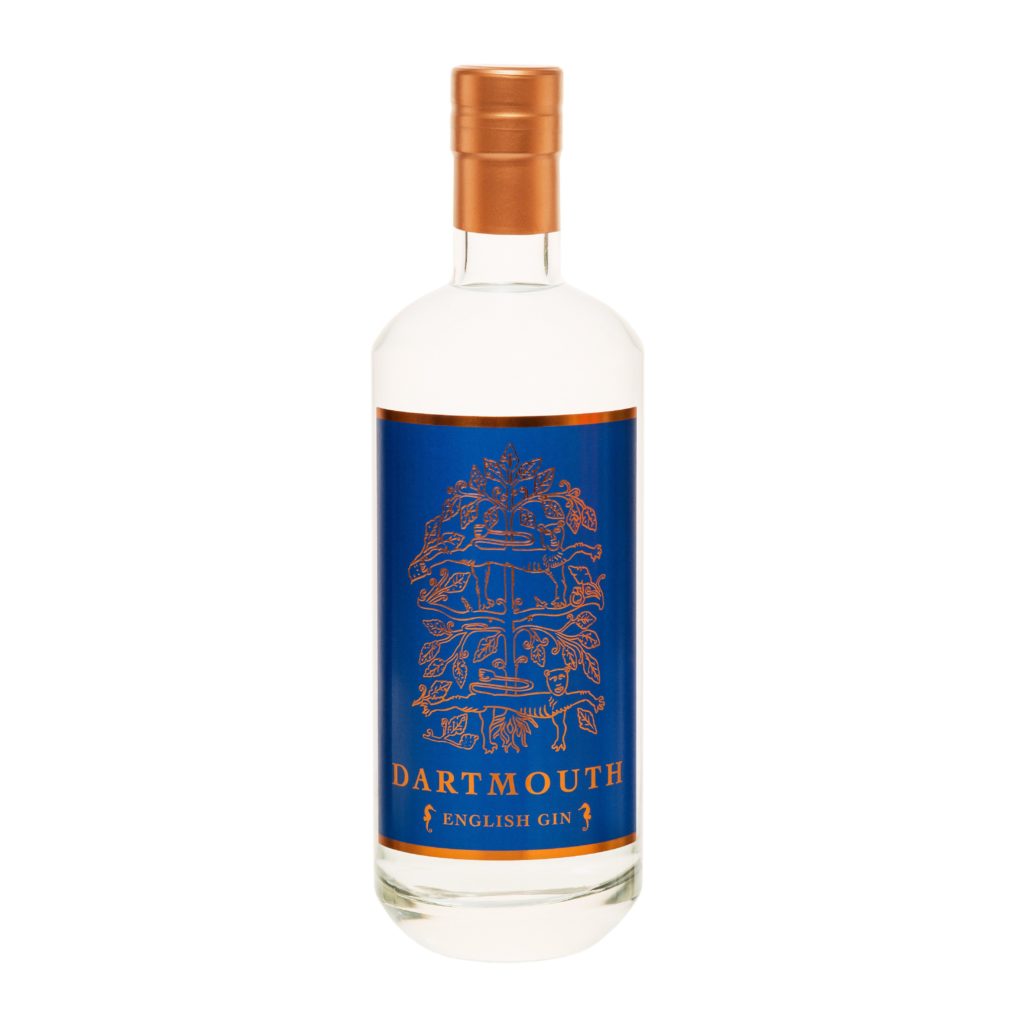 Dartmouth English Gin is served in a tall, sturdy bottle. The bottle is adorned with a gorgeous royal blue and copper label, likely reflecting the copper-pot still in which the gin is distilled. Most noteworthy is the design on the label itself  – a highly artistic interpretation of a tree. Overall the bottle design is clean, on-trend and eye-catching.
Botanicals
Juniper
Rosemary
Lavender
Lemon Peel
Grapefruit Peel
Grains of Paradise
Cubeb Berries
Cardamom Pods
Liquorice
Perfect serve
Although delicious neat over ice, this gin's perfect serve is in a G&T with rosemary and orange peel.
We suggest the following recipe:
50ml Dartmouth Gin
150ml Premium Tonic (such as Fever Tree Naturally Light)
Ice
Sprig of rosemary
Twist of orange peel
On the nose
Dartmouth Gin smells gorgeous. Pop the stopper and you are greeted with a rich, herbacious aroma. Above all, the fresh scents of rosemary, lavender and citrus take the lead. These are accompanied by sweet notes from the liquorice and fresh pine from the juniper. Furthermore, a slight hint of spice lingers in the background.
Sipped neat
I served my neat Dartmouth Gin on ice, allowing the ice cubes to melt a little to let the flavours develop. First of all, I noticed what a delightfully smooth and drinkable gin this is. I could happily sip this gin with no tonic, which in my books is a massive tick. Dartmouth is packed full of woody rosemary flavour, offset by zesty citrus from the lemon peel. Underneath these bold flavours is a subtle pepperiness from the cubebs and floral notes from the lavender. Finally, liquorice provides a bitter sweetness, with a whack of juniper to round things off.
With tonic
An addition of tonic really allows some of the more subtle notes of this gin to shine. First, the citrusy spice of cardamom mingles delightfully with the bitter citrus of grapefruit. Then delicate floral notes from the lavender muddle with herby floral notes of the rosemary. Punchy juniper is also prominent here, providing the "ginny" taste that we all know and love.
Lasting impressions
Overall, this is an extremely tasty gin, well-deserving of it's recent award at the Craft Distilling Expo. In my honest opinion, it would be tough to find a gin-lover who wouldn't enjoy Dartmouth English Gin. This would make a fantastic gift for a gin loving friend, or an even better gift to yourself this Christmas!
You can pick up a bottle at Master of Malt for £35.95.