Deerness Distillery has recently launched a special edition Scuttled Gin, which you get a chance to win by entering our competition – winner will be randomly selected next Wednesday 30th January.
---
Deerness Distillery is an Orkney based distillery run by Adelle and Stuart Brown who came to Scotland with their family all the way from Australia.
The couple has started up their distillery handcrafting every detail – including the design and construction of the distillery. They now produce the only gin and vodka in Orkney, making Deerness Distillery the only running distillery in the area in the last 130 years.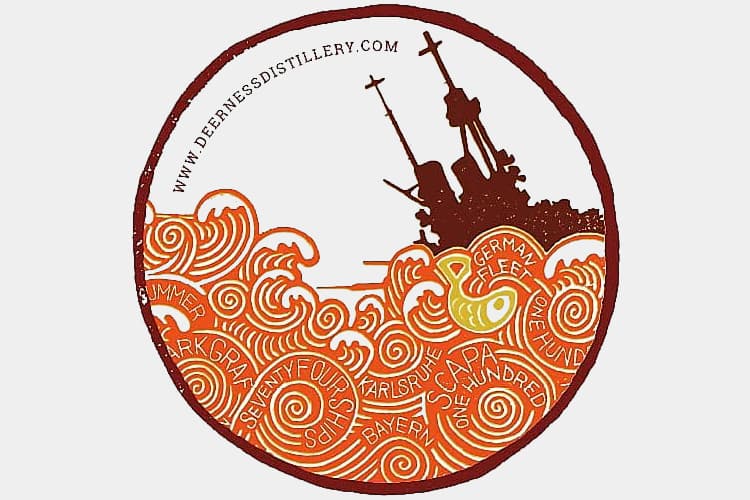 History and Objective behind Scuttled Gin
Deerness Distillery has recently launched a new gin in partnership with the "Scapa 100 Foundation" based in Orkney. Case in point is the Scuttled Gin which has been created to mark the 100 years of the scuttling of the WWI German High Seas Fleet in Scapa Flow on 21st June.
The wrecks of Scapa Flow now offer an insight into a lost world of warship building and they remain one of the best WWI wreck diving destinations in the world. The Scuttled German Fleet also holds the secrets of over 80 years of diving history. Today just eight ships remain.
The Scapa 100 initiative was set up to plan for the centenary of the scuttling of the WWI German Fleet in Scapa Flow, to share information, to support other related projects and events and to promote everything that is great about Scapa.

The Bottle
The bottle label is a hand cut lino design – as all of Deerness Distillery's labels. The labels are stenciled, digitalised and printed onto each bottle. Each bottle comes with a swing tag telling the story behind the scuttling of the fleet in Orkney.
Taste
Scuttled Gin is described as a juniper led "London Dry" gin, with a peppery lemon cassia bark middle and clean cinnamon mint finish. This tipple is sure to take you on a fantastic sensory journey with the variety of botanicals that it contains.
Botanicals
Juniper
Tarragon
Cassia bark
Cinnamon
Green Pepper
Lemon Peel
Chamomile Flower Heads
Lavender
Mint
Suggested Serves
Pour some of the Scuttled Gin with Franklin and Son natural Indian tonic, over ice and add a wedge of orange for garnish. The orange garnish will compliment the spice botanicals nicely.
Alternatively, change up the garnish with frozen raspberries and mint leaves, for a berry infusion which will bring out the mint flavour of the gin.
Nevertheless, the distillers encourage you to experiment and have fun when trying the Scuttled Gin, as it is a versatile tipple.
---
If you'd like to purchase the Scuttled Gin, it retails for £38 on the Deerness Distillery's website (70 cl, 43% ABV). A percentage of the profits goes towards supporting the planned projects and commemoration events in 2019.
---
Follow us on Facebook, on Twitter @theginkin, or on Instagram at @theginkin. If you have a story suggestion email editor@theginkin.com