If you're planning a trip to London soon or even if you're a local that's looking for the next hot spot to visit with your friends for gin, then look no further. We've compiled all the trendy bars you should visit at least once in London and the list goes as follows:
The London Gin Club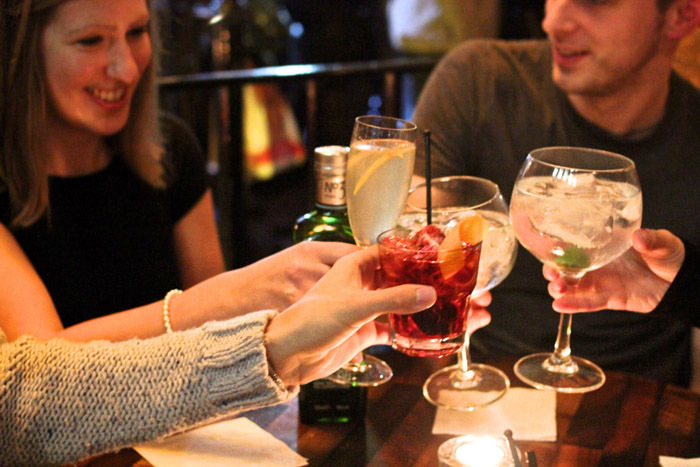 From the outside, The London Gin Club looks like little more than a busy pub. It's an odd location -around the back of Oxford Circus just on the fringes of not-quite Soho – but this bar, housed in what was once The Star at Night pub, is a fine choice for any gin fan.
There are nine tasting menus on offer. You pick your garnish – everything from lime peel and fig, to lemon and thyme – and they'll do the rest. The bar snacks will ruin your dinner, too.
22 Great Chapel St, W1F 8FR   find out more 
Worship Street Whistling Shop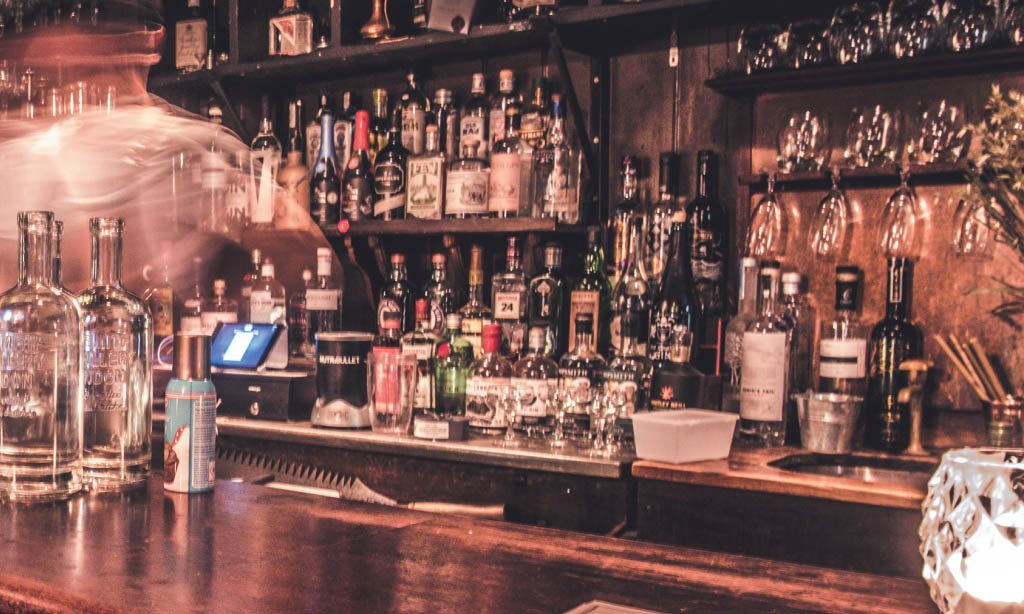 It's not just the 80 gins that Worship Street Whistling Shop stock that make this hidden Shoreditch bar worth seeking out. Maybe you'll want to try their gin masterclass or sip a couple of cocktails from their cocktail lab (wish we had our own cocktail lab – we'd design special lab coats). They even make their own bitters. This definitely isn't your average East London bar.
63 Worship St, EC2A 2DU find out more 
Holborn Dining Rooms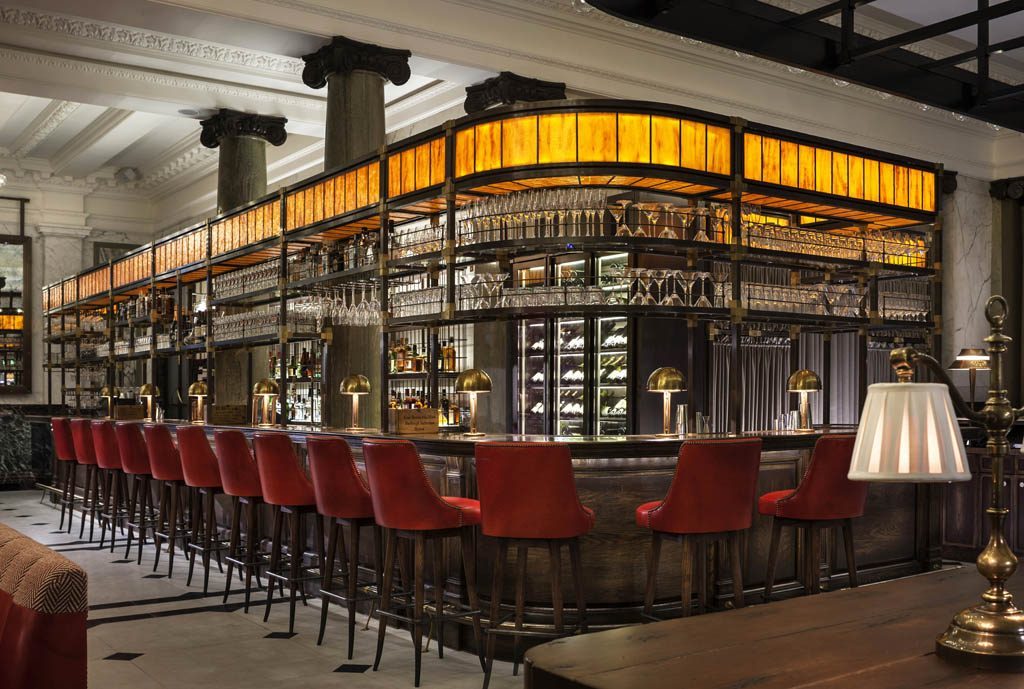 If you're indecisive about your tipple, head to The Rosewood in Holborn to sample a little something from the largest gin collection in London. The Gin Bar at Holborn Dining Rooms houses over 400 gins and 30 different tonics. That equates to 14,000 combinations of gin and tonic (we were too tipsy to do the maths, but we'll take their word for it). Don't try and drink them all in one evening.
252 High Holborn, WC1V 7EN   find out more
214 Bermondsey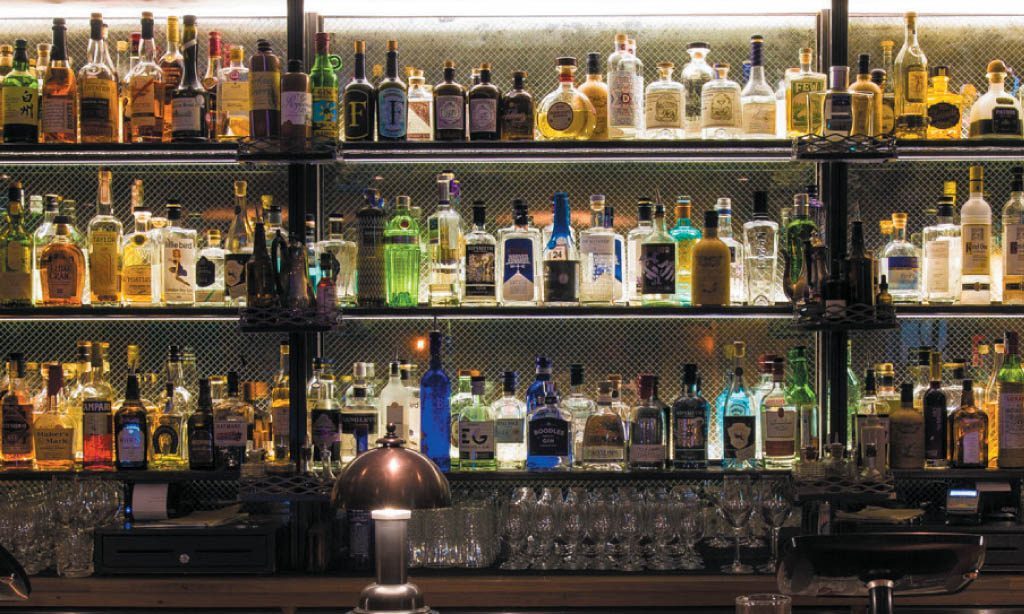 This little gin dive is hidden under an Italian restaurant and it's well worth scouting out, especially during happy hour. Whatever your gin of choice (and there are over 100 on offer), pair it with the BTW tonic – the bar's own small batch tonic made with naturally occurring quinine from Cinchona tree bark. Oh, and while you're in the area head to Jensen's Distillery, for a mug of their hot gin.
214 Bermondsey St, SE1 3TQ find out more 
Mr Foggs Gin Parlour
If you grew up being a Jules Verne fan and particularly of his novel Around the World in Eighty Days, you'll be delighted to know that there is a Mayfair home of the famed adventurer, Phileas J. Fogg where you can enjoy unique and exquisitely-created cocktails inspired by his adventures across the globe.
Housing an impressive plethora of gins, tonics and botanicals, the refined space boasts a collection of over 150 gins, from known favourites to rare and uniquely selected gins.
Various locations, to find out more visit their website.
Dukes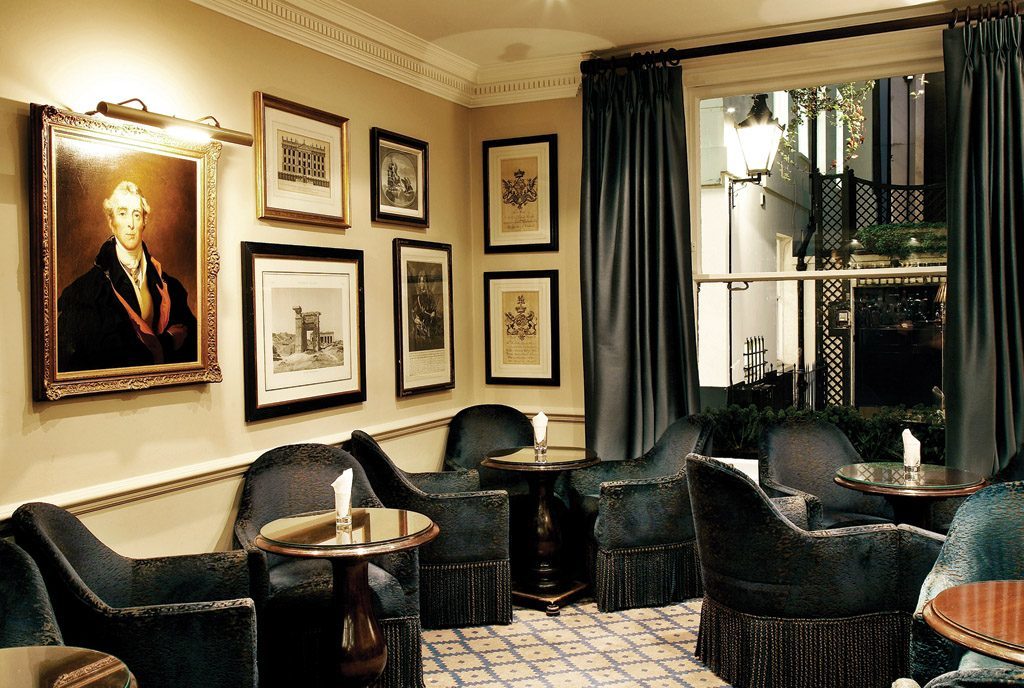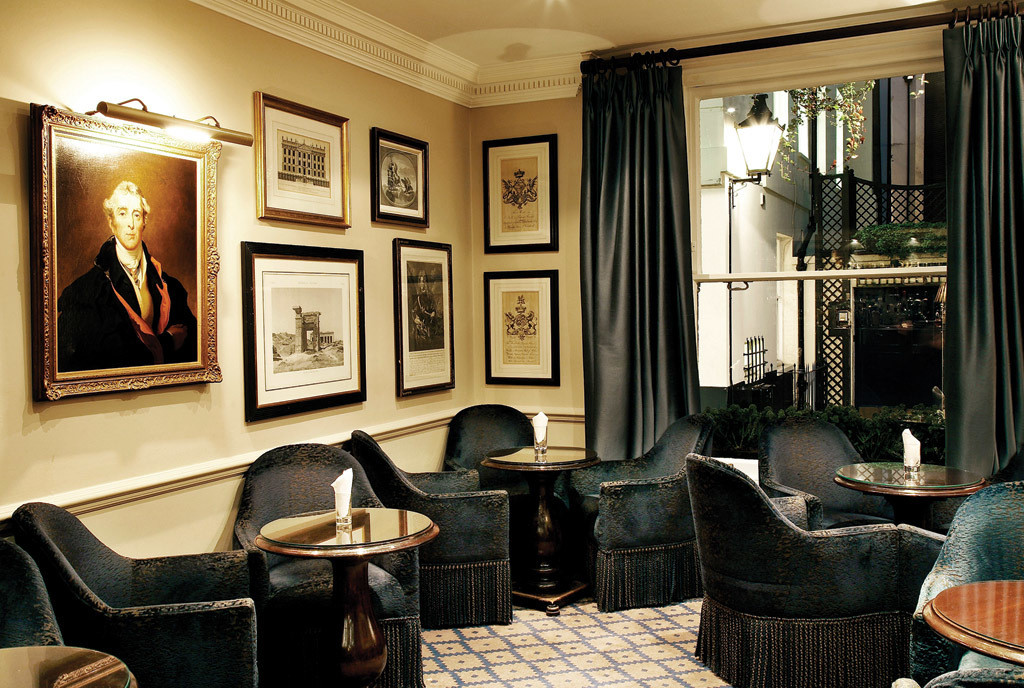 If you're of the martini drinking persuasion, there's one hotel bar that is the undisputed king: Dukes. A martini at Dukes is a legendary experience. They have a huge variety, as well as the classics, but head barman Alessandro Palazzi has recently created a new scented martini for the menu – 89 Jermyn Street – in conjunction with nearby British perfumer Floris. These are classic cocktails with a fabulous modern twist.
35 St James's Place, SW1A 1NY find out more
GinTonica
This Notting Hill bar should be in your favourites. On the first floor of The Distillery – home of Portobello Road Gin – GinTonica sits alongside The Ginstitute's museum and blending room, cocktail bar The Resting Room and London's first gin hotel. The gin menu could be described as exquisitely diverse, with spirits from Alicante, Brooklyn, Hamburg, Perth, Camden and more, all served in a traditional copa de balon.
186 Portobello Rd, W11 1LA find out more
Martello Hall
What could be better than an all-day bar and pizza joint near London Fields? Two of our favourite things in life found in one London gin bar. What makes this place particularly worth a visit is the impressive drinks, including a regularly changing array of 12 wines on tap, gin distilled on site and a swell cocktail list. Should you come here hungry, you can munch on crispy-based wood-fired pizzas, with interesting toppings like honey and truffled pecorino (pizzas and snacks are also served through a hatch at the side of the building).
137 Mare St, E8 3RH find out more
Four thieves
They've got their own micro-brewery. They distill their own gin. They keep an escape game in the basement. There's even a retro gaming room upstairs that lets you project 'Street Fighter 2' across an entire wall. And the games room? We defy you to find a more fun night out in Balham. It's packed with ping-pong, table football, old arcade games and a totally nutso racing game.
51 Lavender Gardens, SW11 1DJ find out more
City of London Distillery
A host of new distilleries have opened across town but this one, in the City, doubles as a bar. There are experiences also on offer, such as distillery tours, tasting sessions, gin flight taster tours and a gin 'lab' experience where visitors can distill their own gin. Their gin bar is not the only thing that the City of London distillery is well-known for as their gins have been distinguished in competitions such as the  Scottish Gin Awards 2018 and the World Gin Awards 2018, so definitely worth a visit.
22-24 Bride Lane, EC4Y 8DT find out more
The Library Bar at The Ned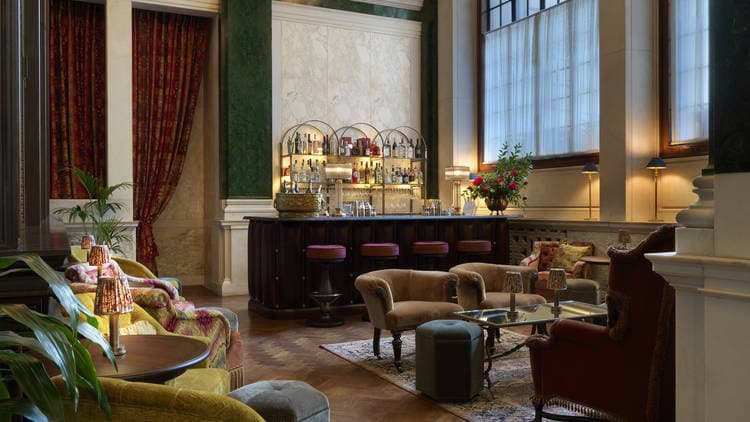 In this particular bar, you don't just get your drinks served at the bar. Oh no no, you get them trollied. That's what you get when you order the classic drink at this bar within plush City playground The Ned – a trolley rolled to your table. As if that wasn't enough to make you feel like an aristocrat the decor adds more to that with luxurious looking textiles and cushions complimenting this space.
The Ned 27 Poultry, EC3R 8AJ find out more
Graphic Bar Soho
https://www.instagram.com/p/Bl3Y6-PgHxK/
If you're looking for something more casual and more urban this is the gin bar for you. The Graphic Bar has a selection of over 180 different gins available. Showing a complete dedication to all things gin, Graphic also run a Gin Social the first Monday of the month when there are gin-based tastings and talks as well as the occasional free cocktail.
4 Golden Square, W1F 9HT find out more
Merchant House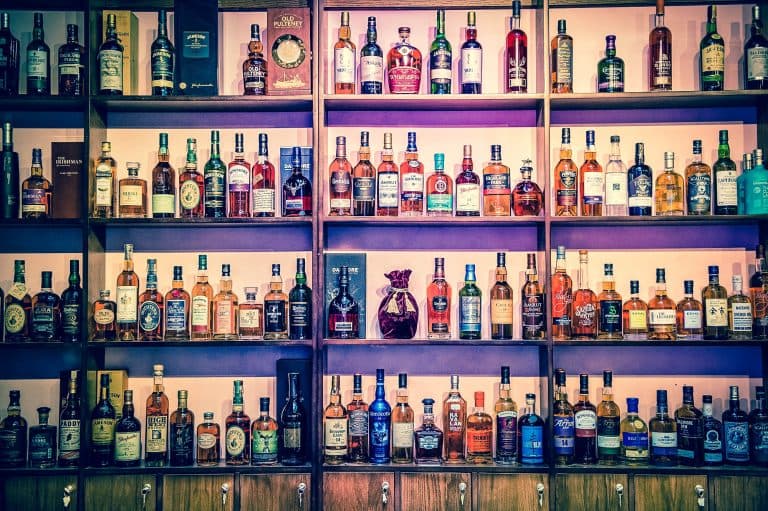 This spirit-led cocktail bar in the City of London, is one with the most knowledgeable and friendly teams in the industry. Their award-winning cocktails showcase a wonderful world of fine and rare bottlings, with each one telling some small part of the Empire story.
13 Well Court, Off Bow Lane EC4M 9DN, find out more
Polpo
The Negroni bars at both Smithfield and Soho branches are among the best spots in town to sup this classic gin-based cocktail. Along their wide variety of gins and other drinks you'll be delighted to know that they also have an extensive variety of venetian plates to tingle your palate.
Various locations, to find out more visit their website.
Graveney Gin, Tooting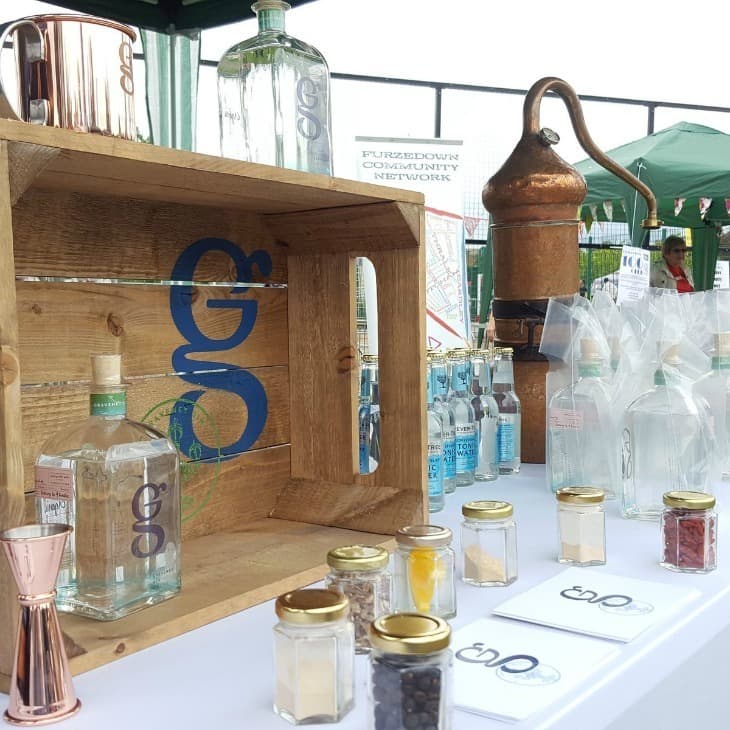 These guys fill that hole with their organic, handcrafted batch gin, made on site at their little home in the market. A recent addition to their base is a small bar out the front, so you can pull up a high stool and enjoy fresh G&Ts from a large copper mug.
23 Tooting High Street, SW17 0SN find out more
East London Liquor Company
With industrial features and a view of the stills, you'll feel at the heart of the production process at East London Liquor Company – you can get an even better idea of how it's made with the 90-minute Spirit of Gin Tour and Tasting.
221 Grove Road, E3 5SN find out more.
---
Follow us on Facebook, on Twitter @theginkin, or on Instagram at @theginkin. If you have a story suggestion email editor@theginkin.com 
---
More from The Gin Kin: