The recent rise in popularity of flavoured gin has definitely caused a paradigm shift for gin lovers with affinity to the classic London Dry Gin.
An endearing variation among the flavoured gins has been the beloved Rhubarb Gin which has been adored as seen through the likes of the Edinburgh Rhubarb and Ginger Gin Liqueur as well as of the Slingsby Rhubarb Gin.
Nevertheless once it runs out, it can be an extravagant expense to be added to your monthly budget, so making your own does not seem like a bad idea.
A bit of background
Although rhubarb is a vegetable, it is often used in the same ways as fruit. Its leaf stalks can be used raw, but are most commonly cooked with sugar and used in desserts such as pies, crumbles or made into refreshing compotes.
Rhubarb has some health benefits as well and in traditional Chinese medicine rhubarb roots of a number of species have been thought of as a laxative for gut relief for several millennia. So consumption of rhubarb could easily be considered "one of your five a day".
Ingredients
There can be various versions of rhubarb gin and it has often been seen to go in conjunction with either strawberries or ginger, so feel free to add either when you're making your own.
500g rhubarb
500ml water
200g sugar
Your choice of strawberries or ginger (5-6 pieces)
Your choice of a London Dry Gin
Method
Wash the rhubarb, trim the stalks and discard the base and any leaves.
Cut the stalks into 3cm lengths.
Put in a large jar with the sugar and shake everything around.
Put the lid on and leave to sit overnight. The sugar will draw the juice out of the rhubarb.
After 24 hours add the gin, seal and shake again.
Leave for about four weeks before drinking. Feel free to strain the liquor off through a lined sieve and transfer to a bottle.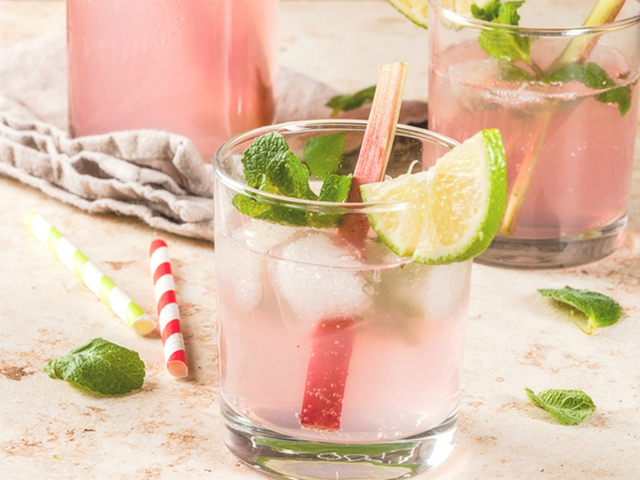 Suggested serve
Rhubarb gin is best served over ice with your choice of premium tonic water or lemonade. Add a slice of blood orange for that extra touch of citrus flavour.