Cranes Cranberry Gin is the bittersweet tipple that will tingle your palate with its fresh and fruity tang.
---
A Little Bit of Background
The Cranes Drinks company was founded by health-conscious twins, Dan and Ben Ritsema. After graduating from their respective universities, the pair began fermenting cranberry cider in five litre demijohns, and after perfecting their recipe, the company was up and running.
The firm extols the health benefits of cranberries, which was crane berries because the blossom of the cranberry vine resembles the head of a crane. Since its initial cider success, the twins have moved into liqueur and gin.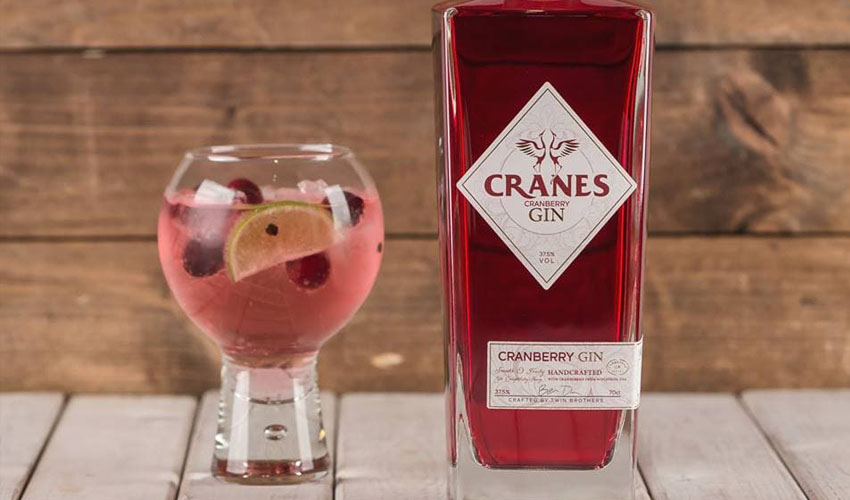 The Bottle
Cranes Cranberry gin is well presented in a tall, elegant bottle with a hint of Art Deco design. The diamond shaped label features a stylised image of two cranes, reflecting the fact that the founders of the firm are twin brothers.
The gilt highlights and shaded backgrounds of the labels add to the upmarket presentation, while the light burgundy coloured font complements the cranberry coloured contents, and unifies the overall product.
The Gin
On the Nose
Cranes Cranberry Gin has a rich, fruity aroma. The first impression is of the fresh woodland tang of juniper, followed by the sweet sharpness of the cranberry. Raspberry and vanilla notes are present in the background, and overall a sweet fruity aroma subtly dominates.
Straight
The fruity aroma quickly gives way to the taste of the Juniper berries which remain at the forefront of Cranes Cranberry Gin. The cranberries themselves, over 50 of which are in each bottle add a sharp, but welcome, freshness to the palate, delivering a finely balanced, and delicious taste experience.
With Tonic
This gin is described as "uncluttered by inessentials", and in keeping with the spirit of the makers, I simply added tonic water, recognising the natural simplicity of the drink. The addition of the mixer enhanced and brought the fruity elements of the drink to the fore, providing an intriguing contrast to the experience of sipping it neat.
Lasting Impressions
This is a fresh, contemporary take on the traditional gin flavours, and a stand-out taste in an increasingly crowded market. It is a gin that can easily be enjoyed on its own, and while the colour and taste of the cranberries might lend itself to a Yuletide feel, this is a gin that would be enjoyed just as much all-year round.