Hedgepig Gin have launched their latest edition, Zesty Elderflower Gin Liqueur, to coincide with Hedgehog Awareness Week. If that isn't cute enough, for every sale the distillery will donate 50p to the British Hedgehog Preservation Society.
---
A Little Bit of Background
Hedgepig Gin is the brainchild of the team behind Pinkster Gin. Their range of four fruity gin liqueurs are all made from fruit that is grown in local orchards, or foraged from hedgerows in East Anglia.
What sets their gin liqueurs apart from the rest is that they are naturally lower in sugar than most fruit liqueurs on the market. They're also a significantly higher ABV at 27-30%, compared to an average of 15-22% in many other gin liqueurs.
Botanicals
Hedgepig liqueurs contain a base of Pinkster Gin. Pinkster consists of a list of five botanicals however, two of them are a well-kept secret. The three we know are:
Juniper
Peppercorns
Raspberry
They then macerate the base gin with fresh fruits and sugar to create their gorgeous, fruity liqueurs.
The Bottle
Hedgepig Gin is served in a satisfyingly square bottle, made from thick glass and sealed with a stopper. The round label features a clever design that is reminiscent of a hedgehog, and a piece of fruit crowned with leaves.
It's unique shape and quirky design will definitely stand out on any back bar or shop shelf.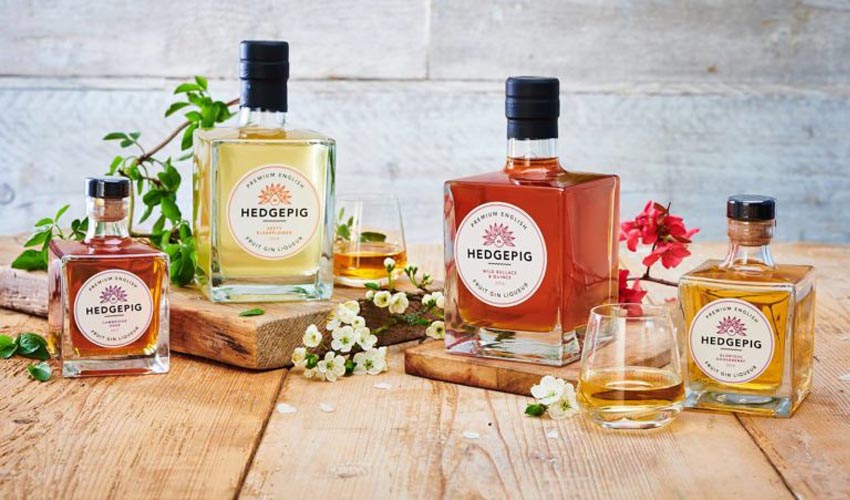 The Perfect Serve
The range of Hedgepig liqueurs were created to be served with food. The Hedgepig team suggest pairing their Zesty Elderflower with a naughty pudding or a cheese board.
As for a perfect serve, we enjoyed Hedgepig on it's own with loads of ice, or with a splash of tonic (no more than a 1:1 ratio of tonic to gin). It also works well with prosecco or champagne, as a sort of elderflower kir royale.
The Gin
On the Nose
The aroma of this liqueur is super fruity and opulent. The zesty, floral aroma of elderflower takes the forefront but, slight hints of gin can be detected underneath. It's fragrance is very inviting, tempting you in to have a taste.
Straight
Sipped neat, or served over ice, this liqueur is rich and decadent. Notes of sweet citrus, floral elderflower and a slight hint of juniper are the main flavours here.
Like most gin liqueurs, it's thicker and sweeter than the spirit is on it's own however, it's not as sickly sweet as a lot of liqueurs on the market.
With Mixer
I served my Hedgepig Zesty Elderflower in a 50:50 mix with some light tonic and lots of ice. An addition of tonic mellows out the sweetness and turns this into a light, refreshing cocktail – a complete contrast to the richness when drinking it neat.
Lasting Impressions
Hedgepig Zesty Elderflower Gin Liqueur is a fantastic spring/summer gin. Tasty and versatile, it can be consumed on it's own, with prosecco or in a wide range of cocktails. If you are a fan of gin liqueurs and are looking for something a bit different (and stronger!) then this is definitely the bottle for you.