The King of Soho Variorum Gin is a delightful pink berry spirit, which couldn't be a more perfect drink to sip during summer. 
---
A Little of Background
To celebrate the life of an iconic London tycoon, Paul Raymond, who transformed the Soho area of the city into a destination for entertainment, his son Howard Raymond, together with gin lover Alex Robson, teamed up to create a gin brand to encapsulate the life and times of the remarkable man and the spirit he created in the heart of London.
Whether it is the eye catching bright red bottle, which perfectly captures the spirit and life of Soho, or its delightfully smooth taste, this pink berry concoction, filled with natural strawberry flavours and 37.5% ABV, cannot be ignored by even the most casual of gin drinkers.
Botanicals
The King of Soho Variorum Gin combines every creative and flamboyant side of Soho with delightful notes of 12 bespoke botanicals to create a smooth and colourful tipple, which includes:
Juniper
Floral Chamomile
Vanilla Spice
Coriander Seeds
Orange Peel
Liquorice
Grapefruit peel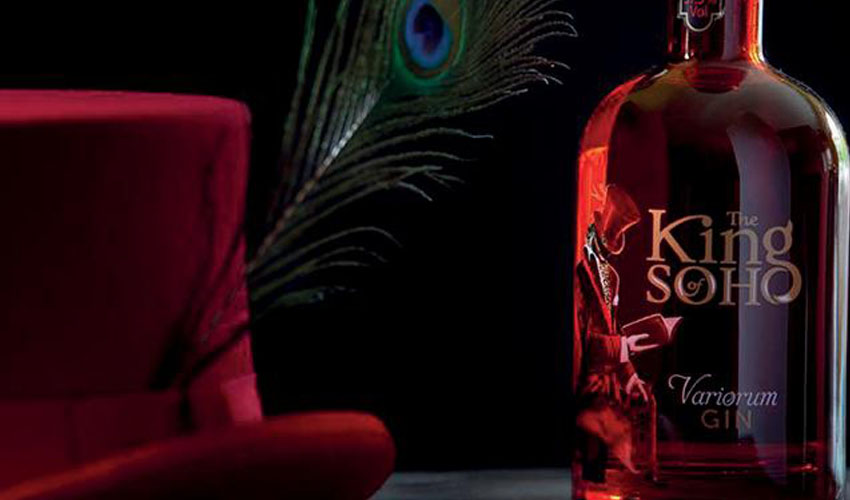 The Bottle
The King of Soho Variorum Gin is served in an impressively bold and colourful bottle, made from thick glass and sealed with a cork stopper.
The bottle aims to encapsulate the spirit of Soho and it's 'anything goes' attitude with a detailed spirit of Soho figure adorning the bottle, which represents both the past and the present of Soho life.
The cleverly designed figure features a red velvet jacket, which reflects the bohemian fashion of the area. A fox's tail to signify Soho's status as a former royal hunting ground, a trumpet pointing to Soho's musical history, and a book to serve as a nod to the regions long association with creative industries.
The Perfect Serve
Variorum can be enjoyed a number of different ways, but is best served over ice with a small garnish of strawberry.
The Gin
On the Nose
The aroma of this gin is a fruity and opulent fusion. The subtle sweet aroma of strawberry hits your tastebuds from the off, quickly followed by hints of floral chamomile and vanilla spice.
Straight
Sipped neat, or served over ice, this gin is light and refreshing, with no aggressively strong alcoholic tastes. Notes of sweet fruit, floral chamomile and a slight hint of juniper are the main flavours that'll make you coming back for more.
With Mixer
I served my King of Soho Variorum gin in a low ball glass packed with ice with a dash of slimline tonic.
Lasting Impressions
King of Soho Variorum Gin is a refreshing spring/summer drink that appeals to both dedicated and casual gin lovers. Light and sweet, it can be consumed on it's own, with tonic, or in a wide array of fresh cocktails you are sure to always enjoy.
You can pick up a bottle of the King of Soho Variorum Gin from Master of Malt website for £30.45.