Slingsby Gin brings a new and unique gin flavour to the table with their latest gooseberry offering. Fans of fruity gins need to add this to their "to try" list.
---
A Little Bit of Background
Slingsby Gin, from the Spirit of Harrogate, was launched by Marcus Black and Mike Carthy. The Gin is named after William Slingsby, who is said to have discovered the unique, medicinal properties of the spring water in Harrogate's Tewit Well.
Drawing inspiration from this story, Marcus and Mike set out to produce a spirit that celebrates the heritage and vibrancy of Harrogate.
Since their launch in 2014, the team now boast a portfolio of six gins. These include their famous Rhubarb Gin and limited edition Lions Gin, which comes in at a whopping 57% ABV.
Their latest addition, Slingsby Gooseberry Gin, infuses their classic gin with fresh Yorkshire gooseberries.
Botanicals
Slingsby Gin use a whopping 24 botanicals in their base gin, which they lovingly steep with fresh gooseberries to create their Gooseberry edition. Many of their botanicals are from the Harrogate area and include:
Juniper
Grapefruit
Angelica
Cassia
Orris root
Coriander seed
Liquorice
Nettles
Heather
Rhubarb
Green tea
Jasmine
Thyme
Sage
Lovage
Chervil
Hyssop
Sweet cicely
Oregano
Rosehip
Milk thistle
Gooseberries
The Bottle
Our Slingby Gooseberry Gin arrived presented in a gorgeous display box, which matched the bottle design. The bottle itself has the same classic shape as Slingsby's other gin offerings – rectangular with a tall neck.
However, for this iteration they have chosen a dark green glass, representing the plump, green gooseberries that are used to flavour the gin. The Slingsby logo is proudly displayed proudly on the front of the bottle. Finally, their signature copper bottle cap completes this classy look.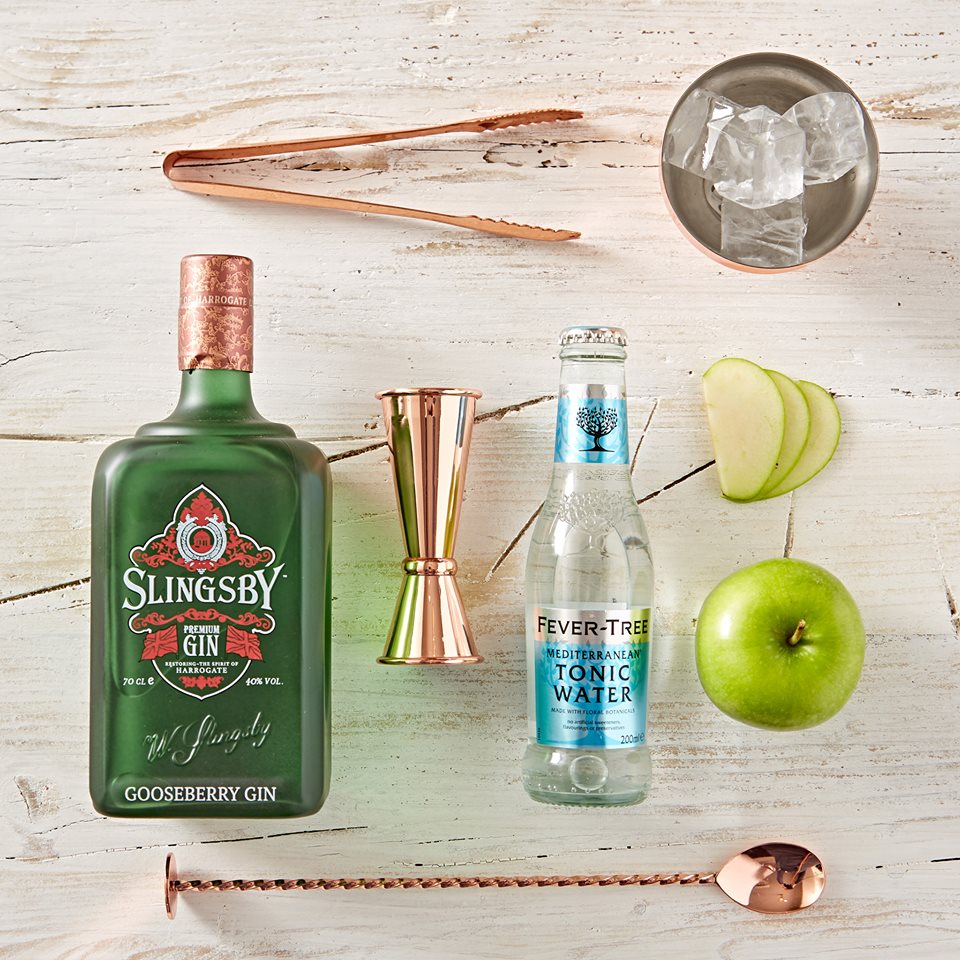 The Perfect Serve
The perfect serve for Slingsby Gooseberry Gin is:
50ml Slingsby Gooseberry Gin
150ml Mediterranean Tonic
A handful of ice
A sliced green apple fan
The Gin
On the Nose
Slingsby Gooseberry Gin has a fruity and inviting scent. Above all, the aromas of gooseberry, rhubarb and hints of citrusy grapefruit are most prominent here. However, underneath the fruitiness are notes of classic gin flavours such as juniper, angelica and coriander.
Straight
Sipping this gin on it's own allows you to really taste the individual balance of flavours. The sharp, almost grape-like flavour of gooseberry is muddles perfectly with the botanicals from their dry gin.
In contrast to a large number of flavoured gins on the market, Slingsby Gooseberry Gin still tastes of gin – rather than being overpowered by fruit flavours.
With Mixer
A Slingsby Gooseberry G&T, with Mediterranean tonic and a few slices of apple is an absolute delight to drink.
An addition of tonic turns this gin into a delicious and refreshing drink that would be lovely on a hot summers day. It also further exaggerates the fruity gooseberry notes.
However, we reckon this would work well with a variety of mixers. Prosecco make for an excellent gooseberry fizz, or maybe something fruity such as rhubarb soda or cloudy lemonade.
Lasting Impressions
In conclusion: Slingsby Gooseberry Gin is a fresh and tasty addition to the gin world. Fans of fruity gins, particularly rhubarb gins, will certainly enjoy this tipple.
With so many flavoured gins on the market, it is difficult to create new tastes that haven't already been done a million times.
However, Slingsby have done just that. Not only is this gin a delight to drink, it also brings a new and unique gin flavour for gin enthusiasts to enjoy.