Hayman's latest glassware launch creates the perfect G&T by ensuring a classic ratio of one part gin to two parts tonic. 
---
A Little Bit of Background
Since 1863 five generations of Hayman's family have acted as custodians of the True English Gin style – providing an unbroken lineage dating back to the original 19th Century gin boom.
The family's story is entwined with history of gin itself – from the current family-member's great-great grandfathers' origins as a 19th Century pharmacist-distiller through to the more recent introduction of their signature small-batch London Dry and Old Tom gins.
The full range of True English Gins are distilled using a traditional two-day process and period recipes handed down over five generations to create the uniquely balanced style of English Gin that many classic cocktails were built around.
Botanicals
Steeping the long-standing family recipe of just ten botanicals in English wheat spirit for a full day before distillation creates a fresh, bright and classically balanced gin with crisp citrus, subtle notes of exotic spice and the remarkable depth and complexity traditionally associated with the London Dry style.
The Bottle
Our Hayman's gin and glassware arrived enclosed in a gorgeous box that carried the Hayman's signature branding, which matched the details and the colour palette on the bottle.
The bottle itself came in the classic shape of all Hayman's gin products, featuring a rectangular shape with a long neck.
The cork stopper adds a sophisticated and elegant look while at the same time it reinstates the traditional character behind the Hayman's brand.
The True English G&T Glassware
Hayman's has done an outstanding job with this glassware, not only in the technical reasoning behind, but also in terms of its design and overall appearance.
To begin with, Hayman's created this new glassware to provide the perfect G&T. This is done by ensuring a classic ratio of one part gin to two parts tonic.
Explaining why they have brought back the glass, James Hayman comments:
"The gin and tonic is the quintessential English drink. Pioneered by English officers using London Gin, there was great pride in its presentation in a tall, slim glass. It offered a little of everything: elegance, refreshment and of course that underlying balance between spirit and mixer".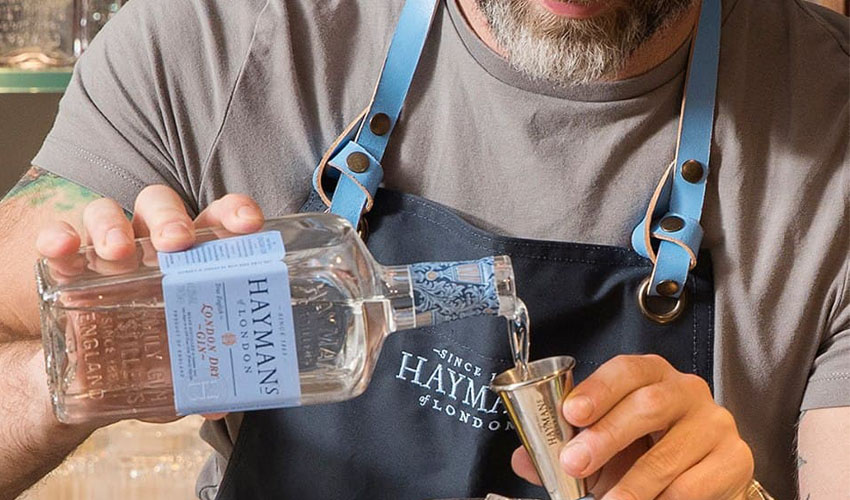 Hayman's new True English Gin & Tonic glass is just 300 ml in capacity, meaning that when filled with cubed ice it will hold exactly 100 ml of tonic and 50 ml gin.
The glassware features an elegant design with a thin lip which makes sipping out of it very ergonomic.
Nevertheless the glass itself feels heavy and sturdy in the hand thanks to its thick base. There is also Hayman's embossed branding at the top which adds to its elegant and sleek look.
The design of the glass was inspired by England's Victorian Gin Palaces which is evident by the intricate engraving surrounding it. A truly unique and eye-catching addition to any cupboard.
The Gin
On the Nose
Going back to the gin, upon removing the stopper of Hayman's London Dry gin, I was greeted by a refreshing scent of crisp juniper and fresh citrus. This London Dry has a perfectly balanced aroma of the two botanicals.
Straight
Sipped on its own, this gin definitely gives a kick of bold juniper and bright citrus. The flavour of these two botanicals is gradually meddled with the flavour of warming spice, giving this tipple an overall warm sensation on the palate.
Eventually the citrus and spice give way to a dry finish that develops to pleasingly earthy notes.
With Mixer
Since all of the following were kindly sent to us by Hayman's, I served my G&T accordingly to achieve a True English G&T.
I filled the True English G&T glass with cubed ice
I added 50 ml Hayman's London Dry Gin
Topped with 125 ml tonic
Garnished with a twist of lemon
Lasting Impressions
The lemon zest definitely enhances this gin's natural citrus character giving it a refreshing kick through its earthy profile.
This could be described as an elaborate approach to enjoying gin – in a good way. Hayman's definitely puts tradition and elegance at the heart of what they do and that is exemplified by these glasses and of course by their gin.
Their London Dry as well as the True English Glassware are products that any gin lover would appreciate, even if only taken by the quality and tradition  behind them.
---
---