Getting gifts for men can quickly get repetitive. After all how many pairs of socks and bottles of aftershave does one man need? However if the man in your life is a gin lover then a whole new world of possibilities is open. Gin gifts for him can come in all shapes and sizes.
Whether its unique gin gifts, inexpensive gin gifts or something more classic or luxurious – we've got all the angles covered. Look no further than our guide to the perfect gin gift for that male gin lover in your life.
Inexpensive Gin Gifts for Him
The Gin Game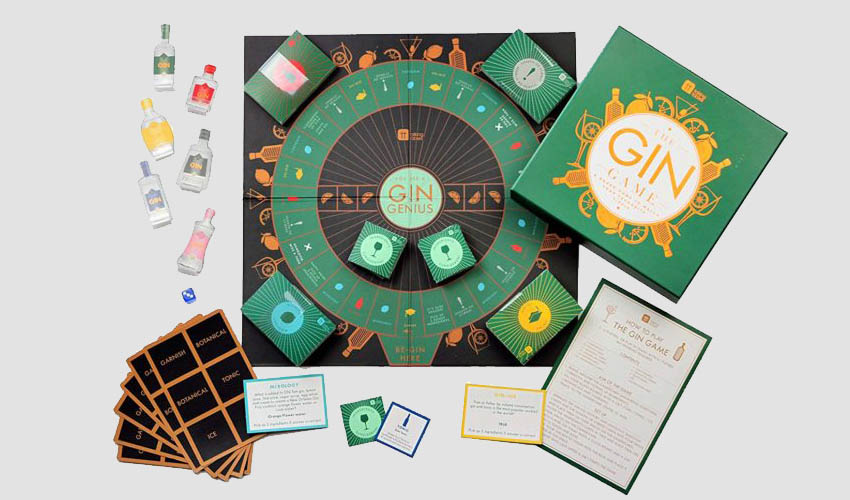 Board games are making a comeback as families and friends look to connect in a more meaningful way. The Gin Game is the ultimate board game for any gin lover.
It's a game of chance and twists that will test your gin knowledge. Work your way around the board by answering History cards, Mixology cards and Gin-ius cards.
We all know men are secret know-it-alls and what better subject to know all about!
Available from John Lewis, £19.99
---
Great British Gin Scratch Off Poster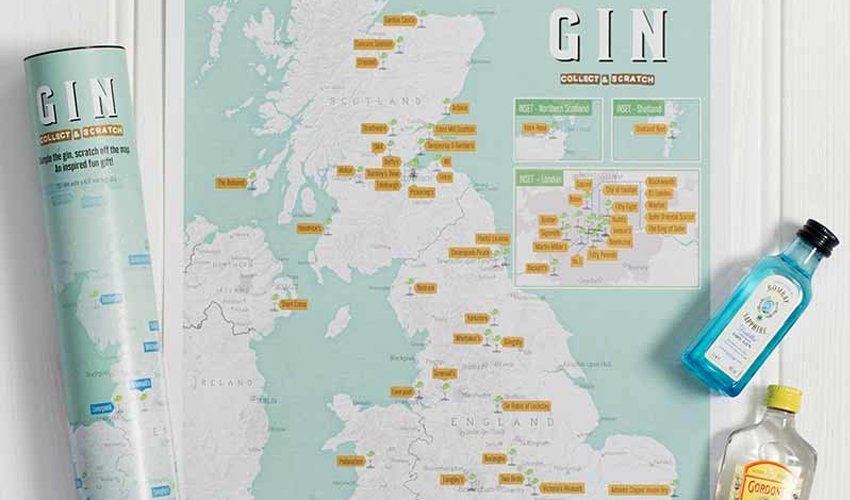 Some of us may already have tasted the majority of gins in the UK – all in the quest of perfection of course. But how many of us have kept a record of which gins we have and haven't tried?
This genius poster allows you to scratch and change the colour of the brands you have tried, until you have collected them all. A bit like an adult Pokemon perhaps!
Even if you have tried some or most already, we recommend starting 'from scratch' (sorry) – it will be more fun that way!
Buy now from The Present Finder, £14.99
---
Make-Your-Own Gin Gifts
Take It Sloe Gift Crate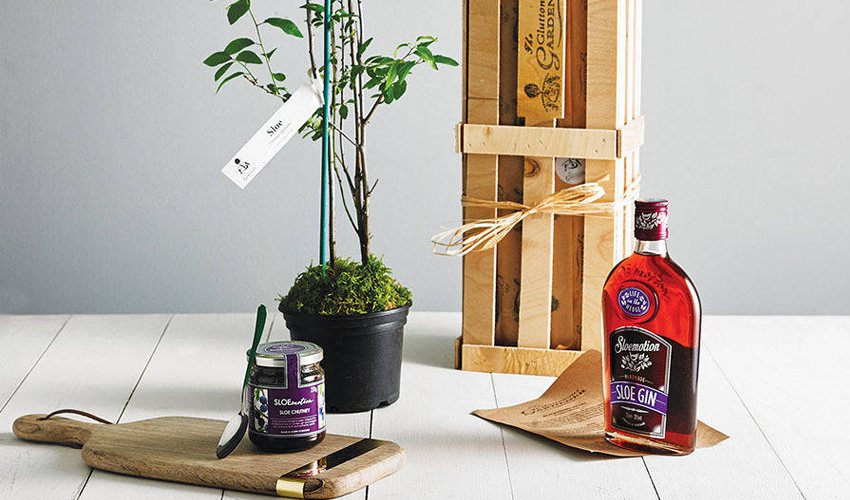 This is the gift that truly does keep giving.  This trio of healthy, ready-to-plant sloe bushes will produce a home-grown harvest of superb sloes. Perfect for making your own home made sloe gin!
The three sloe plants are be potted together and carefully cocooned in wood wool. They are sent out gently packed into sustainable wooden crates.
A sloe chutney is included in the gift set (which can be personalised) and as an optional extra a bottle of Sloe gin can be included. Something to tide the recipient over until the first crop is produced.
£44, from notonthehighstreet.com
---
Gin Botanical Cocktail Garden Kit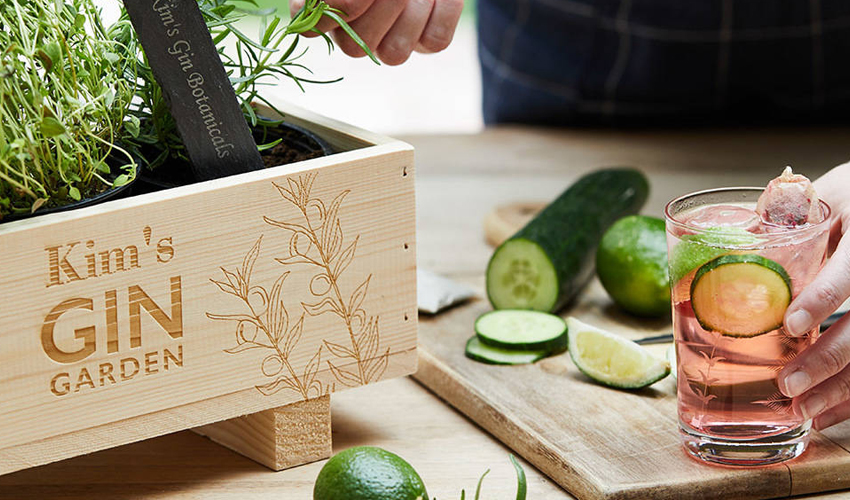 For the green-fingered gent in your life look no further than this 'Plant 'n' Grow' mini garden. This kit contains everything you need to sow, grow & mix.
It comes with two hand blended cocktail infusions and all you need to get started growing your own botanicals. A recipe book is also included to help with cocktail-making inspiration.
The Gin Wooden Planter is an optional extra which you can purchase as an add-on to this order or alternatively purchase separately. The wooden planter can also be engraved and personalised, again as an optional extra.
£44.70 from notonthehighstreet.com
---
Gin For Gents Kit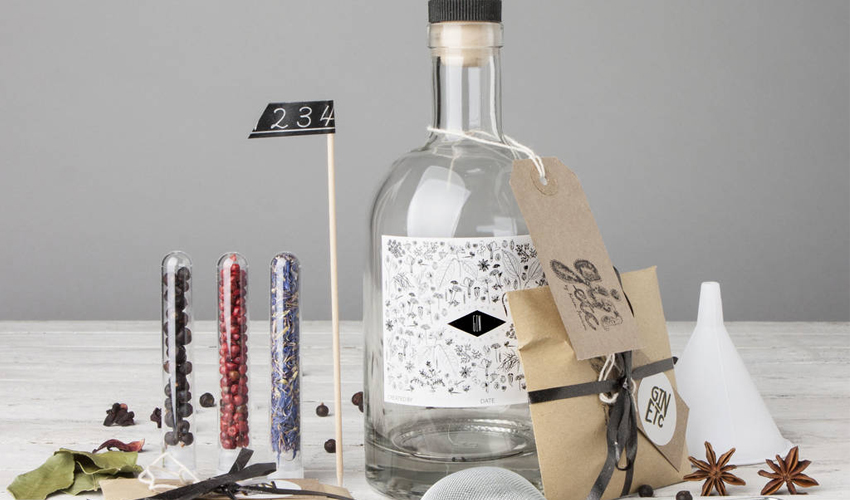 Turning gin into science, this bespoke gin kit contains the ingredients and instructions to transform three bottles of vodka (not included) into your own blend of compound gin.
The kit will make three 750ml bottles of homemade gin with flavours and botanicals that are perfect for any gin afficionado.
Juniper and three tubes of different gin toppers allow experimtation to create that perfect blend. A unique bottle of home-made gin  is almost certain to emerge at the end of the process.
Notonthehighstreet.com sells this for £30
---
Gin Gifts for Dad
Gin Letterbox Gift For Dad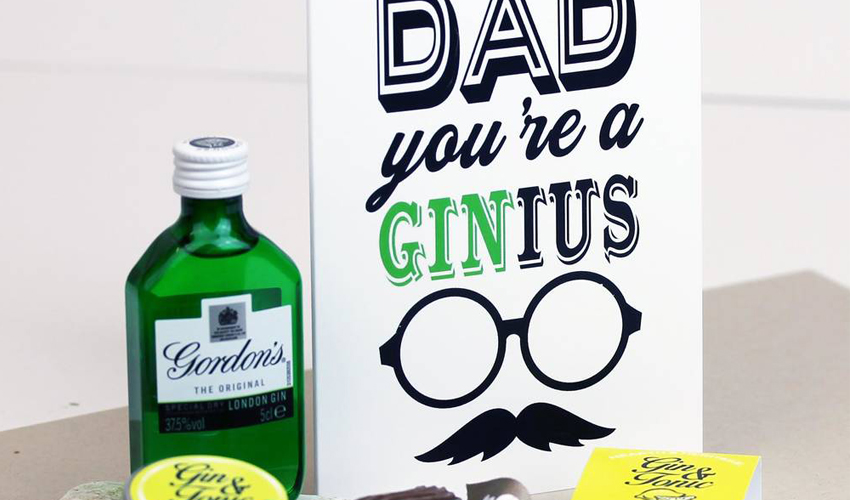 Designed to fit through any letterbox, you can be sure that this gin kit will reach dad on time even if he's not in.
In your letterbox gift you will find a 5cl bottle of Gordon's Gin, a delicious milk chocolate moustache lolly on a stick and one of our famous Gin & Tonic Lip Balms.
A greetings card is also supplied with the option to personalise at the point of purchase.
£19.95 from notonthehighstreet.com
---
Personalised Rhubarb, Cinnamon & Ginger Gin in a Tin for Dad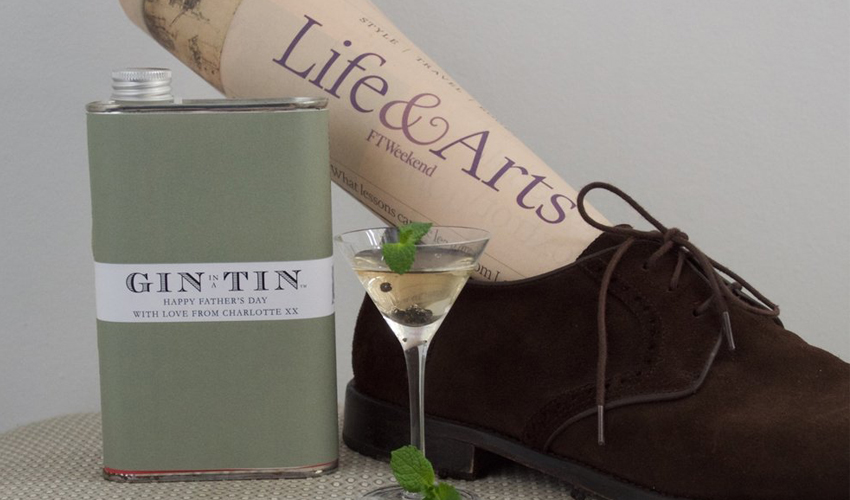 Gin in a tin. It sounds great, it looks great and this unusual combination of rhubarb, cinnamon and ginger tastes great. Rhubarb crumble gin anyone!?
Add any message, name, phrase up to 34 characters to personalise at no extra cost and delivery is free for this 50cl gin.
Available to buy from The Food Market, £43
---
Personalised 'Best Dad Ever' Gin & Tonic Gift Set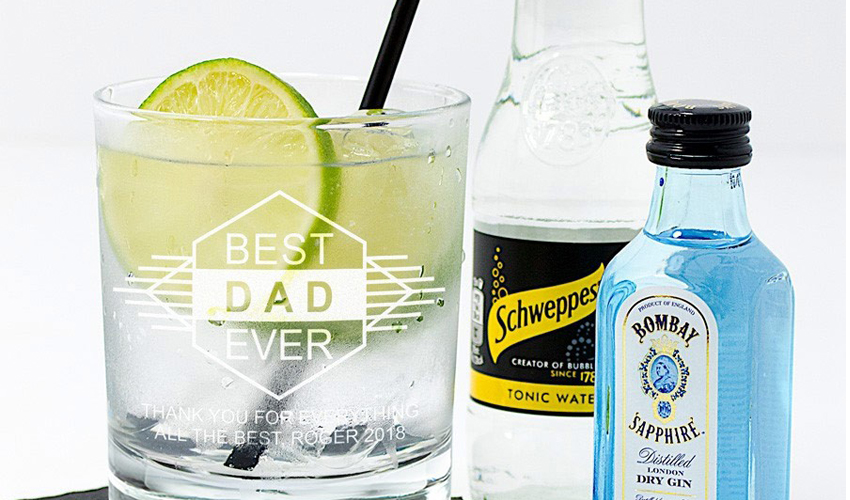 This G&T gift set is perfect for Father's Day, birthdays or Christmas. The classy glass can be personalised with your own message to make every G&T special for dad.
And of course the first Bombay Sapphire is even more special as it's on you!
£14.95 from Personalised Gift Shop
---
Luxury Gin Gifts for Him
Wooden Gin Trunk + Three Gins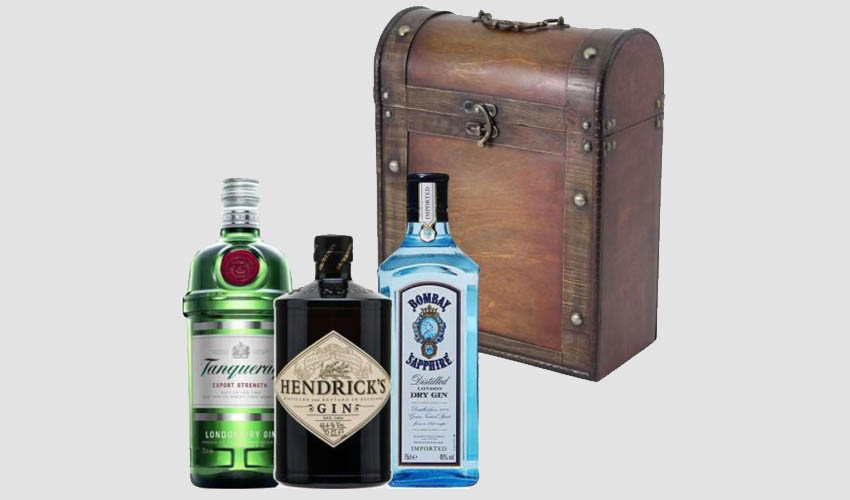 If there's a classier way to store gin, we haven't seen it. Looking more like something to keep hidden treasure in, this wooden trunk will store 3 full size bottles of gin.
This set comes with full-size bottles of Tanqueray, Hendrick's and Bombay Sapphire included in the trunk. And let's face it, opening up a trunk to see three bottles of gin is probably more exciting than hidden treasure anyway.
Available from Amazon, £134.99
---
Bartender's Premium Cocktail Set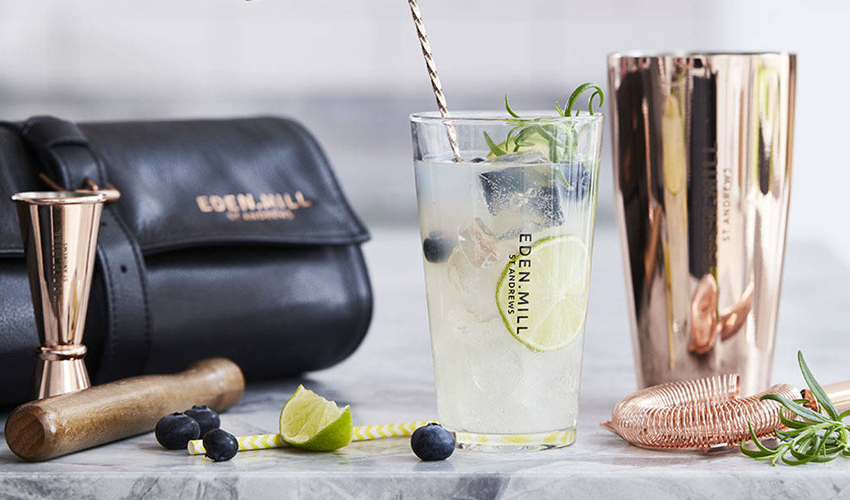 This luxury copper plated Eden Mill branded cocktail set would be pride of place in any bar or kitchen setup.
It's an essential set for any bartender, mixologist or at-home cocktail lover.
The premium hand crafted leather roll bag securely holds the all the kit ensuring that it can be used to make great cocktails with style wherever you want.
£135, from notonthehighstreet.com
---
Unique Gin Gifts
Small Batch Gin in a Bottle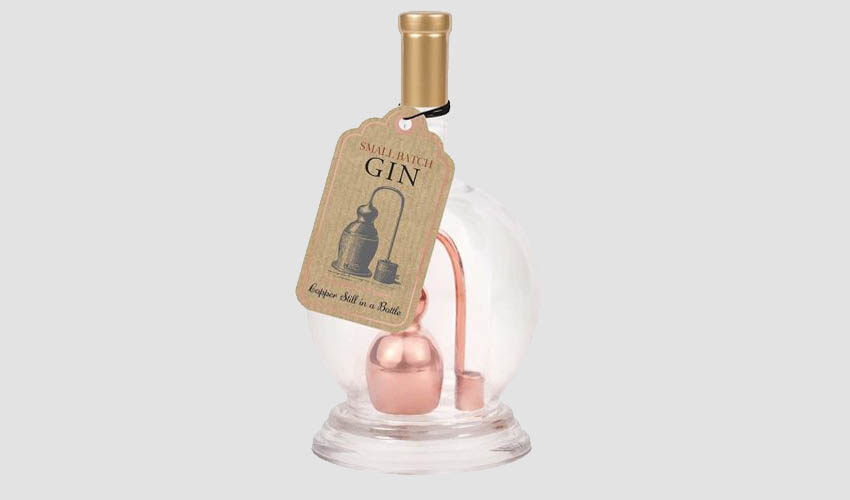 This elegant 20cl bottle of small batch gin is perfect for any gin lover. The minature copper still feature inside means that it looks fantastic as an ornament after the gin is gone – which won't take long!
Buy now on Amazon, £18
---
Gin Lovers Marshmallow Kit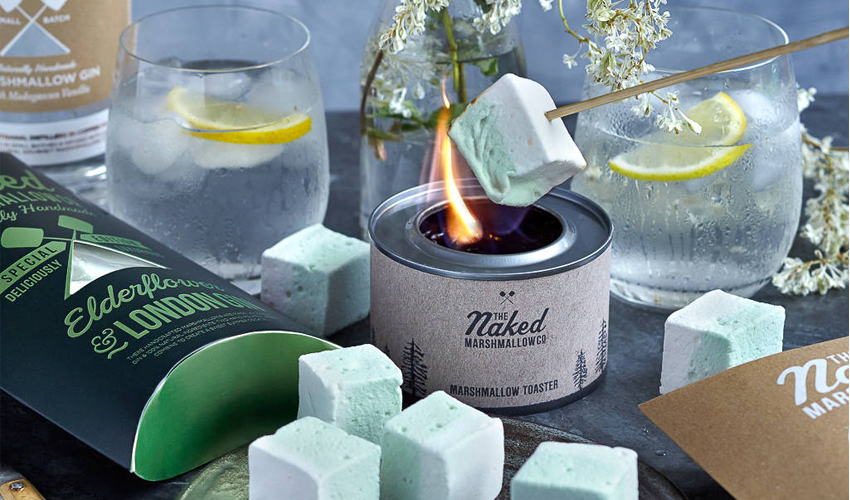 Who says you need to be camping to enjoy the pleasure of roasting marshmallows? This kit from The Naked Marshmallow Co. contains a box of Elderflower & London Gin marshmallows, Vanilla Bean marshmallows, Gin & Tonic Caramel dipping sauce and marshmallow toaster!
The Gin Lovers kit comes perfectly presented in a printed gift box and includes a set of bamboo skewers and toasting instruction guide. The joy of camping from the cobotanmfort of your sofa.
Available from Notonthehighstreet.com for £22
---
Follow us on Facebook, on Twitter @theginkin, or on Instagram at @theginkin. If you have a story suggestion email editor@theginkin.com
---
More from The Gin Kin: