London, more than any other city in the world, has an incredible amount of gin experiences. Sometimes, however, rather than taking part in an activity, all you want to do is sit back with a G&T and admire the view. Luckily, there are dozens of spectacular London rooftop bars dotted all over the city.
The views from these rooftop bars are breathtaking and iconic. We've rounded up the classiest, trendiest and quirkiest in our guide to the 10 best London rooftop bars.
And of course, naturally, they all have an incredible range of quality gin options.
Radio Rooftop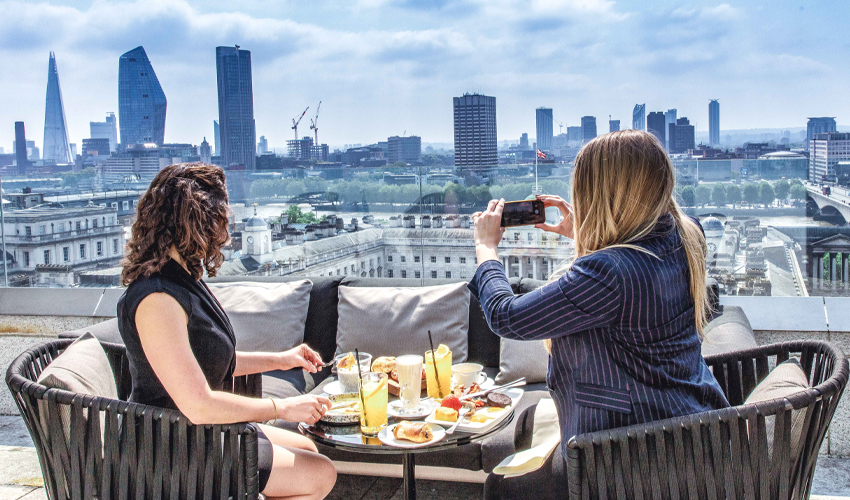 Radio Rooftop bar is situated on the 10th floor of five star ME hotel on The Strand.
The views are spectacular to say the least. The panorama including landmarks such as Tower Bridge, The Shard, London Bridge and St. Paul's Cathedral.
This summer the bar has been transformed into the Spirit of Summer Bombay Garden.
5 special Bombay Sapphire cocktails are on offer and the food menu is also gin-spired. A gin & blackberry cured salmon is part of the Bombay Sapphire Anglo-Indian Tapas board.
336-337 Strand, WC2R 1HA. Over 21s only after 5pm. To find our more about the Bombay Garden check the Radio Rooftop website.
---
Jin Bo Law Skybar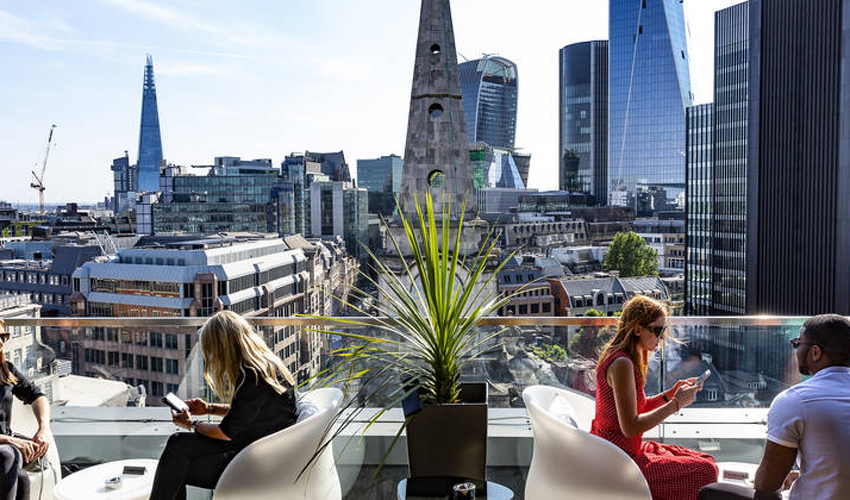 Situated on Dorsett City Hotel's fourteenth floor, this L-shaped bar has impressive views and a gin list to match.
With 11 different gins to choose from and views of the Shard, the Gherkin and Tower bridge, you could easily spend a long hot summer's day (or weekend) here.
With a focus on high quality entertainment, the Skyline Sessions events bring top DJ's to compliment the extensive selection of drinks.
14th floor, 9, Dorsett City, Aldgate High St, EC3N 1AH. For evening bookings be sure to reserve a table in advance online.
---
Rooftop Bar St James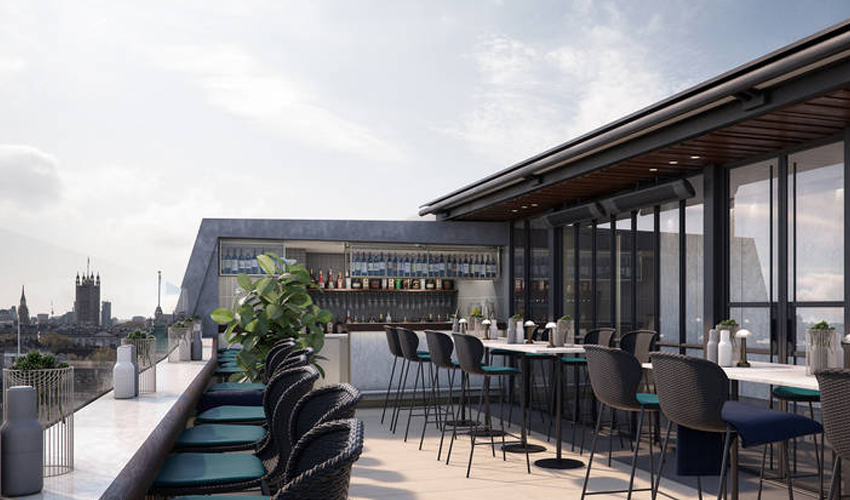 Overlooking Trafalgar Square on eye level with Admiral Nelson, the view from the bar at the top of the Trafalgar Hotel is pretty iconic.
If you can put up with the selfie takers and focus on gin then you'll be rewarded with a choice of 15 gins and some classy (but costly) cocktails.
A Soho Sunset will set you back £18 and consists of Bath Tub Gin, Taittinger Champagne, Crème De Mure and Basil.
7th Floor, 2 Spring Gardens, SW1A 2TS. The Rooftop Bar has an over 21 age policy from 7pm onwards. Find out more.
---
Madison Terrace Bar & Lounge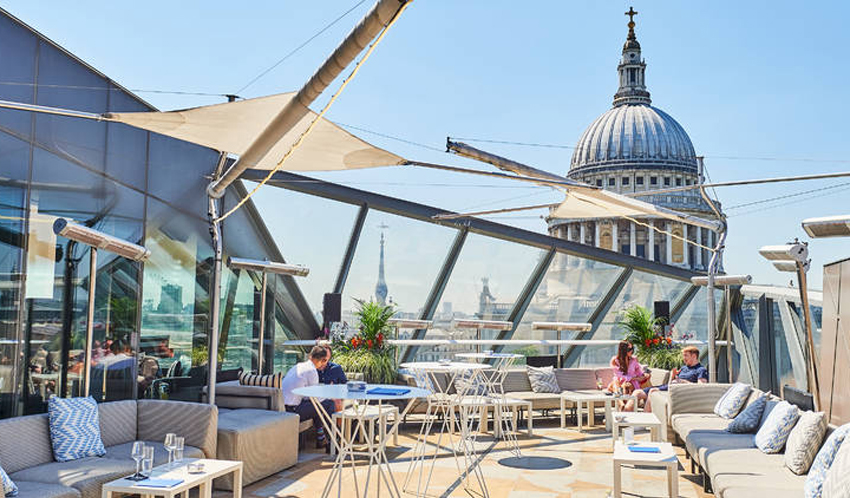 A glass lift from the ground floor takes guests up to the Madison Terrace rooftop bar, sweeping up parallel with St Paul's Cathedral east elevation.
The iconic London sights may be stunning but you'll be wanting to drink in more than just the views. Luckily the menu has a plethora of European gins (and Death's Door Gin from USA).
There's also some great gin cocktail options including a White Coconut Negroni featuring Tanqueray and a Madison G&T made with Copperhead Gin and pink grapefruit moisturiser.
Rooftop Terrace, St Paul's, EC4M 9AF. For more details see the Madison website.
---
Sushisamba Tree Bar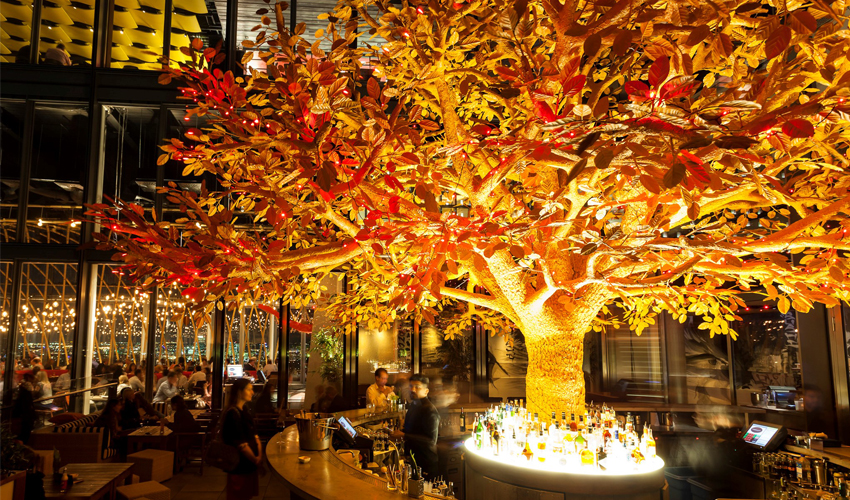 The glass-walled express lift of the Sushisamba bar hurtles skyward up the outside of Heron Tower, taking 30 seconds to ascend 38 storeys. Now level with the top of the Gherkin, it's time to get stuck into gin.
The intriguing mix of Japanese and Brazilian influence (hence the name Sushi-samba) means that cocktails are probably unlike anything you've tasted before.
Priced at £13 the Asian-inspired Tom Yam consists of Hendrick's gin, coriander infusion, chili, lemongrass and lime leaf. It's churned through crushed ice, with ginger syrup and citrus juice and served long.
110 Bishopsgate, EC2N 4AY. Sushisamba is occasionally closed to the public for private parties though, so call to check in advance.
---
Coq d'Argent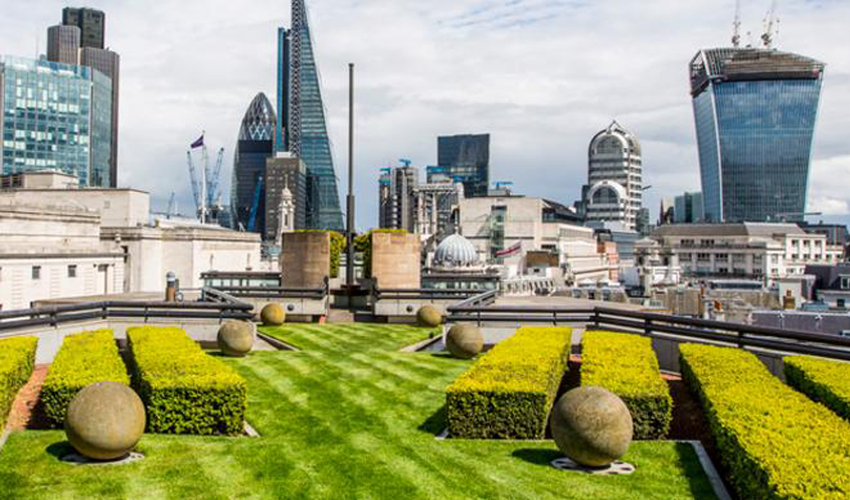 Coq d'Argent is one of the London's number one choices for alfresco dining – and you can see why! A private lift transports guests to a verdant rooftop garden, complete with its own lawn and trailing vines.
Here you'll find French food on the menu and predominately wines but there are gins and gin cocktails available. The stunning views and surroundings mean we can forgive the wine-heavy drinks list.
1 Poultry, EC2R 8EJ. Find out more on the Coq d'Argent website.
---
Aviary Rooftop Bar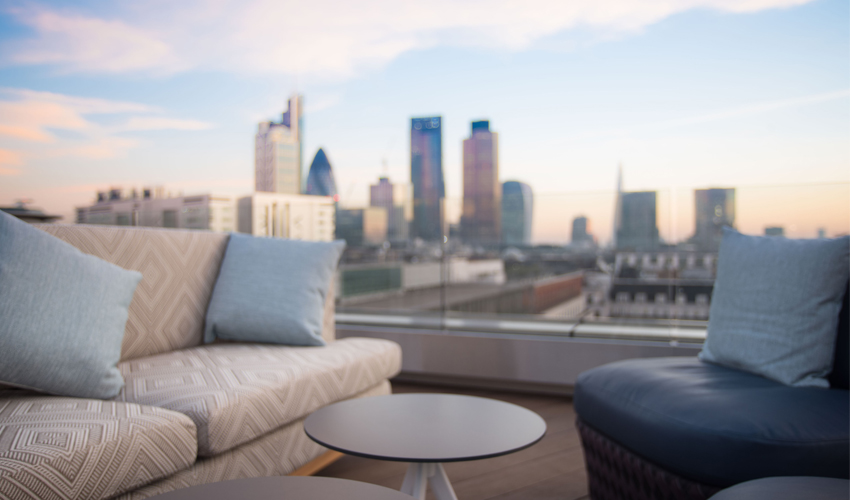 Located on the tenth floor of the new Montcalm hotel in Finsbury Square, Aviary restaurant and bar has been carefully designed to take in as much of the city as possible.
What's even more impressive than the panoramic view is the 29 gins that are on offer. Not to mention the numerous gin-based cocktails including the Flamingo Riff (Tanqueray) and the Aviator Hurricane (Aviation Gin).
22-25 Finsbury Square, EC2A 1DX. Find out more.
---
Capeesh Sky Bar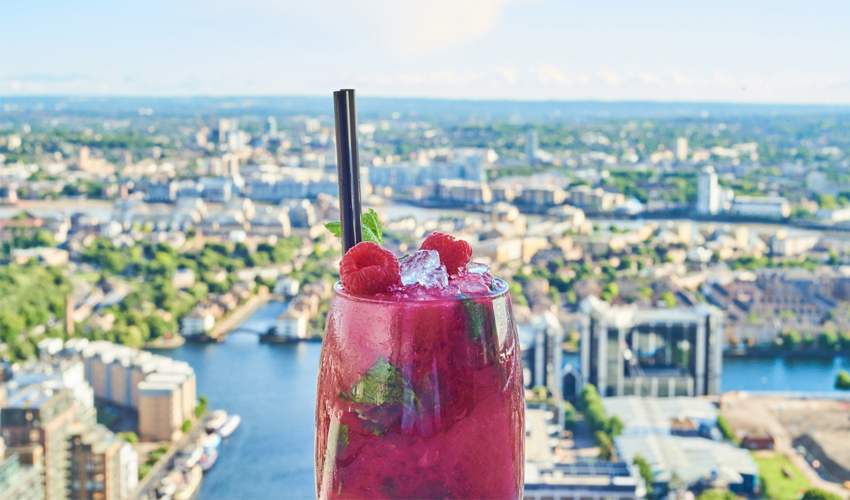 Capeesh Sky Bar is one of the most elegant and popular cocktail bars in Canary Wharf and can be found on the 48th floor of the infamous Pan Peninsula Square.
Expert mixologists hand-blend house cocktail recipes, including 7 gin-based cocktails ranging from £12-£18.
If you want to have a nibble you could try some Italian canapés or good old-fashioned pizza from the Italian menu while you sit back and relax in awe of the surrounding views.
4 Pan Peninsula Square, Isle of Dogs, E14 9HN. Check the Capeesh website for more details.
---
Bourne & Hollingsworth Garden Room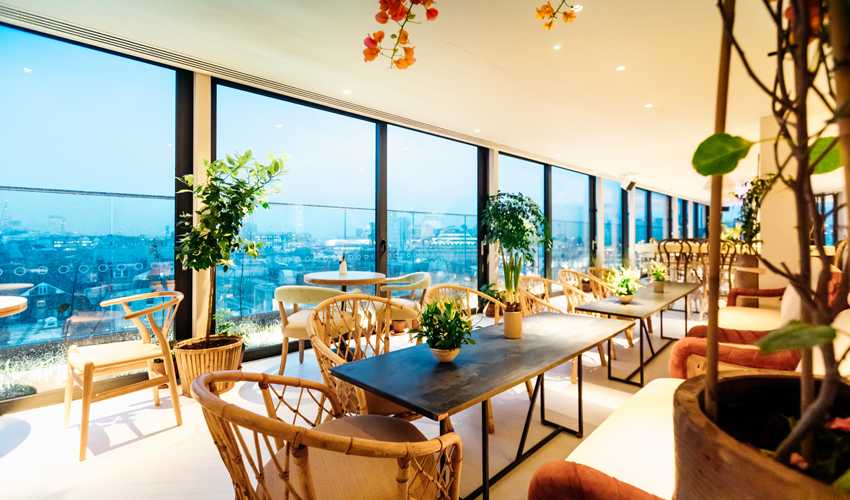 B&H Garden Room is a new restaurant and bar with panoramic views of London situated in the heart of the West End. The Garden Room mixes stunning interiors, seasonal delicious food and the brand's signature cocktails, with the incredible 180-degree views of London.
Vast floor to ceiling glass windows will frame the room, offering every seat in Garden Room spectacular views across central London. Iconic landmarks, such as the London Eye, The Shard and Nelson's Column are easily visible.
There are plenty of gin options on the drinks list, including cocktails such as Middle Earth (Gin Mare, pressed citrus, Chartreuse, lemon verbena cordial and basil foam).
10th floor, above Assembly Hotel, 31 Charing Cross Rd, WC2H 0LS. Find out more.
---
Frank's Cafe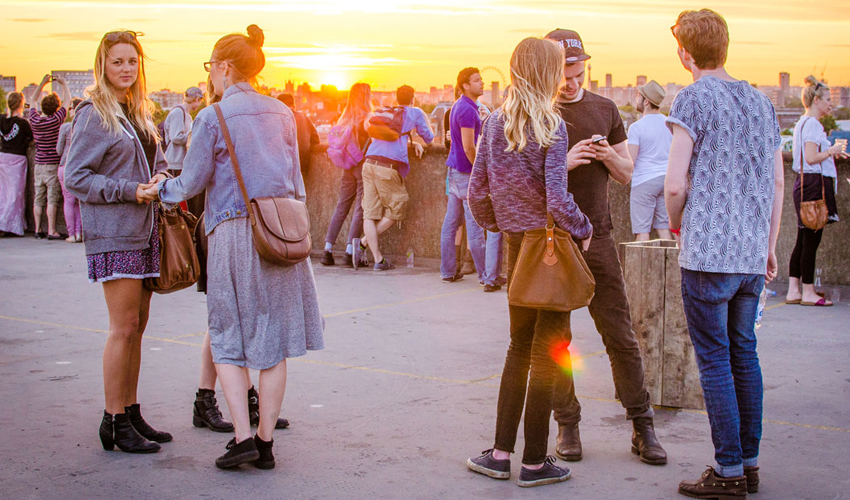 Frank's has been popping up every summer for a decade now, perched atop of a multi-storey carpark in Peckham. Nowhere near as trendy as the other venues on our list, it's every bit as cool.
You'll find gin-based cocktails for only £5 and restaurant quality nibbles too.
Head down a level and you'll find the Bold Tendencies art project dedicated to showcasing new art and sculptures by international artists in a car park in Peckham.  It attracted over 60,000 visitors in 2012.
And of course we must mention the famous pink staircase, painted by by Simon Whybray back in 2016, that leads to the roof. It has become as iconic as the view from up top!
 7th-10th Floor Multi Storey Car Park, 95A Rye Ln, SE15 4ST. For menus and drinks list, check out the Frank's Cafe website.
---
Follow us on Facebook, on Twitter @theginkin, or on Instagram at @theginkin. If you have a story suggestion email editor@theginkin.com
---
More from The Gin Kin: