London-based distillery Bimber has launched the UK's first handpicked oolong tea gin, Da Hong Pao (51.8% abv). At that strength it takes afternoon tea to the next level!
Oolong is one of the world's most expensive tea plants. Da Hong Pao, the strain used in this gin, grows on the cliffs of the remote Wuyi Mountains in China.
Da Hong Pao Tea Gin is 100% handcrafted on site at Bimber's West London distillery using roasted Oolong tea as a key botanical.
Prized by tea connoisseurs worldwide, Da Hong Pao is a semi-fermented, heavily oxidized Oolong tea.
Master Distiller (and co-founder) Darius Plazewski says, "It yields a golden yellow liquid that produces a pleasant long lasting aftertaste. It's also renowned for its nourishing medicinal properties."
The distillation process involves infusing the gin and tea leaves for one week to ensure maximum flavour extraction. It's then filtered and bottled at a high-strength of 51.8% ABV."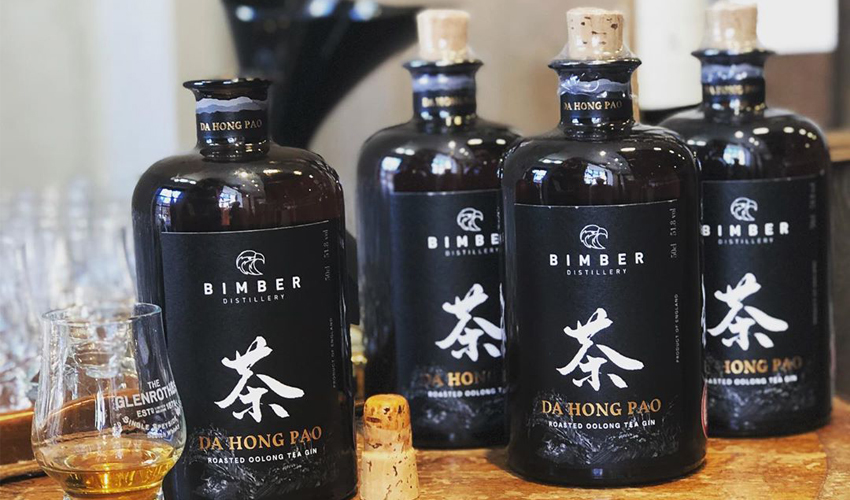 Bimber's attention to detail is impressive. The bottle takes inspiration from an old pharmacy style brown bottle and bears a label representing Chinese traditions of herbal remedies.
Designed by co-founder Ewelina Chruszczyk, she says, "I have taken lots of influence from the Wuyi Mountains and I have spent countless hours researching and tasting several types of Oolong tea, analysing the colours of the roast and deciphering Chinese characters."
This is a truly unique gin, both in bottle design and taste, and would be a valuable addition to any gin connoisseur's drinks cabinet.
Da Hong Pao Tea Gin (50cl) is available to buy from The Whisky Exchange for £38.95.
---
Follow us on Facebook, on Twitter @theginkin, or on Instagram at @theginkin. If you have a story suggestion email editor@theginkin.com.
More from The Gin Kin: