A little bit of background
Well loved for their liqueurs, Edinburgh Gin's dry gins may receive less attention, but we think that's a shame. Their first gin in three years, Edinburgh Gin 1670 launched in April 2018 in collaboration with Royal Botanic Gardens Edinburgh (RGBE).
Edinburgh Gin head distiller, David Wilkinson, and botanist Dr Greg Kenicer worked together for over a year to put this gin together.
The packaging
Edinburgh Gin 1670's packaging appears to have been dragged through a book of exotic botanical prints, which is to say, very cool. Edinburgh Gin's marketing is always slick and 1670 is certainly eye-catching. Sprigs of flowers and verdant greenery bloom across the bottle and gorgeous box.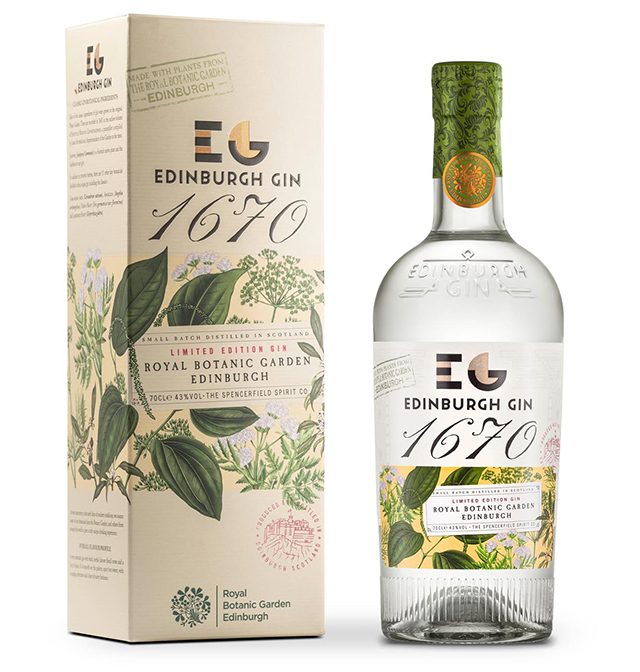 Botanicals
Tasmannia Lanceolata leaf – adds warmth and spiciness
Tasmanian Mountain Pepper (from Tasmannia lanceolata) – for a sweet but spicy aftertaste and a tingle reminiscent of mint
Fennel Seeds (Foeniculum vulgare) – adds sweetness and smoothness, enhancing the green notes of the gin
Fennel and Sweet Cicely leaves (Foeniculum vulgare and Myrrhis odorata) – traditional medicinal herbs from Europe that combine with the fennel seeds to give a fresh, sweet flavour with a subtle hint of anise
Piper Leaf – a classic spice in leaf form, used in many traditional medicines and cuisines. It adds spicy notes and the flavour of basil
The Perfect Serve
Edinburgh Gin showed off the 1670 gin in a span of four different cocktails at their launch event: a gin and tonic, martini, citrine and gin fizz.
But if you're like us, a G&T is what you make most of the time. Luckily, 1670 makes a smart and beautifully simple gin and tonic. Adding an intoxicatingly fragrant sprig of basil to this gin is a wonderful thing.
The Edinburgh Gin 1670 G&T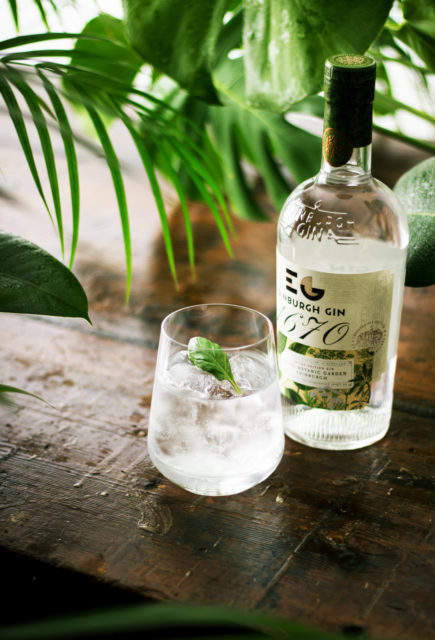 Pour in 35ml Edinburgh Gin 1670
Top up with premium Indian Tonic Water
Garnish with fresh basil
The RBGE martini though? My personal favourite.
On the Nose
Savoury and aromatic upfront, an unexpected pepperiness comes through thanks to Tasmanian Mountain Pepper.
With tonic
Given the breadth of exotic botanicals selected from the Royal Botanic Gardens Edinburgh, we may not be able to pinpoint where the Piper Leaf starts and the Myrrhis odorata ends, but I do know 1670 tastes darn good. And really, that's the most important thing, isn't it?
Lasting impressions
Given the impressively researched and handpicked botanicals from RBGE, Edinburgh Gin 1670 tastes truly unique. It's a hard one to make direct comparisons to.
There are so many gins on the market right now and, for some, appearance and trendiness come first. 1670 isn't one of those gins. Development for Edinburgh Gin 1670 totaled three years — a veritable lifetime in the ginaissance — and their hard work shines through.
---