Bursting with juicy lime flavour yet never straying too far away from what you'd expect from a traditional gin in quality, The Lime Tree Gin will please even the hardiest of gin lovers.
---
A Little Bit of Background
The English Drinks Company launched their first gin in 2016. Originally producers of soft drinks, they were inspired to create their first product – Cucumber Gin – after customers started mixing their sparkling cucumber drink with gin.
Since then, they've have released a number of gins, including The Orangery Gin, a Classic Pink Gin and Lemon Grove Gin.
On the Nose
It's good news for those who really care about the quality of gin in their glass. As soon as the cork is lifted, there's a strong, unmistakable scent of juniper with a hint of lime detectable but not overpowering.
The Bottle
Like previous bottles created by The English Drinks Company, The Lime Tree Gin comes in a short and stocky bottle with curved shoulders and thick base.
Similar to the contents of the bottle, the labeling is bright and vibrant and features an intricate tree design at the forefront.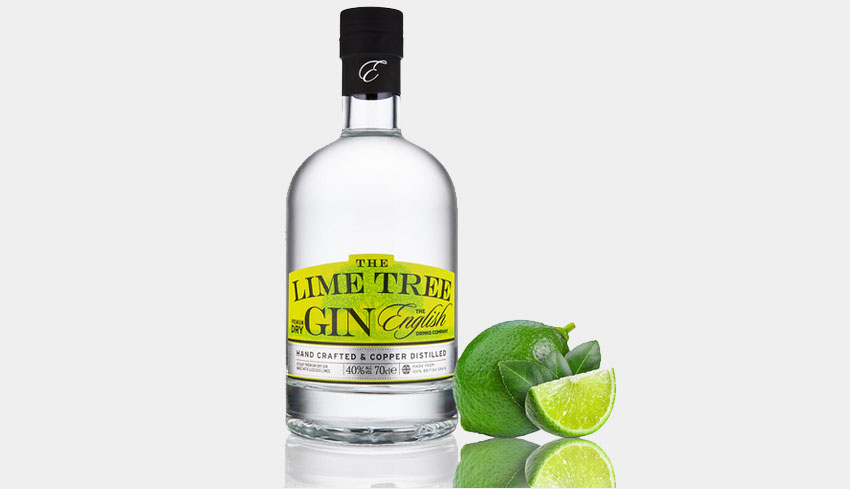 Suggested Serve
Our perfect serve for The Lime Tree Gin is as follows:
50ml The Lime Tree Gin
150ml Premium Tonic
Handful of ice
Lime or raspberry to garnish
On its Own
Due to its refreshing, summery flavour, you could easily load up the ice on this gin straight and enjoy it quite comfortably. The suggested serve indicates a wedge of lime as the complementary garnish, but I tried mine with raspberry. The lime flavour does pack quite a punch, so adding more citrus may just be too overbearing for some.
With Tonic
It's with tonic that this gin truly comes alive. One sip is like treating your palate to a juicy lime fruit pastille: bright, moreish and just oh-so-refreshing.
What's admirable about The Lime Tree Gin, and indeed its predecessor Lemon Grove Gin, is The English Drinks Company's ability to create a flavoured gin that's a great balance between quality and flavour.
In an ocean of gin simply created for the uniqueness of flavour, there's care and love in this production; there's something here to please the hardiest of gin lovers whilst welcoming in the first time gin triers.
Lasting Impressions
At first glance, The Lime Tree Gin will seem like the perfect summer tipple and indeed, it is deliciously refreshing. However, pass it off as a seasonal fad at your peril, this is a well-crafted, well-rounded gin that belongs in every gin lover's cabinet.