A slice of cucumber to garnish a gin and tonic is a classic combination. The English Drinks Company took this idea and ran with it, launching their Cucumber Gin in June 2016.
This gin mixes intense cucumber with traditional botanicals, resulting in a unique and refreshing taste experience. 
---
A Little Bit of Background
The English Drinks Company's first excursion into the world of cucumber beverages was actually a non-alcoholic offering called Qcumber. Cucumber Gin came about when the team realised that customers were using this sparkling drink as a mixer for gin.
The gin itself took two years to perfect, with the creators striving to create a gin that tasted distinctly of cucumber but still appealed to the average gin drinker. The result? A super fresh, cucumber gin that can be enjoyed neat, with tonic or in a plethora of cocktails!
The Bottle
Up until last year, Cucumber Gin came in a clear bottle. However, The English Drinks Co. decided to give it an upgrade, swapping out clear glass for this classy black number.
The bottle is labelled "Cucumber Gin" in bold block capitals, surrounding the company's scripted logo. On-trend accents of copper allude to the still in which Cucumber Gin is distilled, completing this elegant and eye-catching design.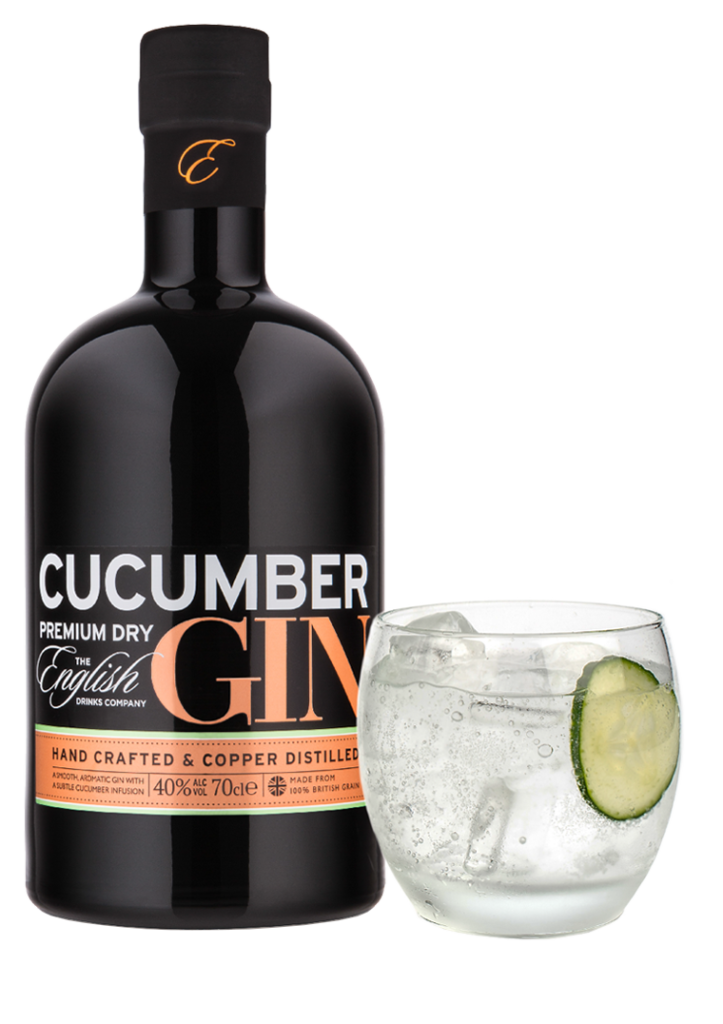 Botanicals
Juniper and cucumber are, unsurprisingly, the lead botanicals in this gin. Other than that, the rest of Cucumber Gin's ingredients remain a mystery. We reckon there has to be some coriander in there somewhere, along with angelica root.
The gin has a subtle pepperiness – suggesting cubeb berries or simply black pepper may also feature.
The Perfect Cucumber Gin Serve
One might assume that the perfect garnish for a cucumber gin might be a wedge of cucumber. However, this gin is so strongly perfumed with cucumber notes, that to add cucumber might take away from the incredibly convincing flavour that they've managed to capture in the distilling process.
Sure, if you really love a slice of cucumber in your gin, go ahead and add a slice – it will only bring out the flavour of the gin more. However, if you fancy something a bit different, they suggest you try adding mint, cucumber or another fresh herb for a truly savoury experience.
On the Nose
As soon as this bottle is opened, a pungent scent of sliced fresh cucumber hits the nose. In fact, if I was blindfolded and someone handed me a G&T with a slice of cucumber and a G&T with Cucumber Gin, I would struggle to tell the difference.
Wafts of juniper join the vegetal notes from the cucumber but in terms of aroma, the other botanicals are quite muted.
Straight
Sipped neat, some of the other flavourings start to come through. Cucumber is still at the forefront but is joined by some slightly peppery notes and a good whack of piney juniper.
Although I am not usually one for drinking gin without a mixer, Cucumber Gin was lovely sipped on ice.
With Tonic
Adding a high-quality tonic (my choice was Fever Tree Naturally light) brings out the sweetness of the cucumber notes. The juniper is definitely there but certainly not overwhelming.
On the finish, there is a lovely subtle spiciness, possibly from coriander. In my opinion, there really is no need for a garnish in this one because the cucumber flavour is so convincing.
Lasting Impressions
If there is one takeaway from this review, it is that Cucumber Gin most definitely tastes of cucumber. This is a great summer gin and would be very at place in a fruit cup cocktail on a sunny day.
In terms of flavour profile, Cucumber Gin would be a strong choice for gin lovers and gin novices alike. Unless you don't like cucumber, in which case this probably won't be for you!