A vibrant tonic water that will tingle the palate of even the most selective of gin lovers. Sea Buck Tonic water is a sophisticated mixer that will elevate your G&T to new heights. 
We're giving away two bottles of this lovely tonic water to one lucky winner. Head over to our competitions page to enter up until the 23 July 2019.
---
A little bit of background
Sea buck was created by Cornish duo Pablo and Charlie in their hometown of St Ives. A shared passion for exceptional ingredients and experiences led them to develop their own take on their favourite mixer – Tonic Water.
The result is a unique mix of Cornish spring water, infused with quinine – producing cinchona bark and sea bukthorn berries.
Inspired by the sea buckthorn growing against the odds on the wind-blown, sea-sprayed dunes of Gwithian, creates a distinctively wild and refined tonic.
Ingredients
The carbonated spring water in Sea Buck Tonic is collected straight from its source on the moors of the Cornwall peninsula.
Sea Buck is extracted naturally from cinchona bark. This is why the tonic has a rich gold colour which is also reflected in the bottle's branding.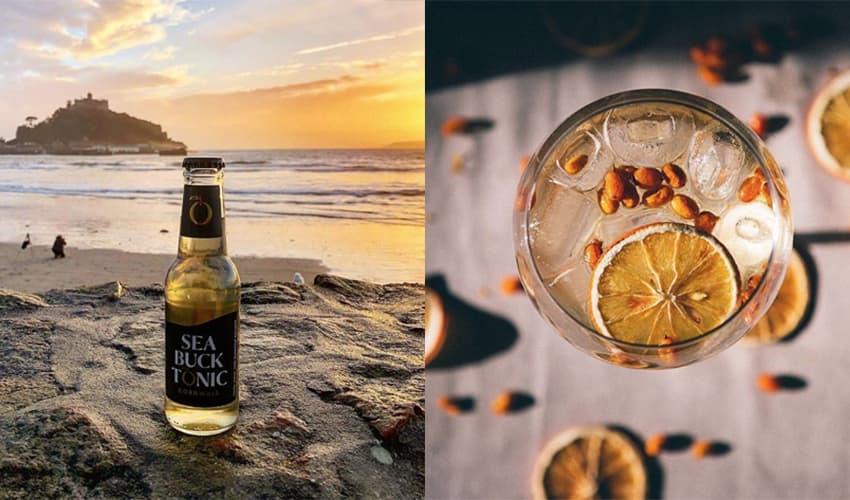 The bottle
Sea Buck Tonic comes in your usual glass tonic water bottle with the typical bottle cap stopper. The labeling of the bottle varies between black and white which corresponds to two different recipes. The original recipe and the light recipe. The difference between the two is that the original version has sugar in it while the light one has fructose instead.
The variation between white and black labeling adds a modern twist to Seabuck's branding which is very appealing. The bottle carries a classy and collected design with gold details which make it stand out.
On its own
Sea Buck's signature taste comes from the sea buckthorn berries. Tiny, vividly orange and full of powerful nutrients – these berries have an intense citrusy flavour which shines through when the tonic hits the taste buds. The flavour gradually develops to subtle notes of berries towards the finish.
There is a slight difference between the original version and the light tonic water in that the light tonic water has a more subtle flavour which is probably due to the natural sweetener content instead of sugar.

Suggested serve
This tonic water was made to amplify any gin lover's experience of consuming gin, so you could say that Sea Buck Tonic would be the suggested serve for any gin. We'd recommend using garnishes like orange peel, or even your choice of berries, to bring out the flavours of this tonice and consequently complement your favourite gin.
Lasting Impressions
The difference between the two tonics is ever so slightly noticeable and that is probably because I tasted the two tonic waters one right after the other. If I were to have the light version by itself I probably wouldn't have noticed a difference in flavour vibrancy which I think is ideal if you want to enjoy a good G&T without worrying about the calories. Overall Sea Buck Tonic would be a lovely playful addition to any G&T.
If you'd like to purchase either of these tonics you'll find them on Drink Finder for £1.30 per bottle (200 ml).
All images provided by Sea Buck Tonic
---
Follow us on Facebook, on Twitter @theginkin, or on Instagram at @theginkin. If you have a story suggestion email editor@theginkin.com
---
More from The Gin Kin: