Much like experimental gin and premium flavoured tonic water, unusual gin glasses are starting to make a statement as of recently.
Flamboyant garnishes require equally impressive vessels and the humble gin glass of the past has given way to unusual gin glasses that make a statement.
Here are the top picks for intricate gin glasses that will definitely up your G&T game.
Silent Pool Gin Tumbler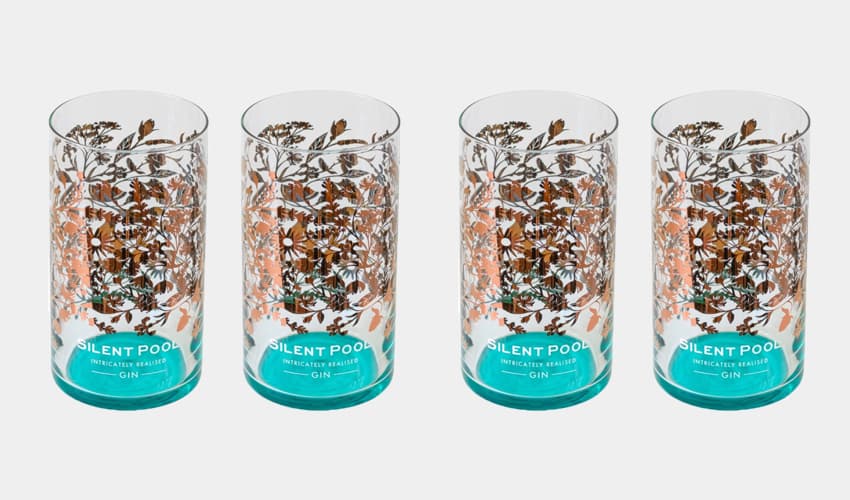 If you're aware of Silent Pool's mastery in glasses and their breathtaking design then these tumblers should be of no surprise.
They're designed for those who prefer a straight glass for their cocktail or G&T. The wide brim enables the aroma to excite the taste buds for ultimate enjoyment and maximum flavour development on the palate.
Enhanced with their signature botanical design, this is a stand out addition to your gin collection.
Available on Silent Pool (set of 6) for £45.00 (600 ml, hand wash only).
---
Derry Recycled Gin Glasses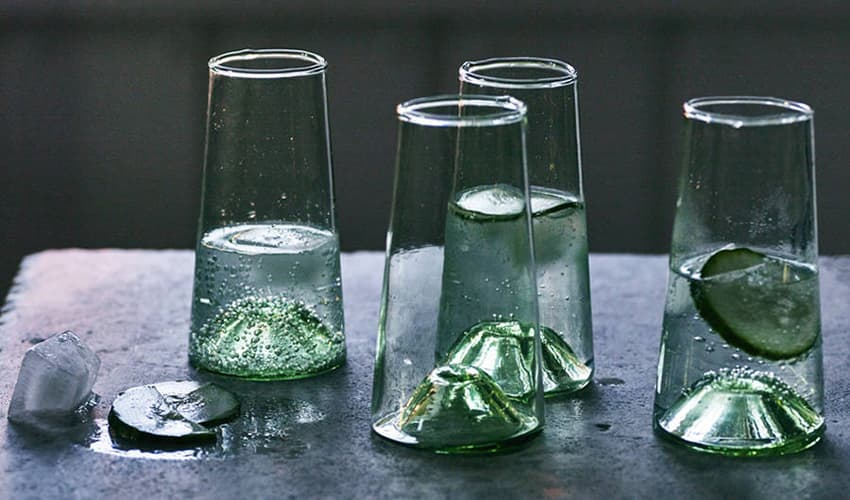 Incorporating sustainable products in your life to reduce waste is not only important but at this stage essential, and these glasses could be the starting point to an ec0-friendly lifestyle.
Made through a combination of meticulous design and consideration of practicality, these Derry gin glasses are the perfect way to consume your favourite beverage.
Multi-functional for any occasion, these recycled glasses come in a beautiful bottle green, their shape and form has been carefully considered in order to compliment your whole drinking experience.
These glasses are individually mouth blown therefore all successfully falling under the unusual gin glasses category with their unique characteristics.
Available on Not On the High Street for £32.00 (set of 4). 
---
Geo Glasses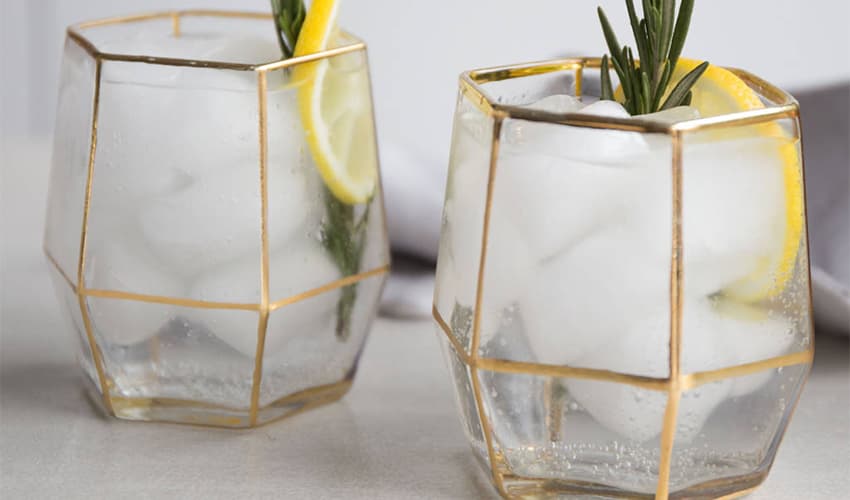 These Geo glasses take inspiration from modern terrariums with a unique angular shape emphasised by beautiful metallic styled edges.
The thick hand-blown glass gives it a weighty and sturdy feel while the lip has been crafted to provide a satisfying drinking experience.
Perfect for your favourite spirit or cocktail, as well as being suitable for everyday use at home.
If all else fails, you can always use these as terrariums and display your favourite succulent in them.
Available on Not On The High Street for £29.95 (set of two).
---
Gin and Tonic Diagram Glassware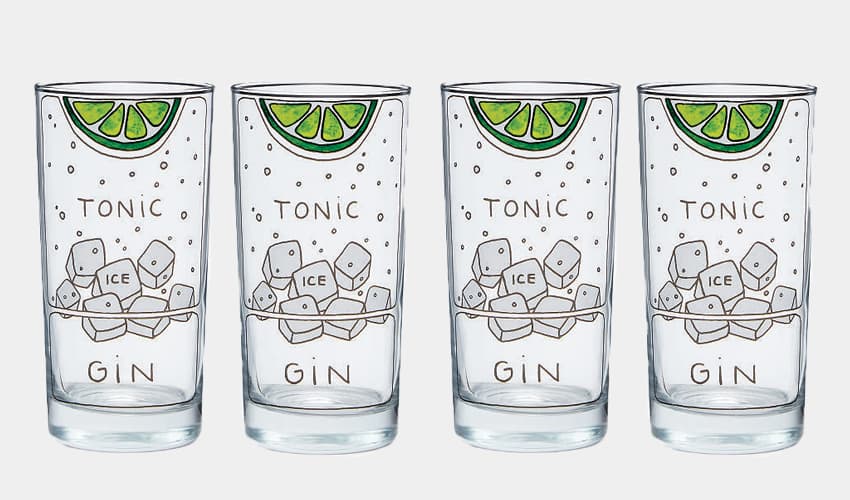 Alyson Thomas' playful graphics on these gin and tonic glasses means that the formula for the effervescent favourite is always at hand.
Her hand-drawn, graphic representation of the classic G&T adorn the functional highball glasses with a playfully pseudo-scientific rendering of the drink's essential components: gin, tonic, frosty ice cubes and a lime wedge.
Available on Uncommon goods for £20.12 (set of 2). 
---
Flamingo Gin Glasses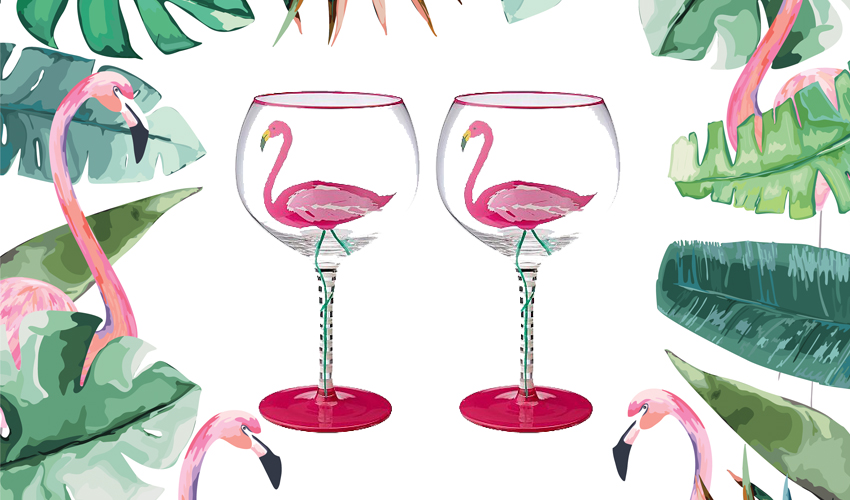 We reckon these will be perfect for summer garden parties or barbecues, injecting a bit of colour and fun into proceedings.
ASDA have started selling flamingo gin glasses and they are sure to brighten up any kitchen.
George Home offer a set of two flamingo gin glasses; great for gin lovers who are looking for something a little more exotic in the glassware department.
Available for £7 at ASDA, in-store or online.
---
Nomu Blue Highball glass
Names "Nomu", the word for drink in Japanese, this collection of glassware has a vintage-inspired look, coloured in eye-catching jewel tones.
This aqua highball glass has a tall shape with cut crystal-inspired detailing, perfect for mixed cocktails, ice teas, or fruit juice with ice.
When not being used, keep on display with the decanters and tumblers from the rest of the Nomu range.
Available on Oliver Bonas for £7. 
---
Riedel Stemless It's Always Gin O'Clock Glasses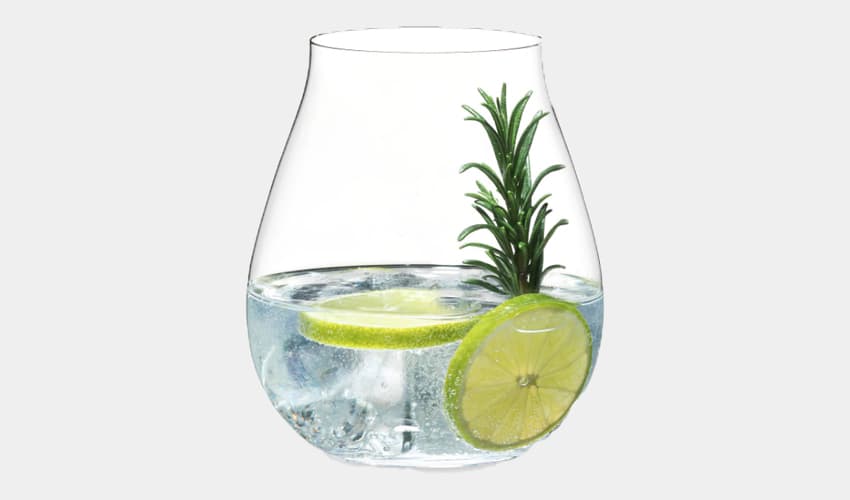 These large stemless "It's always gin o'clock" glasses are designed for enjoying the aroma and taste of gin and mixers.
The set of four glasses comes gift-boxed, perfect if you're looking to buy them as a gift for a loved one.
Available on John Lewis £37.50 (762 ml). 
---
Summer Leaf Metallic Copa Gin Glass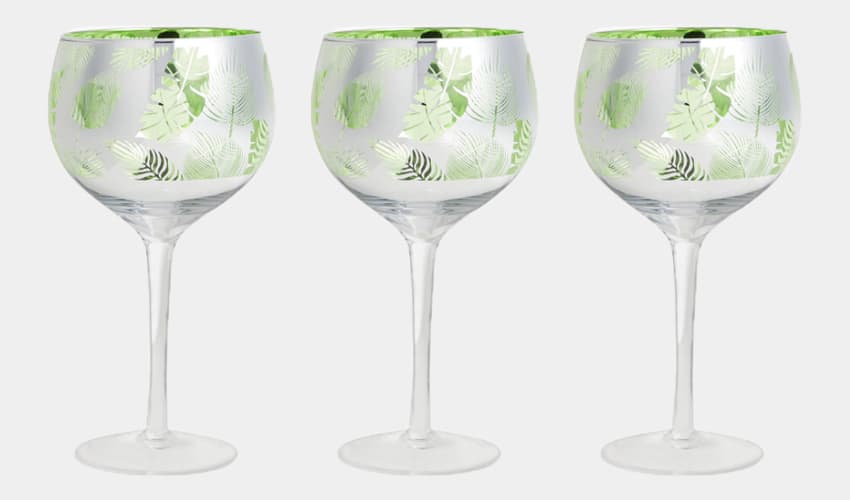 A summer leaf stemmed glass for gin-based cocktails. The wide bowl allows gin, mixers and citrus garnish to blend together, while the long stem prevents the hand from warming up the chilled drink.
This summer-y design has a hint of greenery with electroplated metallic detailing that beautifully catches the light.
Available at John Lewis for £10.00 (per 700 ml glass).
---
Thumbs up Diamond Glass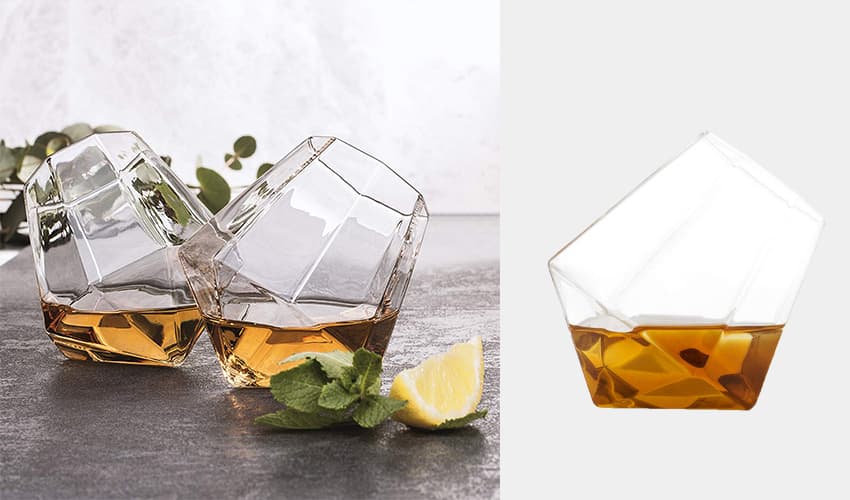 These unusual gin glasses are made from borosilicate glass and have the shape of what looks like a diamond, giving them an extra fancy factor.
They stand at an angle supported by their unusual shape and style.
They're not dishwasher safe so you'll want to wash these in the sink to make sure their quality doesn't wear off.
Available on Amazon for £15.40 (set of 2).