A refreshing new take on a flavoured gin, Darnley's Very Berry Gin encapsulates the sweetness of sloe and elderberries, while ensuring that juniper still is the dominant flavour. 
---
A Little Bit of Background
The Gin Kin team have been big Darnley's Gin fans for some time. We have previously reviewed their Darnley's Original Gin, made a hot gin punch from their Spiced Gin and even baked a Darnley's Gin Lemon Drizzle cake. So when we heard they were releasing a berry flavour, we were desperate to get our hands on a bottle.
Darnley's Very Berry Gin is the first release from their limited edition Cottage Series range. When creating this range, Darnley's distiller Scott Gowans drew inspiration from the East Neuk of Fife, where the distillery is based. The gin is distilled using botanicals which all grow wild around the distillery, such as elderberry and sugar kelp.
The Packaging
Darnley's Very Berry Gin comes in a 50cl bottle. In contrast to their other gins, the Cottage Series is presented in a short, rounded bottle. The lable is berry pink and adorned with sketches of the botanicals contained within.
Botanicals
The signature botanicals in Darnley's Very Berry Gin are all sourced wild from the countryside and coastline near the distillery.
Sloe berry
Elderberry
Rosehip
Sugar kelp
In addition to these four key botanicals, it also contains:
Juniper
Angelica
Coriander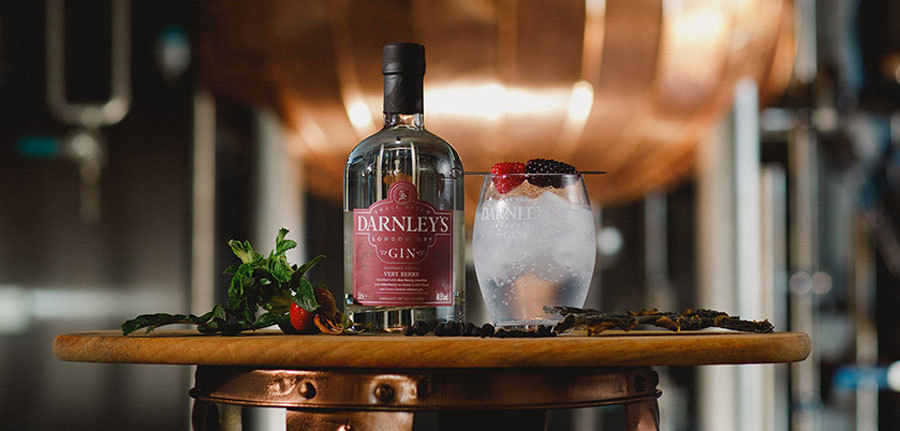 The Perfect Serve
Darnley's Very Berry Gin comes recommended with three signature serves:
Fever Tree Mediterranean Tonic, with a garnish of red berries
Any premium tonic, with a grapefruit garnish
A high-quality grapefruit soda, such as Bon Accord Salted Pink Grapefruit Soda
On the Nose
On the nose, a sweet berry fragrance hits the nostrils immediately. Floral notes from the rosehip are clearly present, with a good punch of piney juniper to balance. There's also a pleasant, salty aroma from the sugar kelp.
Straight
Sipped neat, you can really taste  berries. It tastes almost jammy in flavour, with a distinct tartness from the sloes. Unlike a lot of flavoured gins currently on the market, Darnley's Very Berry still tastes like a gin. Perfectly balanced, juniper cuts through the richness of the berries – a feature that I'm sure will please the gin purists reading this!
With Tonic
For tasting purposes, I had my Darnley's Very Berry Gin mixed simply with Fever-Tree Light Tonic to allow the botanicals to shine. In a G&T, it tastes a little like sloe gin and tonic. However, it's much more complex than that. Yes, the flavour of sloe berries is prominent but this gin has so much more to offer.
Floral notes from the rosehip, a sweet-saltiness from the sugar kelp and a tiny hit of spice in the background from the coriander. All of these botanicals work in harmony with the juniper, rather than overpowering it – making for a fantastic and unique addition to the flavoured gin market.
Lasting Impressions
Darnley's Very Berry Gin is like a breath of fresh air to the flavoured gin category. There has been a lot of backlash in the industry recently about "flavoured gins" drowning out juniper with overpoweringly sweet tastes. This is 100% not one of those gins.
I try a lot of gins in my line of work and I have got to say that this is the best I have tried in quite some time. I am genuinely very impressed with this gin and really struggle to find anything wrong with it. The one negative about Darnley's Very Berry Gin is that it's a limited edition… So when stocks run out, I won't be able to buy any more!
You can pick up a bottle of Darnley's Very Berry Gin on Amazon for £27.95.
---
More reviews from The Gin Kin