Lavender is a wonderfully vibrant-looking flower and its scent is used in essential oils to help relax. It's less well known for its taste but it can make a wonderful addition to a lavender gin or a gin liqueur.
The lavender flower has a subtle sweetness that lends well to flavouring gin with delicate aromatic floral notes.
Our guide contains the best on the market and a simple recipe that shows you how to make your own.
Make Your Own Lavender Gin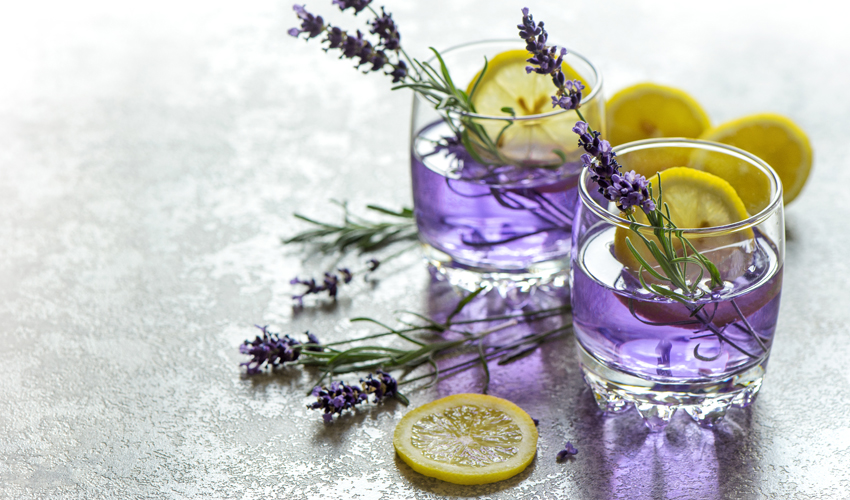 If you'd like to try your hand at a home-made creation then luckily, lavender-infused gin is very easy to make. The preparation time is minimal whether you are picking the flowers fresh or simply using from shop-bought.
The infusion time is approximately 4 hours and this recipe makes 500ml. You will need a Kilner jar or similar to store in while the lavender infuses.
Ingredients:
3 tsp fresh lavender flowers, approximately 3-6 sprigs
500ml gin (a mid-priced basic London Dry gin is perfect)
Method:
If picking fresh, cut the sprigs and wash off any dirt. Pick off the flowers from the stem.
Measure three teaspoons of fresh flowers into a Kilner jar and add the gin. Give the jar a good shake and leave in a cupboard.
After four hours taste the gin. If you prefer a more intense flavour then allow to infuse for a little longer, sampling every half an hour to ensure the flavour doesn't become too bitter and overpowering.
When you are happy with the flavour, pour the gin through a fine sift and store in a sterile bottle for up to a month.
Serve with ice, a crisp tonic, a squeeze of lemon and garnish with a sprig of lavender and lemon slice.
---
Which Lavender Gin to Buy
Old Curiosity Lavender & Echinacea
Produced at Edinburgh's Secret Herb Garden, this gin packs a powerful perfumed punch. Definitely one of the most floral gins on the market.
Not only is it fantastically aromatic, it's also a crowd-pleaser that changes colour when you mix it with tonic.
Old Curiosity Lavender & Echinacea is available from Amazon for £32.99. (50cl), 39% ABV.
---
Masons Dry Yorkshire Gin Lavender Edition
Masons Lavender Edition Gin has an aromatic floral note with hints of herbs and citrus. As you would expect, it has intense, fragrant and subtly sweet notes of lavender.
Although Masons keep their botanical list secret we can at least be sure of lavender being a key ingredient here.
Masons Lavender is available from Master of Malt for £36.62. (70cl), 42% ABV.
---
Rock Rose Apple & Lavender Gin
Truly a taste of the British countryside, Rock Rose Apple & Lavender Gin combines two of Britain's best-loved ingredients.
Expect a wonderfully fragrant gin with delicious juniper and a subtle, delicate blend of lavender and apple.
Rock Rose Apple & Lavender is available to buy from Amazon for £33.39. (70cl) 41.5% ABV.
---
Sweet Potato Lavender Gin Liqueur
The folks at The Sweet Potato Spirit Co. make all their base alcohol from sweet potatoes grown in North Carolina, USA.
They then blend their original London Dry gin with cane sugar and use it to macerate English lavender. That's what we call a 'special relationship'!
Sweet Potato Lavender Liqueur is available to buy from Master of Malt for £19.95. (50cl) 25% ABV.
---
Coxy's Lavender Gin Liqueur
Gin makers Mighty Fine Things love to create big flavours using high-quality ingredients.
Coxy's Lavender Gin is made by hand using whole Kentish lavender flowers infused the traditional way before it is filtered, bottled and waxed.
Coxy's Lavender Liqueur is available from Notonthehighstreet.com for £32. (50cl) 20% ABV.
Images from The Old Curiosity Distillery/Masons Yorkshire Gin/Shutterstock
---
Follow us on Facebook, on Twitter @theginkin, or on Instagram at @theginkin. If you have a story suggestion email editor@theginkin.com
---
More from The Gin Kin: