There's times when we just want to live our best life and indulge in decadent sweet gin cocktails and the quirkier they get the better.
In this guide we're not only sharing recipes for fun cocktails but you'll also find some cocktails that will satisfy those sweet tooth cravings.
These are perfect for any occasion, to be enjoyed among friends that love gin and all things sweet.
Rhubarb & Custard Surprise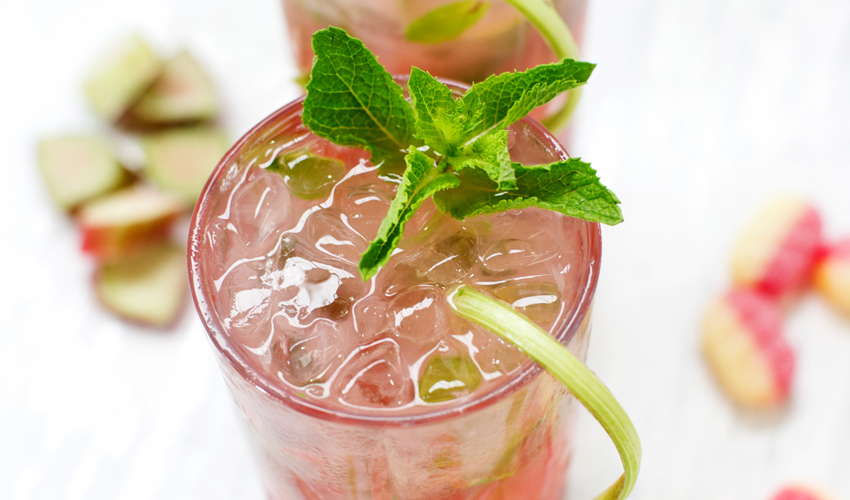 Ingredients
25 ml Monin Rhubarb Puree
12.5ml Advocaat
2 Mint sprigs
Mint leaves
3 Lime wedges
Lemonade
Rhubarb or rhubarb and custard sweets (optional garnish)
Ice
Method:
Fill a cocktail shaker with a handful of cubed ice and add the gin, rhubarb puree, advocaat, mint sprigs and lime wedges
Top with lemonade
Shake well and pour into glasses
Garnish with mint leaves and fresh rhubarb and/or rhubarb and custard sweets
Nelson's Rhubarb and Custard Gin is available to buy from Nelson's Rhubarb and Custard Gin for £39.95
Recipe and images supplied by Nelson's Distillery and School
---
Curaçao Ice Cream Float

Ingredients
160 ml orange juice
1 1/2 tablespoons blue curaçao
2 teaspoons gin
2 scoops vanilla ice cream
Method
Combine in a shaker the orange juice, blue curaçao and gin and shake well.
Empty the contents of the shaker into a tall glass filled with ice.
Top off with ice cream.
Recipe via Yummly. 
---
Rhubarb Gin Sour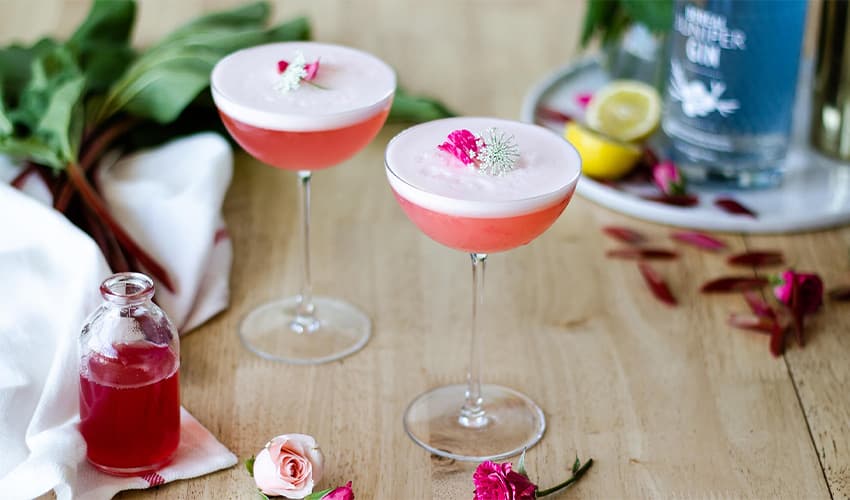 Ingredients
For the simple syrup:
1/2 cups of white sugar
1/2 cup distilled water
4 cups fresh rhubarb, cut into chunks
pinch of salt
For the gin sour:
160 ml gin (City of London Rhubarb and Rose could pair up nicely)
160 ml rhubarb syrup (see above)
80 ml rose water
Juice of 1 lemon
80 ml egg white
Rhubarb for garnish
Method
Syrup
In a small saucepan, add sugar, water, fresh rhubarb, and salt. Bring to a boil, reduce heat, cover and simmer for 20 minutes. Turn off heat and cool mixture in saucepan. Strain mixture through a fine mesh sieve allowing mixture to drain for about 10 minutes. Keep syrup in the fridge until ready to use for up to 4 weeks.
Cocktail
Put gin, rhubarb syrup, rose water, lemon juice, and egg white into a cocktail shaker. Add ice and aggressively shake for 30 seconds. Strain into a low ball glass or champagne coupe. Garnish with rose petals or rhubarb.
Recipe via Designs of Any Kind
---
Angel's Delight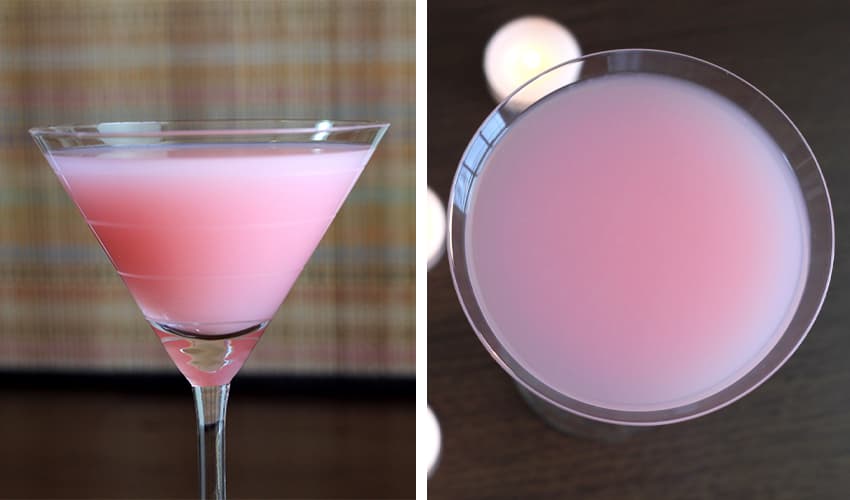 Ingredients
20 ml gin
20 ml triple sec
40 ml cream
2-3 dashes grenadine
Method
Shake all the ingredients together well in a shaker full of ice cubes. Strain the mixture into a chilled cocktail glass and enjoy.
Recipe via Yummly
---
Salted Caramel Coffee Martini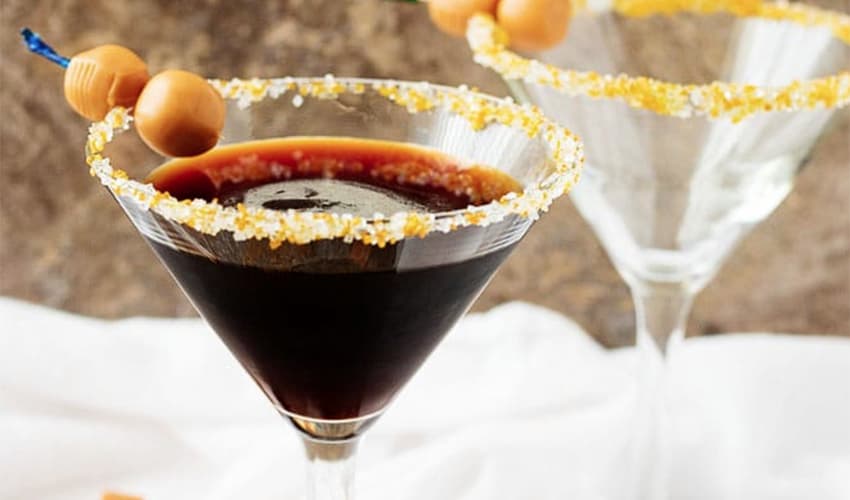 Ingredients
90 ml Coffee Liqueur
50 ml Gin
1 1/3 tbsp salted caramel syrup (similar to Torani brand)
Method
Place ingredients in a drink shaker over ice. Shake to mix.
Pour in a martini glass.
Garnish with coloured sugar or caramels if desired.
Recipe via Berly's Kitchen on Yummly
---
PanaGEL Tonic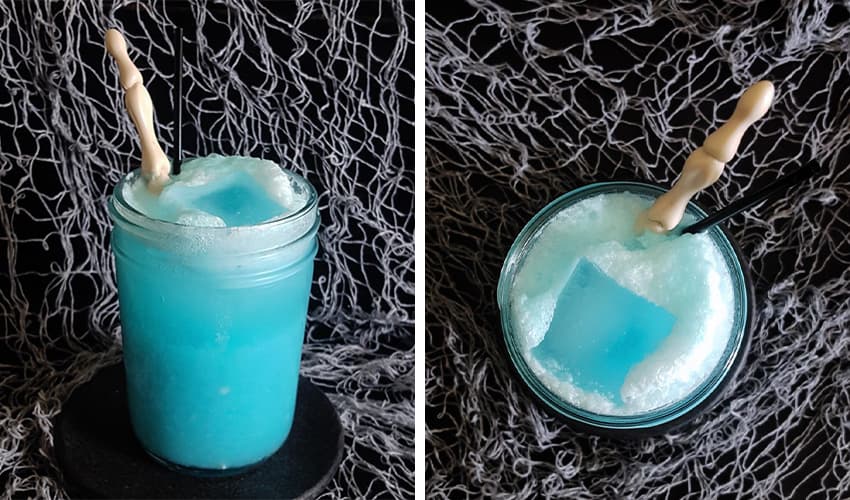 Ingredients
25 ml gin
20 ml blue curaçao
20 ml cram of coconut
10 ml lime juice
20 ml tonic water
Method
Combine the gin, blue curaçao, cream of coconut, and lime juice together in a cocktail shaker with a few cubes of ice and shake until the outside is frosty. Place a few cubes of ice in a collins glass (or half pint jar) and strain the contents of the cocktail shaker into the glass. Top with the tonic water and serve.
Recipe via Feast on Thyme on Yummly
---
Which one will you make? We'd love to see your shared photos, just mention @theginkin.
---