Are you a lover of gin and all things Wonderland? Then buckle up because a pop-up Mad Hatter Gin and Tea party is coming to the capital.
The Mad Hatter, Dormhouse and Hare are unleashing teatime mayhem with a brand new experience and taste of Wonderland! London – prepare to go mad at one of their boozy tea parties!
Tickets are on sale and they include an immersive, theatrical 1.5 hour-long cocktail experience down the rabbit hole and into the Mad Hatter's tea party.
Additionally you get one welcome cocktail, three crazy molecular cocktails as well as tea party snacks, tailored to each guest's dietary preferences/requirements.
Begin your journey at the Mad Hatter Gin and Tea party from their themed bar before following the mad hosts down the rabbit hole where a selection of tantalising tea party cocktails will be made with the most curious ingredients.
Drinks will be all gin-based or mocktails.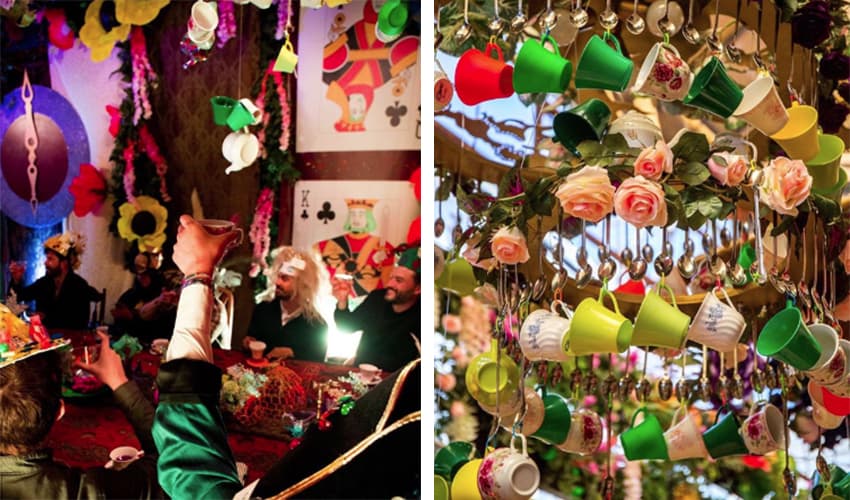 And remember if you don't know which way you go … Just be sure that you're not late!
The Mad Hatter Gin and Tea Party London is Friday January 17 2020.
Price: £25-£35 per person. Must be above 18 years. Location: 125 – 127 Westbourne Park Road, London, W2 5QL | Visit FeverUp for more information and for bookings.
Make sure to specify any dietary requirements prior to or while booking.
All images are by Mad Hatter's Gin & Tea Party.