Strathmashie Distillery is the home of Daffy's Gin. It's also the location of a gin retreat located almost exactly in the centre of Scotland. That it  probably has the most Scottish name of any distillery just adds to the authenticity of the operation.
Botanicals are at the heart of any gin and the Scottish gin makers, situated at the edge of the Cairngorms, aim to show the importance of gin's main ingredients.
Daffy's Gin School offers a range of ways to learn about making gin, from simple three hour classes where you will learn the basics, to off-road adventures on quad bikes and paddleboards to forage for botanicals in remote areas.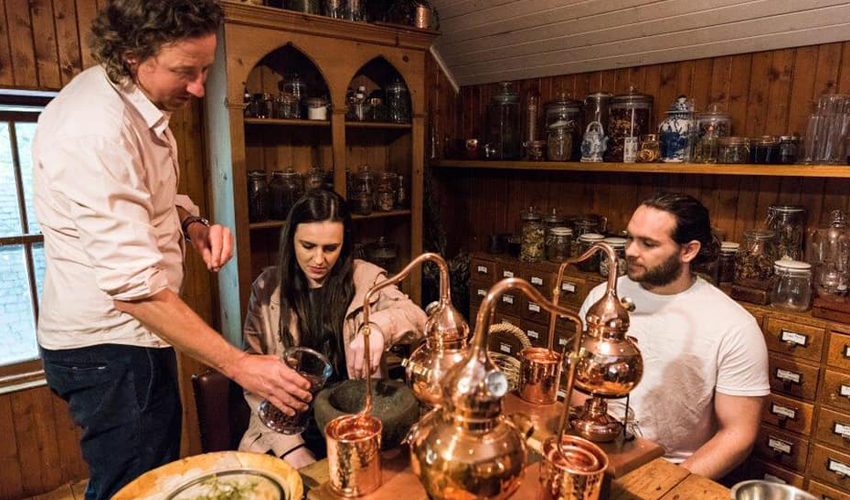 You'll be able to design the flavour profile for your perfect gin, then forage for your botanicals in the grounds and hills around the distillery.
You can sign up for a quad biking foraging trip that takes you to the grounds of Ardverikie estate – a favourite place of Queen Victoria and the setting of the fictional Glenbogle in the BBC Series Monarch of the Glen.
As the school is in the heart of the Highlands be prepared for some amazing animal encounters with red deer, red squirrels and Highland cows.
Accommodation can be booked with the gin school. Two self-catering properties are available to stay in; Butler's flat has 5 rooms and costs £80 per night; The Distillery Cottage sleeps 8 and costs £145 per night.
Total immersion in nature and gin. Sounds like the getaway from heaven.
To find out more about Daffy's Gin School and to make a booking visit the Daffy's Gin School website