Truth be told, getting the right gift for a loved one in your life over Christmas can become quite the mission. However, if you have a gin lover in your life, good news is that there is a wide range of gin Christmas gifts you can pick up.
From unusual gin glasses to festive tipples as well as gin candles, we've got a gin present for every gin lover in this guide…
Etsy Gin Candle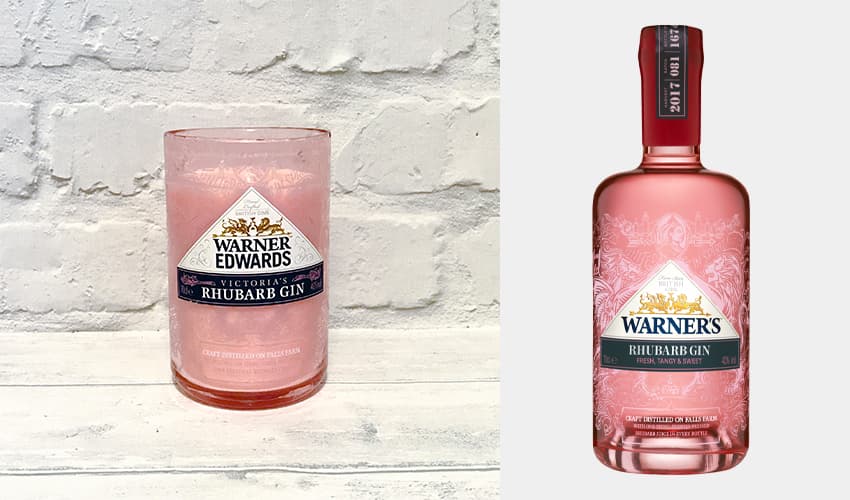 If you love both candles and gin, then you'll really feel at home with these incredible up-cycled gin candles.
There's multiple ways to up-cycle alcohol bottles into incredible home accessories, but if you fancy picking up something that not only looks amazing but smells oh-so-sweet these will be perfect.
Available from Etsy for £18. 
---
Silent Pool Gin Tumbler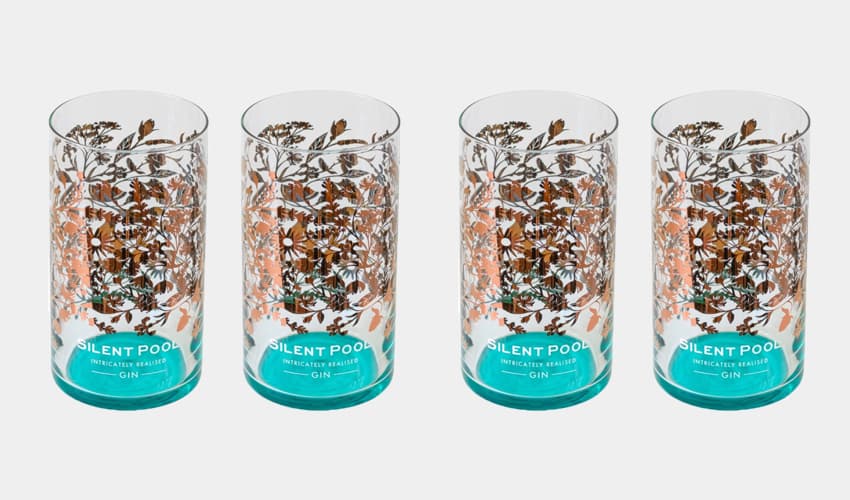 If you're aware of Silent Pool's mastery in glasses and their breathtaking design then these tumblers should be of no surprise.
They're designed for those who prefer a straight glass for their cocktail or G&T. The wide brim enables the aroma to excite the taste buds for ultimate enjoyment and maximum flavour development on the palate.
Enhanced with their signature botanical design, these are a stand out present for any ginthusiast.
Available from Silent Pool for £12.00. 
---
See: 12 Perfect Gin Gifts for the G&T Loving Lady in Your Life
---
Sipsmith Orange & Cacao Gin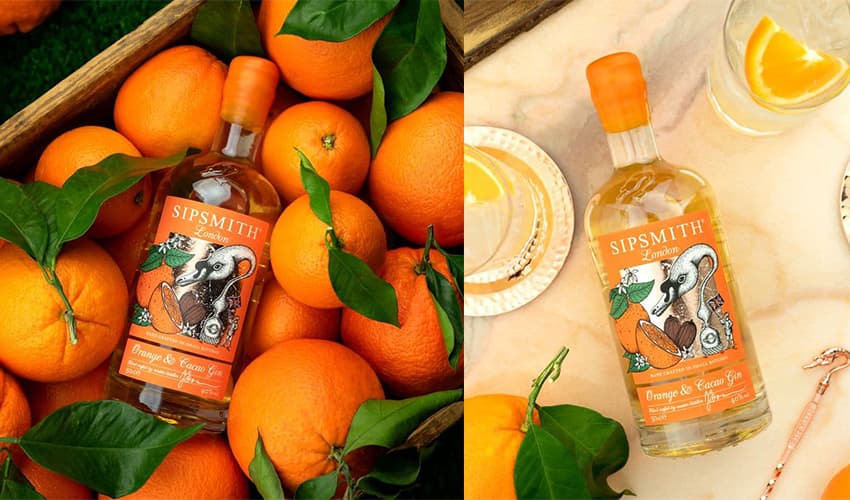 This new gin uses liquorice for natural sweetness, along with orange blossom, black cardamom and raw cacao nibs.
To finish they rest it on fresh orange zest, which apparently creates a balanced, zesty warming and juniper-forward gin.
The aroma is described y zesty marmalade and the taste is of rich dark chocolate with candied orange and Madagascan vanilla. There is also a long finish of fresh pine and ginger and spice.
Ideal for festive sipping especially when gifted.
Available from Sipsmith for £25.00 (50 cl, 40% ABV). 
---
Gin Sparkle Drops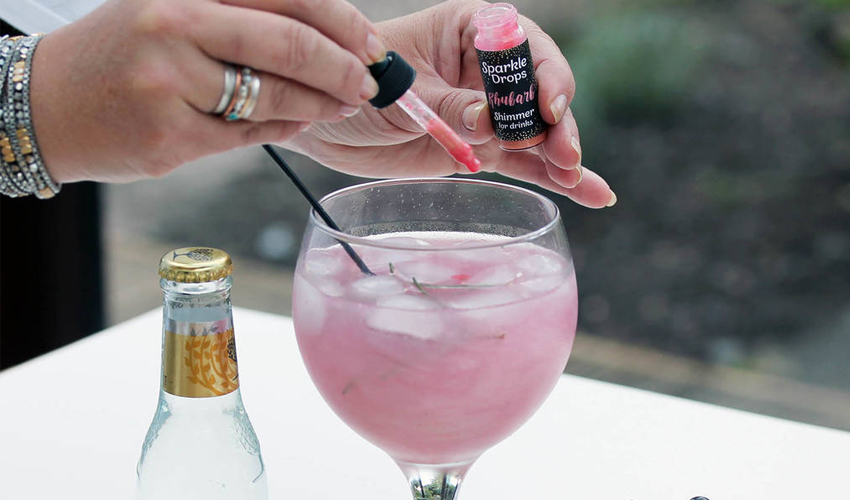 If you're looking to add a bit of glitz and glamour to someone's night, look no furhter than these fun gin sparkle drops.
Perfect for festive celebrations, they are available in Elderflower, Rhubarb and Violet flavours, adding taste as well as shimmer.
Available from Notonthehighstreet for £4.95. 
---
The Gin Game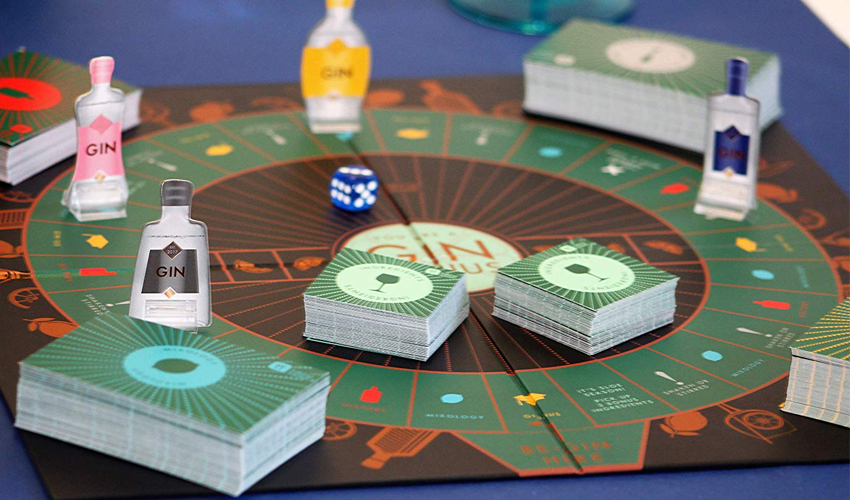 Board games are making a comeback as families and friends look to connect in a more meaningful way especially over the holidays. The Gin Game is the ultimate board game for any gin lover.
It's a game of chance and twists that will test your gin knowledge.
Available from John Lewis for £19.99.
---
See: 12 Perfect Gin Gifts for the G&T Loving Guy in Your Life
---
Vineyard Candles Gin & Tonic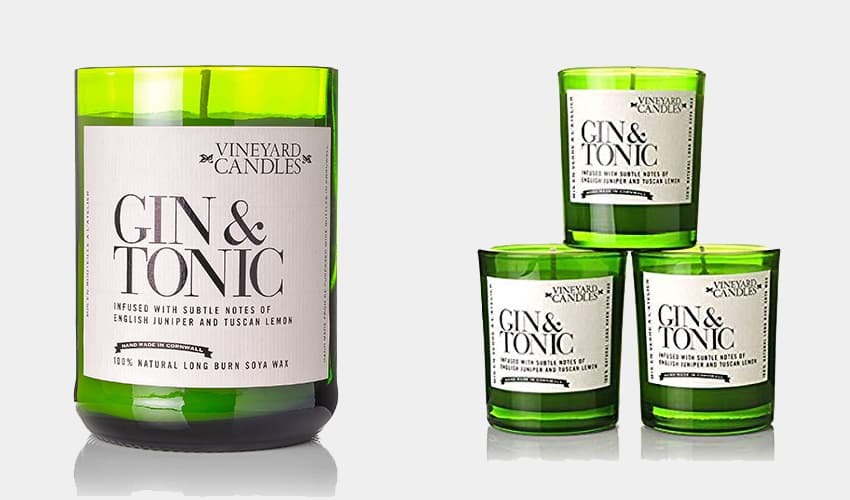 Vineyard Candles are created using luxury natural wax blended with the finest fragrances from around the world.
Poured by hand into a glass container re-purposed from a beautiful wine bottle, the rim polished by flame to give a perfect finish.
The Gin and Tonic fragrance was created using the tasting notes from a famous Gin maker – Juniper with hints of coriander and citrus.
Available from Amazon for £16.95.
---
Great British Gin Scratch Off Poster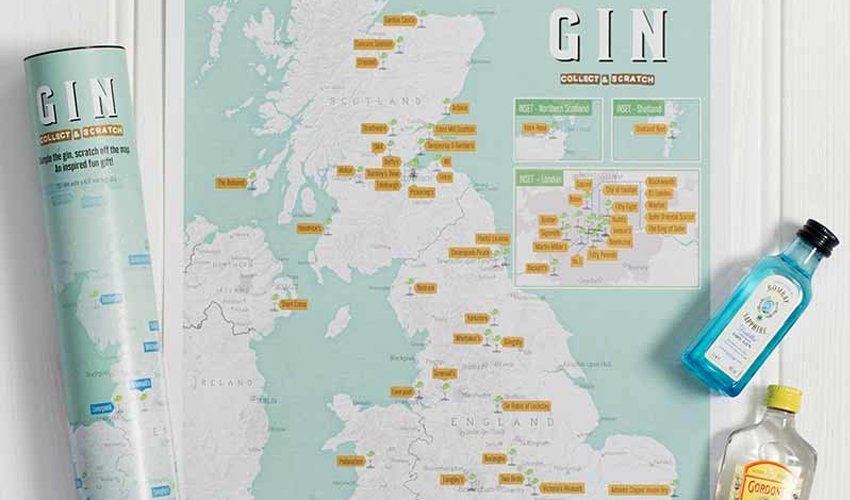 Some of us may already have tested the majority of gins in the UK – all in the quest of perfection of course. But how many of us have kept a record of which gins we have and haven't tried?
This genius poster allows you to scratch and change the colour of the brands you have tried, until you have collected them all. A bit like an adult Pokemon perhaps!
Even if you have tried some or most already, we recommend starting 'from scratch' (sorry not sorry) – it will be more fun that way!
Available from The Present Finder for £14.99. 
---
Eden Mill Candy Cane Gin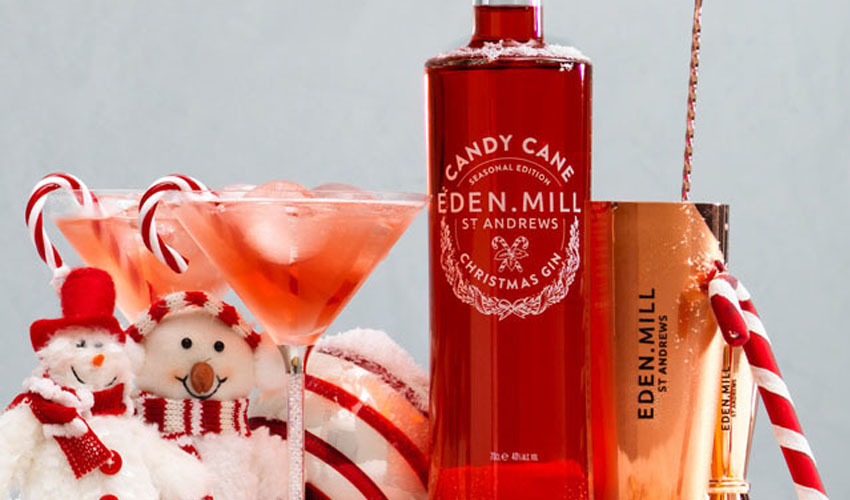 If there's one tipple that screams Christmas it's Eden Mill's Candy Cane Gin.
Without even going into the flavour profile, this is a tipple that would put any space of your house into the festive spirit just from its appearance.
Imagine the joy of anyone receiving this as a gift, especially if they identify as ginthusiasts!
Available from Eden Mill for £30.00.
---
Botanical Cocktail Garden Kit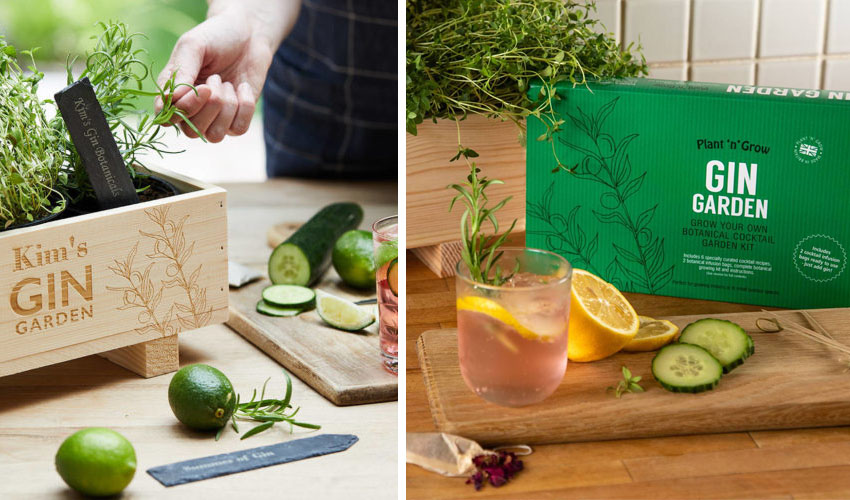 For the green-fingered friend in your life look no further than this Plant n Grow mini garden. This kit contains everything you need to sow, grow & mix.
It comes with two hand blended cocktail infusions and all you need to get started growing your own botanicals.
Available from Notonthehighstreet for £19.70. 
---
Wooden Gin Trunk & Three Gins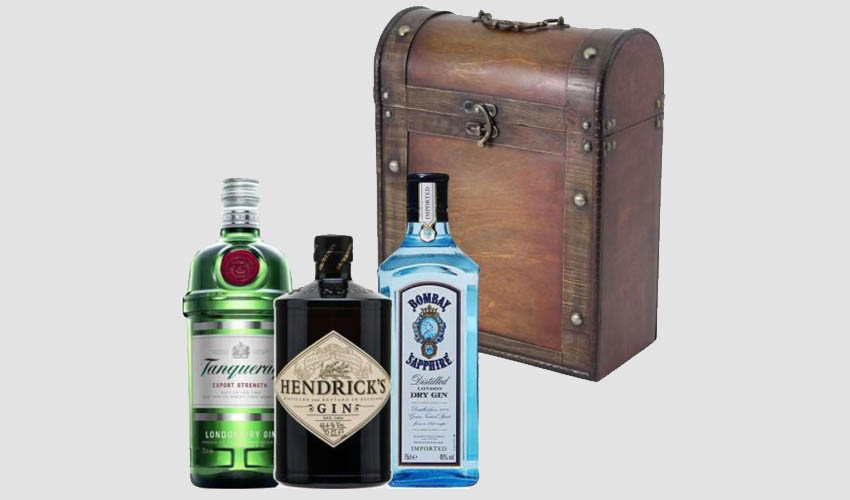 If there's a classier way to store gin, we haven't seen it. Looking more like something to keep hidden treasure in, this wooden trunk will store 3 full size bottles of gin.
This set comes with full-size bottles of Tanqueray, Hendrick's and Bombay Sapphire included in the trunk.
And let's face it, opening up a trunk to see three bottles of gin is probably more exciting than hidden treasure anyway.
Available from Amazon for £134.99.
---
Collagin Rose Gin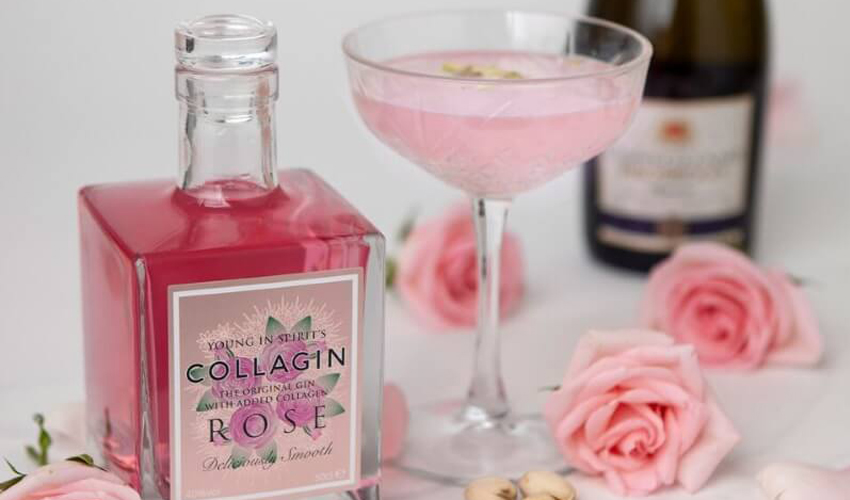 If drinking gin and reversing the signs of ageing sounds far too good to be true, it probably is – but it's worth a go!
Collagen is a protein in the body that is said to have several health benefits including visibly better skin and the relief of joint pain.
The media may have dubbed it 'anti-ageing gin', but we can be fairly sure that Collagin is not the fountain of youth. However it could be fun to try!
Available from Prezzy Box for £36.95.
---
Gin & Tonic Bathtime Bliss Gift Set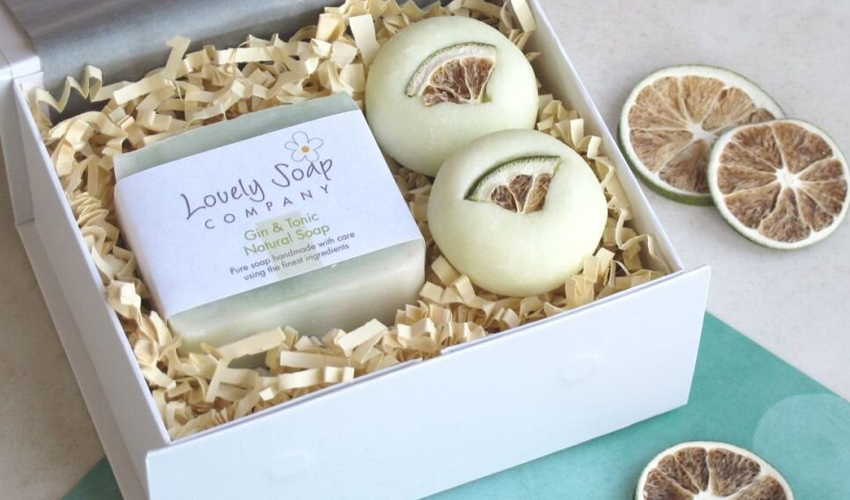 There's no one that deserves a well-earned pamper more than mum. Treat her to a spot of luxury with this gift set which contains a natural handmade soap bar and two luxurious cocoa butter bath truffles.
An ideal gift for the favourite ladies in your life who need to relax and unwinde. All scented with Lovely Soap's blended gin & tonic fragrance of course.
Available from  The Lovely Soap Company for £14. 
---
ASDA Extra Special Winter Gin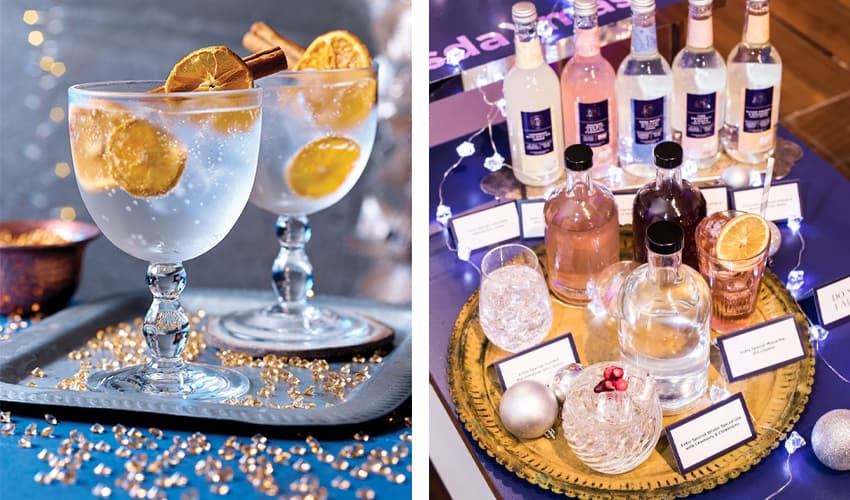 Rumour has it that ASDA will be releasing a whole range of gins and gin liqueurs for the festive season which makes our anticipation that much bigger.
The winter gin is expected to be spiced with cinnamon, nutmeg and cloves and finished with notes of cranberry and clementine.
It will have 40% Alcohol content and suggested serve is with orange flavoured tonic water.
Soon to be released in ASDA. 
---
Dartington Gin Connoisseur Cocktail Pair Green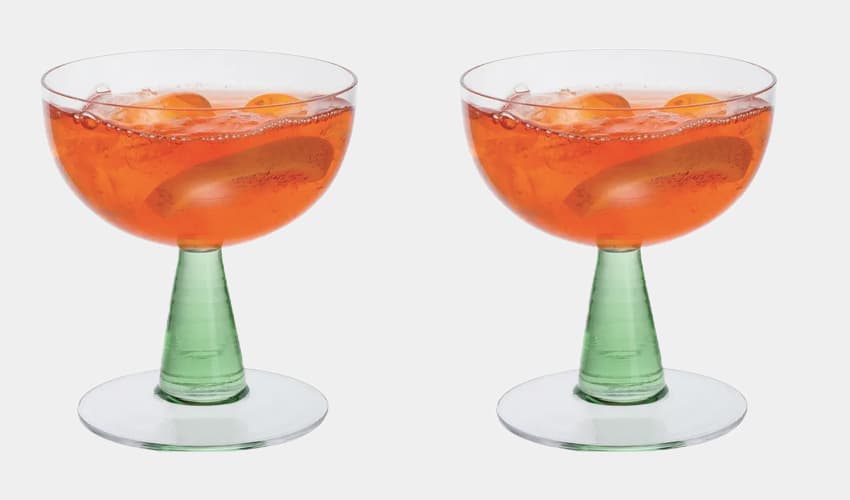 These enticing looking glasses belong in the Gin Connoisseur collection and they are a selection of handmade glasses ideal for every gin fan.
This stylish pair of glasses would be perfect for enjoying a glass of Gin Fizz or your favourite cocktail.
Available on DC Thomson Shop for £35.00 (set of 2).
---
Silent Pool Gin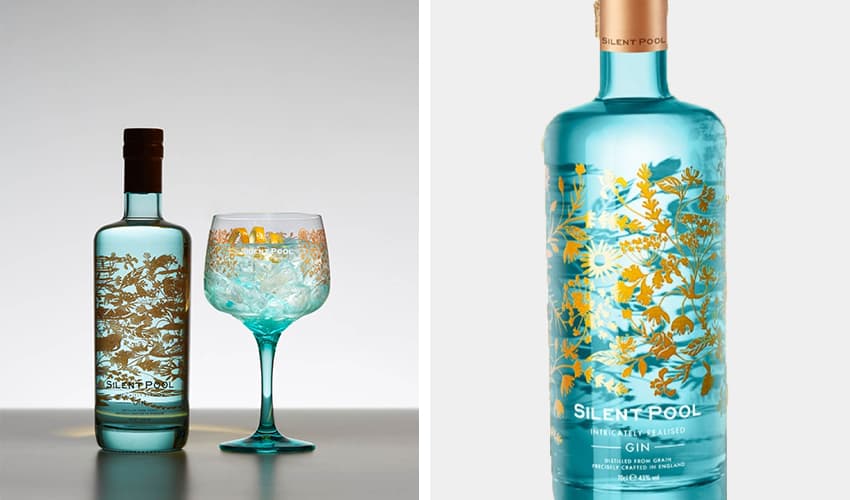 Produced on the Albury Estate in the Surrey Hills, right next to the Silent Pool, a beautiful, mysterious spring-fed lake – what a place to create a gin!
The gin itself features 24 botanicals, including kaffir lime, chamomile, local honey and lavender, among others, resulting in a subtly sweet though intricately-balanced tipple.
Available on Master of Malt for £33.89 (70 cl, 43% ABV). 
---
The Gin Bottle Clock Advent Calendar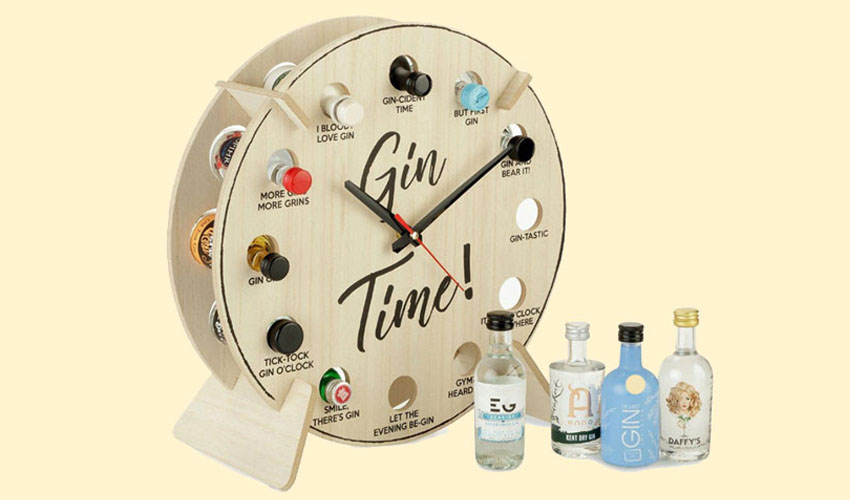 When it comes to gin advent calendars we've frequently been astonished by the sheer creativity out there.
Stocked with twelve 5cl gins, simply treat yourself everyday by removing a gin from its slot.
Each hide hole comes with a fun slogan embellished into the wood, while the contents are sure to raise a smile this season.
Included within the calendar clock are top picks from 6 O'clock gin, Malfy gin, Sweet Potato Spirit Co, The Lakes, The English Drinks Company and Edinburgh Gin.
Available from First 4 Hampers for £79.99
---
Hendrick's Orbium Gin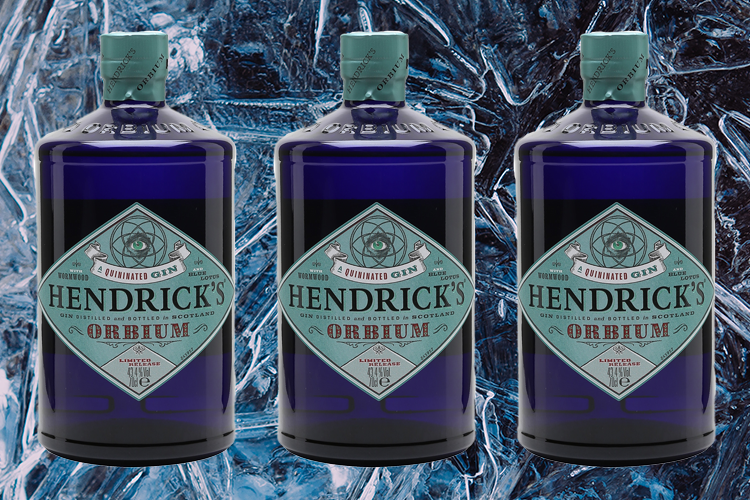 This tipple will make a statement as a gift to any gin lover.
As a re-imagining of Hendrick's, Orbium contains the same distillates as Hendrick's but with a twist.
Orbium takes you in a new taste direction altogether, by infusing flavours that are traditionally associated with classic gin libations; quinine and wormwood.
They also add lotus blossom to create a complex gin with a surprising taste designed to open previously unexplored dimensions of gin.
Available at Harvey Nichols for £47.00.
---
Gin Pong Drinking Game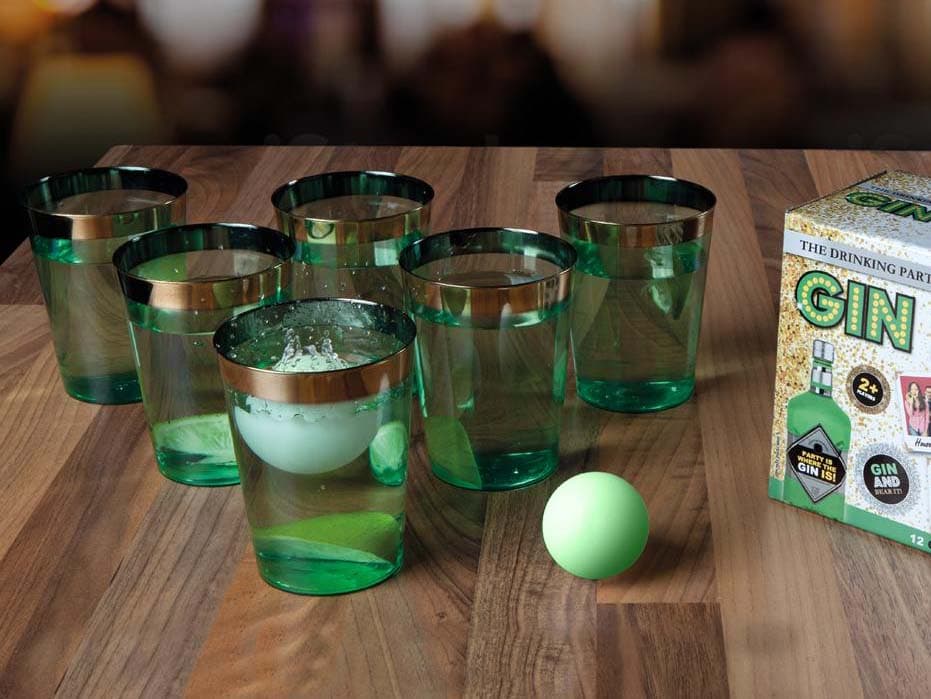 Truth be told it's always party season when you love gin. We're always looking for the next best thing when it comes to gin.
Gin Pong is ideal for any party or friends get-together generally. The game is ideal for two teams which take it in turns to throw ping pong balls into the gin glasses.
The game comes complete with 12 plastic green and gold gin tumblers and 2 green and 2 yellow ping pong balls.
Available on IWOOT for £12.99.
---
Gingle All the Way Gin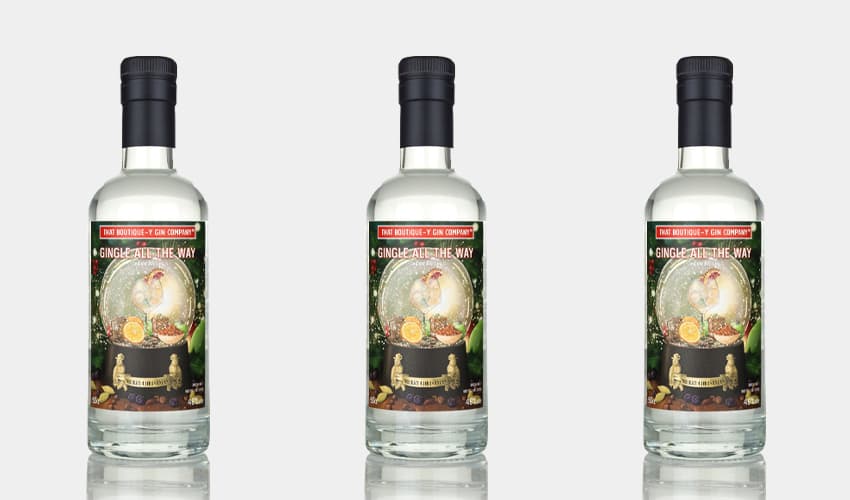 Here's a gin that captures Christmas in a glass. Soft, sweet citrus is joined by warm and aromatic spices and a touch of cocoa.
A luxuriously soft and creamy gin that will tantalise any gin lover's palate.
Why not add some edible gold simmer for that extra holiday sparkle? Don't mind if we do.
Available from ASDA for £29.50.
---
The Chocolate & Gin Gift Collection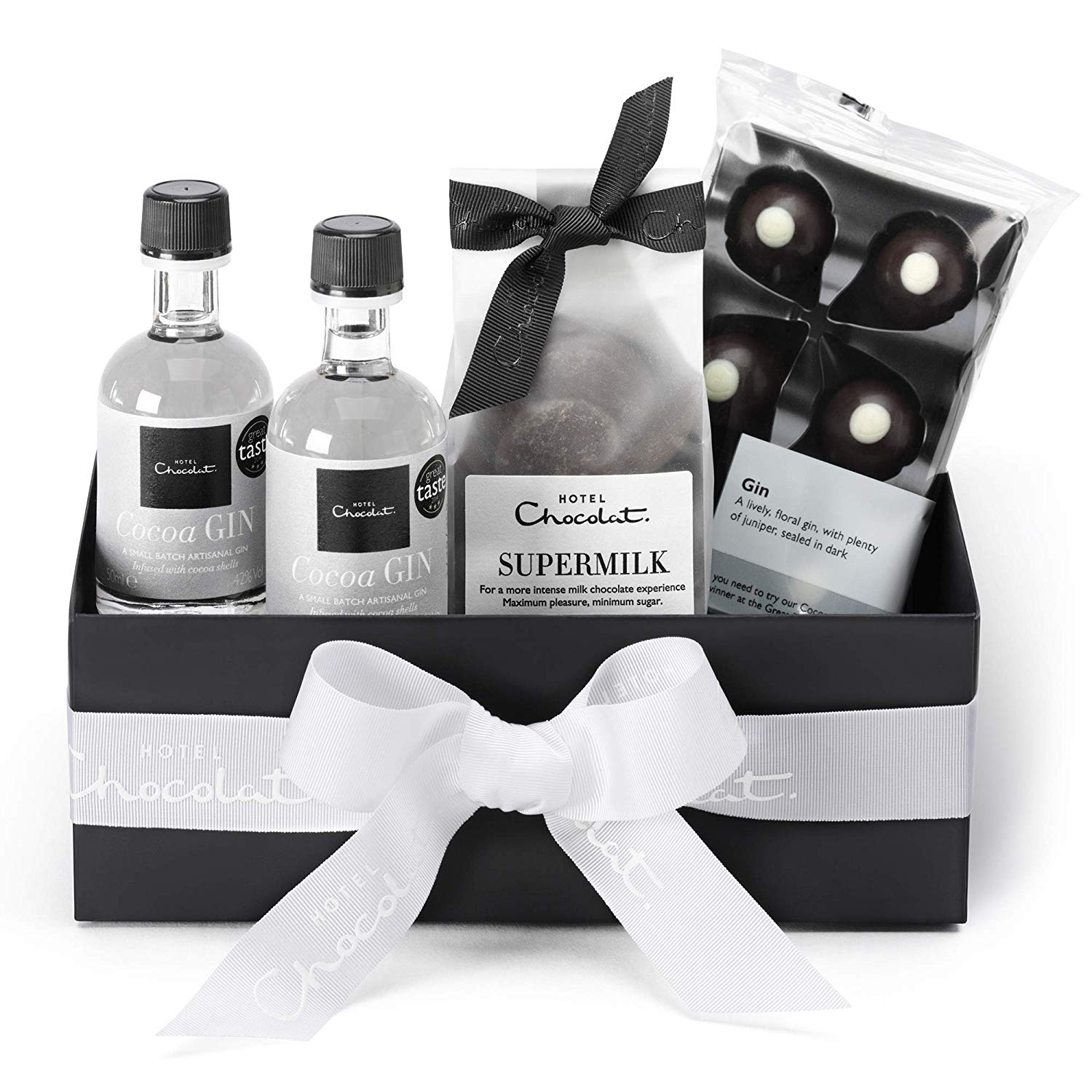 For devotees of the finest gin your very own gin palace. Hotel Chocolat have put together a collection of their best loved gin-inspired recipes.
Enjoy a collection of gin-flavoured delights along with a small-batch Cocoa Gin.
The gin is distilled the traditional way: burst of juniper and zesty Minneolas. Coriander adds a fragrant element, but their Saint Lucian cocoa shells are the real stars: it's their satisfyingly bitter backstop that makes you keep wanting more.
Available at Hotel Chocolat for £20.00.
---
Cornish Gin Fudge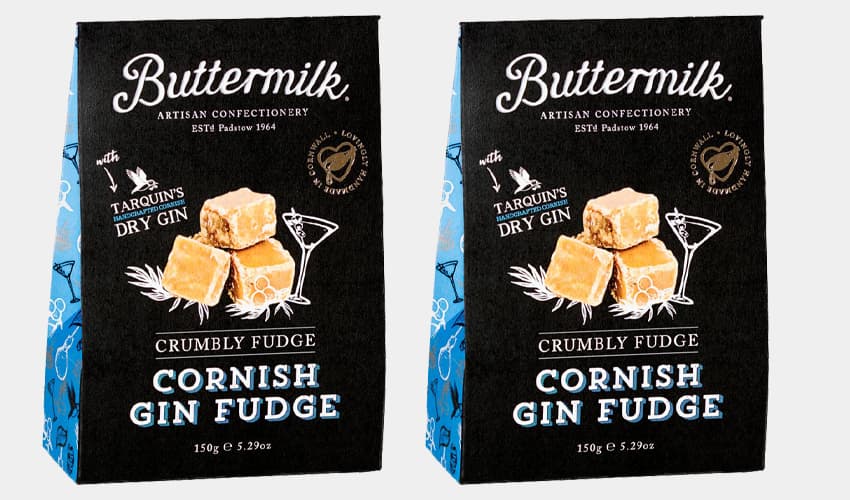 Enjoy the traditional flavour of Tarquin's handcrafted dry gin in this delicious fudge.
Stirred over open flames in traditional copper pans, these award-winning treats are lovingly handmade in-house by their craft confectioners to make indulgent, mouth-watering treats.
Available from Sainsbury's for £3.95.
---
Diptyque Juniper Candle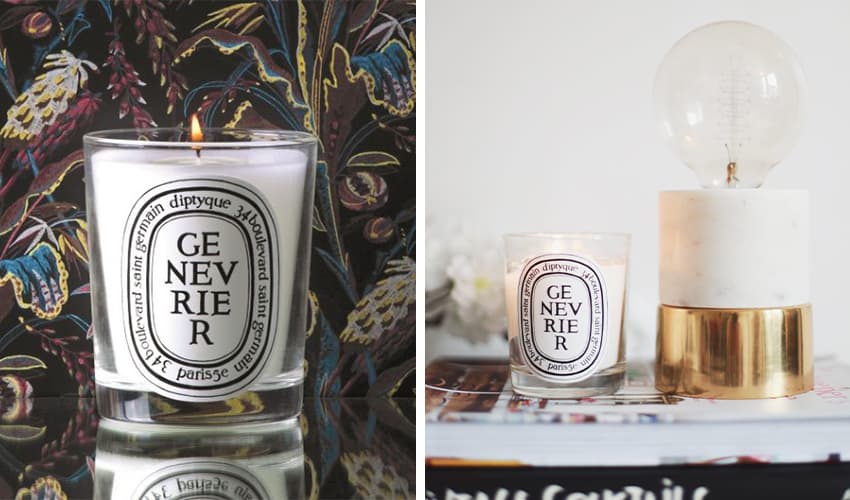 Get the feeling of revelling in the breeze of the forest with the Diptyque Genevrier Juniper Scented Candle.
This scented candle has been created with authentic ingredients such as cedar wood, gaiac wood, juniper berries, fir balsam and cypress to leave you with an invigorating and refreshing feeling.
Lighting the candle immediately transports you into the woods, and works to make you feel that you are taking a walk in the mountains.
Available from Space NK for £47.00. 
---
Edinburgh Gin Christmas Gin
What can we say about Edinburgh Gin's Christmas edition? The packaging is so festive that it could bring a smile to even the Grinch's face.
Available from Amazon £31.85. 
---
Prestat London Gin Truffles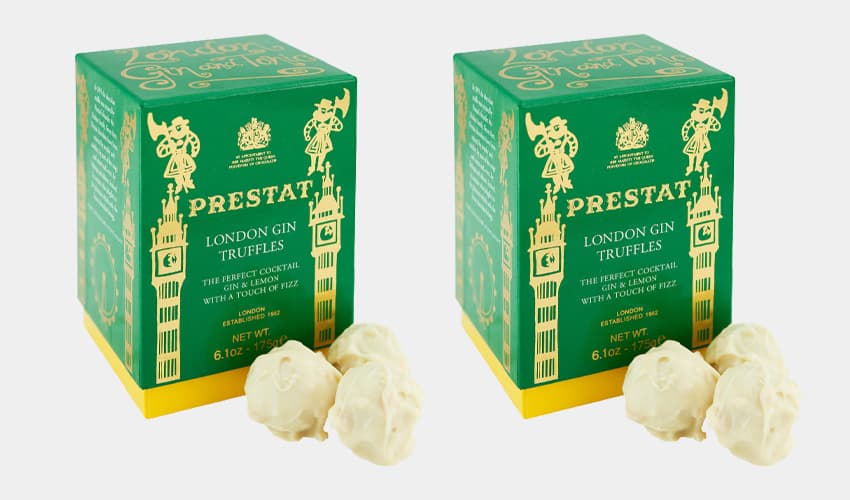 Indulge in these mouth-watering chocolate truffles after dinner. This dark chocolate ganache infused with London Gin and juniper berries is completed with a white chocolate coating with a fizz.
Known for exquisite flavours and elegant packaging, Prestat hand-craft each chocolate and every process is completed by talented chocolatiers.
Available from John Lewis and Partners for £15.00.  
---
Set of 4 Bombay Highball Glasses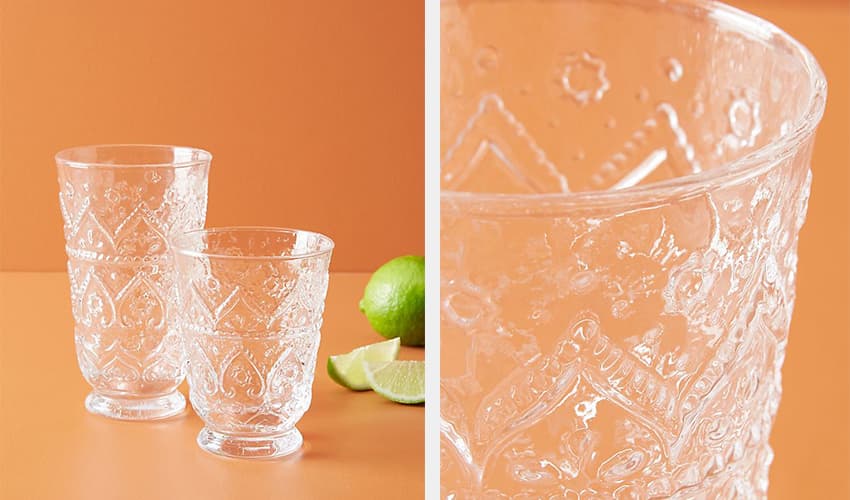 What would be better than a set of stunning glasses to class up your festive G&T?
Available from Anthropologie for £40. 
---
Pickering's Festively Flavoured Gin Baubles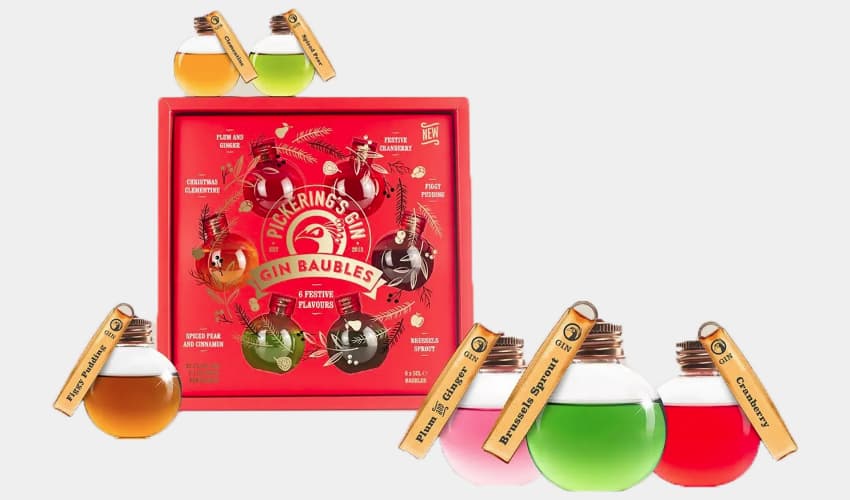 Christmas time, mistletoe and… gin. Pickering's is introducing their new festive gin baubles for 2019 and they're quirkier than ever as they include Brussels sprout gin!
Each bauble contains a brightly coloured, fabulously festive flavour including Festive Cranberry, Figgy Pudding and the world's first Brussels Sprout Gin (consider it part of your 1 of 5 a day if you will).
Available from Pickering's Gin for £25.00
---
Gin Snow Globe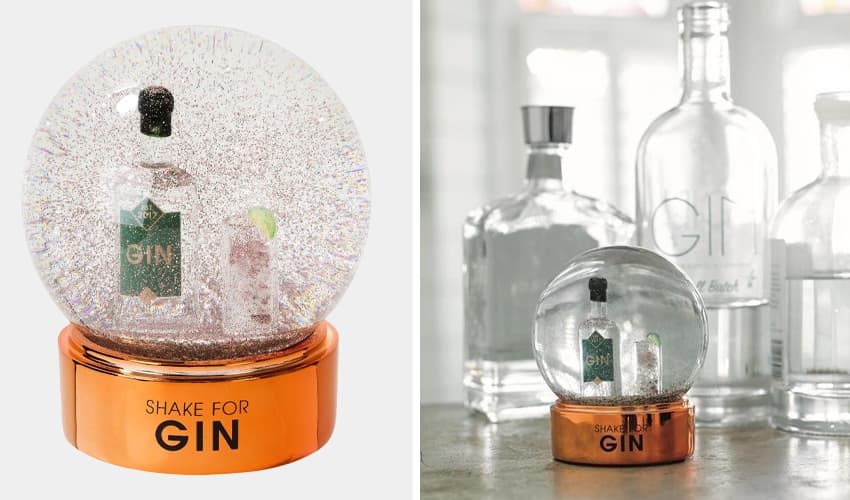 The gin snow globe from Hyde and Seek is full of sparkle and a fabulous gift for those who love this classic much-loved tipple.
Inside the globe is a bottle of gin and a full glass with ice and a slice.
This is a refreshing and fun gift which we are sure will delight, as the snow globe will make a statement where ever placed.
Available on Trouva for £19.95 
---
Poetic License Mulled Winter Fruit "Fireside" Gin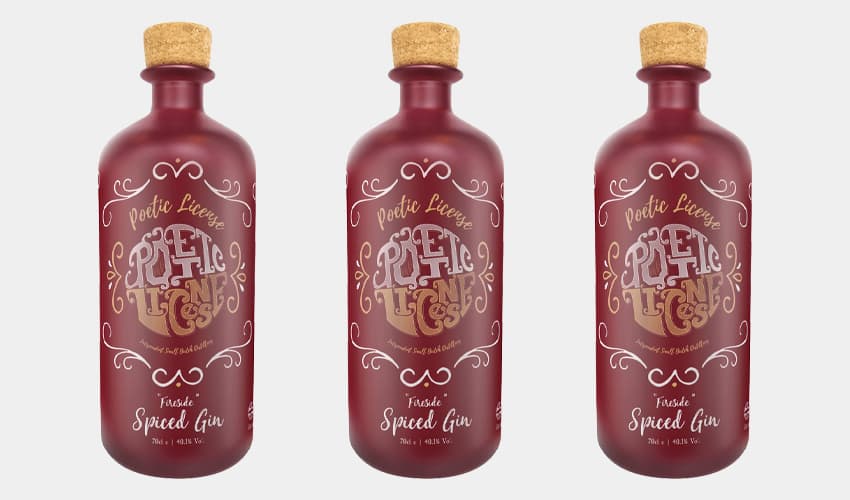 Cosying up around the glowing amber warmth of the fireplace is the best way to enjoy this Mulled Winter Fruit Gin.
Serve with the premium tonic of your choice over ice and garnish with cranberries.
Available on Poetic License Distillery for £34.95.
---
Follow us on Facebook, on Twitter @theginkin, or on Instagram at @theginkin. If you have a story suggestion email editor@theginkin.com
---
More from The Gin Kin: