Elderberry gin could be considered one of the lesser known "berry" tipples out there, but that certainly does not make it any less important on our "to try" list.
These type of berries contain high levels of flavonoids, meaning that they have anti-inflammatory and antioxidant properties. These help to protect healthy cells leading to treating skin problems among others.
Therefore other than having an enticingly flavourful taste, they are also considered beneficial to your health.
Feel free to include this gin in any sloe berry related cocktail as it could be a nice substitute for sloe berry gin.
How to make elderberry gin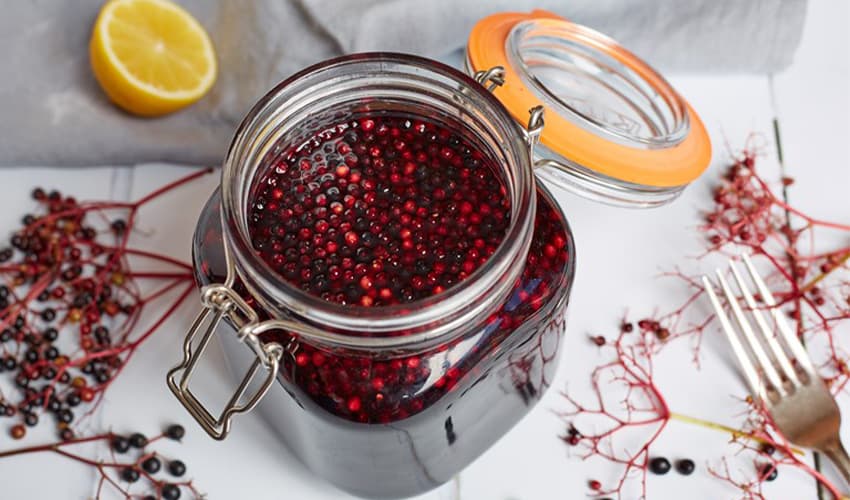 Ingredients
400 g of elderberries
750 ml of gin
Lemon peel
150 g of sugar
Method
Remove the berries from their stalks. Combing through them with a fork while being careful not to squash the berries if they are particularly ripe. Discard any green or unripe berries.
Place the berries in a bowl with cold water, remove any bits of leaf and stalk that rise to the surface of the water, then drain the clean berries and place them in a one litre jar.
Pour the gin over the berries and add a couple of pieces of lemon peel. Close the jar and leave to steep for at least one month away from direct sunlight, turning the jar every now and then.
After the berries have been steeping for one month or more, strain the gin through a sieve into a bowl. Keep the berries – they are delicious stirred trough gravy for your roast dinner or sprinkled over ice cream. To sweeten the gin, place the sugar into a pan with 100 ml water and set over a low heat, stirring until it has dissolved into a syrup.
Once the syrup has cooled, stir it into a gin bit by bit, tasting along the way until you are happy with the sweetness.
Pour into a presentation bottle using a jug or funnel. It is now ready to drink but keep in mind that it ages well over time. Serve straight or add tonic for something more refreshing.
Recipe by Great British Chefs 
---
Follow us on Facebook, on Twitter @theginkin, or on Instagram at @theginkin. If you have a story suggestion email editor@theginkin.com
---
More from The Gin Kin: